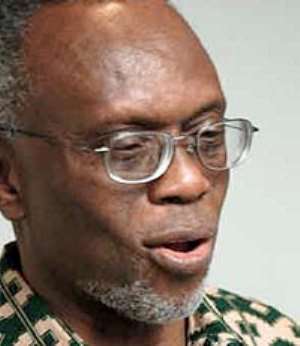 The Secretary-General of the Association of African Universities, Professor Akilakpa Sawyerr has described the structure and nature of African integration institutions and policies like NEPAD as fundamentally non-African.
They are therefore less likely to benefit Africa and can even negate the very purpose of the unity that African fore bearers thought of. Professor Akilakpa Sawyer was speaking at the closing session of a colloquium on Dr. Nkrumah in contemporary politics.
It was organised by the African People Platform. He said though Africa abounds in resources, its leaders have hardly gathered the courage to harness those resources for the benefit of the people.
Prof. Akilakpa Sawyerr, who is also a former Vice-Chancellor of the University of Ghana, advised Ghanaians to seek to understand government policies so that they can hold public officials accountable.
He said putting all blame at the door-step of leaders without acting is as though the citizenry are content with the direction of their leaders.
The Coordinator of Third World Network-Africa, Dr. Yao Graham complained about how national governments have allowed their dependence on donors to be carried to institutions like the Africa Union.
He warned that forming alliances around colonial powers will make African countries more dependent on them.
Dr. Graham cautioned against denying the good aspects of Ghana's history and acknowledged that the grant advances of Ghana"s human and social development took place under, Dr. Nkrumah. To him, the proper way to assess Dr. Nkrumah is to analyse his performance in the context of his time.