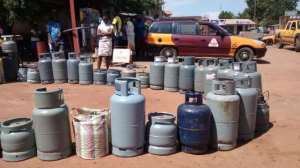 The Liquefied Petroleum Gas (LPG) Marketers Association has issued a warning about an imminent gas shortage that may result in long queues at LPG outlets across the country.
Gabriel Kumi, Vice President of the association, highlighted the potential crisis during an interview on TV3's midday news monitored by ModernGhana News.
According to Mr Kumi, the current stock levels in their tanks are expected to be depleted within the next 48 hours.
"We're going to have some crisis of a sort on hand. Presently, the stocks we have in our tanks could be run out in the next 48 hours," he revealed.
He said if the situation is not addressed by Wednesday, the public can anticipate long queues at both petrol stations and LPG retail outlets.

Gabriel Kumi
"If by Wednesday this situation is not averted, we'll start seeing some queues in our petrol stations and in our LPG retail outlets," he stated.
He also revealed that the consequences could escalate further, leading to disruptions in the movement of people, goods and services latest by Thursday and Friday, adding that it will potentially impact the already challenged economy.
"And if that persists to Thursday, Friday, movement of people and goods and services in this country is going to be grounded.
"And that happens, it has very, very serious consequences for our economy and for our country," he said.