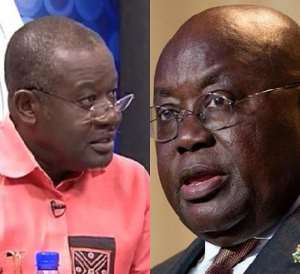 A leading member of the Convention Peoples Party (CPP), Lawyer Kwame Gyantuah has argued that President Nana Addo Dankwa Akufo-Addo contributed to the collapse of the Ghanaian economy.
He said the way the president goes about with his work as if the country is his bonafide property.
"His COVID law was unconstitutional, if his COVID law was unconstitutional who contributed to the collapse of the economy, didn't he contribute to it? And he's turning it around to blame us and tell us that the country was closed for a certain duration of time. You brought a law in place, didn't you?
"The Supreme Court is saying that the law you brought was unconstitutional, who should be blamed? Isn't it the President? Does he understand his position being the President? You see, sometimes it makes it difficult to defend him," Lawyer Jantuah said in an interview with Starr FM.
In his view, President Akufo-Addo is behaving as if the country belongs to him and he became president through family lineage.
According to Kwame Jantuah, this is the reason why the President continuously refuses to counsel.
"Let me talk about another one, when we talked about it they said no, we are not doing it, it is not possible for us to do it. When the IMF document came out it was proven that they did it. Bank of Ghana lent money to government, didn't they deny it? Was that constitutional, what are you talking about? The President feels that the country is his, he feels from his lineage Ghana is owned by his lineage. From all these things I've narrated he feels that way. If he didn't feel that way, before he moved to do anything he will take advice," Lawyer Kwame Jantuah shared.
Lamenting over the recent Supreme Court rulings describing as unconstitutional some actions taken by President Akufo-Addo including his directive forcing former Auditor-General Daniel Domelevo to go on leave, Lawyer Jantuah said it is unfortunate that Ghanaians are not taking such things seriously.
He believes that if this had happened in another country, President Akufo-Addo would have been impeached.