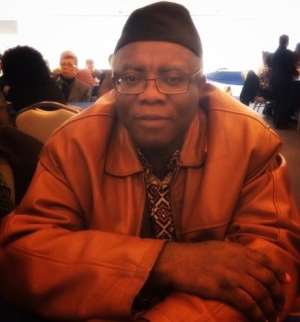 It is a damn pity and a shame that officially thievish and pathologically self-serving opposition party politicians like Margaret Ansei, the former John "Gnassingbe" Dramani Mahama-appointed Municipal Chief Executive Officer (MCE) for Suhum, in the Eastern Region, who have absolutely no moral credibility when it comes to the crucial subject of both education, in general, and qualitative education, in particular, would so cavalierly and shamelessly take to the media airwaves to caustically castigate the Akufo-Addo Administration for purportedly presiding over poor-quality education in the country (See "Spending Millions on Free SHS and Not Producing Quality Is a Big Worry – NDC Communicator" Modernghana.com 5/25/23).
Well, for those of our readers who may have so soon forgotten the painful reality of the kind and quality of public education provided our youths under the tandem Mills-Mahama-led regimes of the National Democratic Congress, from January 2009 to January 2017, it was during this very bleak period in our history that the globally renowned and United Nations-sponsored Paris-, France, based Organization for Economic Cooperation and Development (OECD) conducted a comprehensive survey that ranked the quality of public education in Ghana at the very bottom of some 145 countries around the world.
So, Dear Reader, the problem for cynical and unconscionable National Democratic Congress' apparatchiks like the former Suhum Municipal Chief Executive Officer is that these political and ideological charlatans are going to have an extremely difficult time, short of their characteristically brazen purveyance of plain lies and mischievous propaganda, trying to explain to Ghanaian voters and citizens at large precisely what makes the strategically unscrupulous likes of Ms. Ansei suppose that, somehow, the abjectly poor quality of public education that existed under the previous tandem regimes of the late President John Evans "Atta-Woyome" Mills and Candidate-General John "Gnassingbe" Dramani Mahama, as authoritatively and credibly determined and detailed by the crackerjack experts at the Organization of Economic Cooperation and Development, which system was also not universally accessible to each and every able-bodied and intellectually and vocationally qualified Ghanaian youth was, somehow, of relatively better quality than the present significantly improved standard of education provided by the Dr. Yaw Osei-Adutwum-managed and New Patriotic Party-sponsored Akufo-Addo-led government.
On the latter count must be emphasized the fact that until President Addo Dankwa Akufo-Addo and Vice-President Mahamudu Bawumia were voted into fortuitous and auspicious occupancy of Jubilee House, very few Ghanaians, leaders and non-leaders alike, had heard of the recent pre-IMF implementation of the STEM Curriculum in our landmark Akufo-Addo-implemented Fee-Free Senior High School System. You see, Dear Reader, the good news here is that Dr. Yaw Osei-Adutwum, Ghana's most innovative Minister of Education ever, did not wait for any marching orders from the Board-of-Directors of the twin Bretton-Woods establishments of the International Monetary Fund and The World Bank – originally and officially known as the International Bank for Reconstruction and Development (IBRD) – before proceeding to implement the globally recommended STEM Curriculum, which simply places instructional emphasis on Science, Technology, Engineering and Mathematics, often called the "New Wave of the Future" by educators and expert academic administrators.
On the contrary, under the previous rag-tag Mills-Mahama regime, the focus was on a three-year Senior High School System which, according to Ms. Akua Sena Dansua, the extant Atta-Mills-appointed Minister of Gender and Child Protection, had the overriding objective of preparing our adolescent females for the "Marriage Market." Absolutely no significant policy measures or initiatives had been put in place to ensure that those among our young men and women who were not academically inclined, would be adequately and competently prepared for the artisanal and vocational job market which, by the way, the prime National Democratic Congress-fangled policy of Dumsor had exponentially and unprecedentedly aggravated or worsened.
The stark and incontrovertible fact of the matter is that without the availability of a readily accessible or a Fee-Free Public School System, our leaders cannot intelligently and constructively talk about any significant curricular review and instructional or teaching reforms, let alone seriously think of implementing any such reforms across the board. Plus, these double-salary drawing fraudsters and leaders of the National Democratic Congress cannot cavalierly hoodwink the General Global Ghanaian Public into believing that they can ever be comfortably entrusted with the very mature-adult task of radically reforming or progressively reconfiguring the Akufo-Addo-implemented Fee-Free Senior High School System, which their Dynastic and Despotic Commander and 2024 Presidential Candidate-General, John "Gnassingbe" Dramani Mahama, once pooh-poohed as a practical impossibility that only existed in the clinically unbalanced imagination of a megalomaniacal run-of-the-mill politician hellbent on grabbing power by hook or crook.
The comedic dramaturgy here, as it were, is that Candidate-General "Gnassingbe" Mahama also once pledged to be capable of far more efficiently reforming the John "The Gentle Giant" Agyekum-Kufuor-implemented National Health Insurance Scheme (NHIS), only to apocalyptically collapse the same. Among the Akan, there is a very colorful maxim that says that: "It is only the congenital fool who allows his gonads to be stepped upon twice." Put in more felicitous and simple English: "Once bitten, twice shy."
*Visit my blog at: KwameOkoampaAhoofeJr
By Kwame Okoampa-Ahoofe, Jr., PhD
English Department, SUNY-Nassau
Garden City, New York
May 31, 2023
E-mail: [email protected]