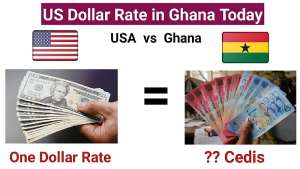 Recently, various social media were a-washed with listed items on Ghana's annual imports. It is unthinkable to note that Ghana exchanges so much Cedis into dollars to import these readily available items. Are we surprised that the Cedis is losing its value so rapidly? Are we surprised that we are importing others' inflation into our country? Following GUTA's strike, Hon. Kennedy Agyapong has called on the government to help create substitutes for the imported items in the country to cut down imports drastically. Hon. Ken noted in an interview that GUTA members would buy and sell in Ghana if there were adequate supply to meet demand. He added that, currently, importers or Ghanaians in business, including himself, are losing so much money due to Ghana Cedi's free fall. A future Kennedy Agyapong led-NPP government would concentrate on producing these items in Ghana, and we shall create plenty of jobs for our youth and strengthen our currency. Below are some imported items, their corresponding importation cost and proposals from citizens on how Hon. Ken's presidency would concentrate on producing the items in Ghana to meet demand.
1. Tin Tomatoes - $ 1 billion. Wenchi tomato factory must be revived to process all tomatoes produced on the Techiman - Kumasi Road enclave. Recently, a Chinese-owned tin tomato factory was commissioned by president Akufo-Addo under the 1D1F program. Make sure it produces at full capacity. These two factories and others in the country must be empowered to supply the country's needs. Save the Ghana Cedi from the free fall.
2. Rice - $800million. Ghanaian farmers grow so much rice. All we need is mechanical farming to produce enough. Additionally, we need processing units to ensure that the Ghana rice meets the Ghanaian consumer's demands. Ghana rice must be stone- and dust-free, that's all. Let's start "operation feed yourself" through domestication and save the Ghana Cedi from the free fall.
3. Sugar and Confectionery - $300 million. Ghanaians have been consuming honey from our villages since time immemorial. The farmers harvest honey with traditional methods, which could be improved and modernized. Ghana may introduce bee farming or bee-keeping in the natural settings and take deliberate actions to modernize and grow the industry. Let's get serious with the Komenda Sugar factory and save the Ghana Cedi from the free fall.
4. Flour - $600 million. During the Presidential Special Initiative (PSI) period under president Kuffour, we discovered that we could do so much with cassava and potato flour. This initiative can be expanded and improved under the 1D1F program. Let's stop chasing dollars to import flour whilst we have substitutes in Ghana. Save the Ghana Cedi from the free fall.
5. Poultry and meat - $400 million. Darko Farms and all the poultry farms at the Akropong, Esaase, and Daabang enclave in the Atwima-Nwabiagya constituency near Kumasi must be supported to expand. Similar local poultry industry in the Dormaa district can be helped to grow. These two areas alone can feed Ghana. We can export poultry from other parts of the country to our neighbouring countries. Domestication must be re-born to save the Ghana Cedi from the free fall.
6. Fish - $245 million. Stop foreign vessels in our economic zone on the Gulf of Guinea. The Chinese trawlers must leave. Modern technologies should be introduced to Ghanaian fishermen at sea and in Yeji, Buipe, Mpaha, and on all the major rivers in Ghana. The government must also facilitate fish ponds for food and jobs. Take practical steps to save the Ghana Cedi from the free fall.
7. Tomatoes (from Burkina Faso) - $100 million. Get agricultural extension officers involved in tomato cultivation for farming all year round. The one village, one dam in the north must be evaluated and implemented effectively. The northern regions have a similar climate as Burkina Faso and can produce even more tomatoes with proper irrigation. Storage facilities must be built to store the excess local tomatoes. When there is a ready market for farm produce, the farmers are motivated to grow more. We must set our priorities right to save the Ghana Cedi from the free fall.
8. Toilet Rolls and Tissue - $100 million. Government should facilitate the expansion of the factories in the sector to produce enough for our markets. Put deliberate policies in place to encourage Ghanaians to buy from the local factories. Nudge people to use the local tissues and save the Ghana Cedi from the free fall.
9. Cooking oil - $300million. Many cooking oils are produced in Ghana through traditional methods but in limited quantities. The government could facilitate the production of palm oil, peanut oil, palm kernel oil, and shea butter oil on an industrial scale. Give tax holidays to investors to attract them into the sector and save the Ghana Cedi from the free fall.
10. Soaps and cosmetics - $200 million. Where is Apino soap? That was in the past. We now have keysoap, duck soap, and many other locally or traditionally made soaps in Ghana. The government could empower many small-scale producers to expand to balance demand and supply through deliberate programs. Increase output, raise the standard and introduce attractive packaging to make the locally produced soap irresistible to the Ghanaian consumer. When traders have compelling reasons to sell Ghana soaps and importation is reduced, we are helping to save the Ghana Cedi from the free fall.
11. Paper - $600 million. Ghana has vast forests and enough wood to produce our own paper. If a 5-year tax holiday is given to private investors, they will build paper factories for us. For example, money borrowed to buy cars for MPs and CEOs could be used to build a paper factory in Ghana. With our "own factory", it will not be cheaper to print volumes of books in the Asian countries or import papers from them. Deliberate actions will save the Ghana Cedi from the free fall.
12. Cars and spare parts - $2 billion. Currently, Ghana does not make cars and spare parts, so we shall continue to import. However, the government and stakeholders may begin a feasibility study into medium to long-term investment. Government must be practical and introduce results-oriented policies toward Kantanka Automobile, ensuring a low cost of producing economy cars and spare parts. There is foreign direct investment in the automobile industry in Ghana, but the government may further facilitate a new dimension in trade between cars and spare parts dealers and those automobile companies in Ghana. For example, the Abossey Kai dealers may shift from importation if they could strike a deal with VW, Nissan, Sinotruck and others.
13. Furniture - $250 million. Ghana carpenters produce all types of furniture. Under no circumstances should furniture for public institutions like schools and parliament be imported. If the local carpenters lack the machinery and the expertise to produce items to suit our taste, the government may facilitate top-up training for them. The government could also facilitate the road map for establishing carpentry cooperatives to help them access bank loans to expand their trade.
14. Textile and apparel - $250 million. Bonwire Kente, Tie & Dye, Akosombo Textiles, Tema Textiles and all the indigenous fabrics from the northern Ghana should be made to have an advantage over the imported ones. The government may engage stakeholders to achieve that.
15. Beverages - $200 million. Sobolo (Bissap Juice), Brukina, Amuduro (Ginger Drink), Lamugin (Chilled Ginger), Asaana Drink (African Coke), Pito, Kulinkawa, Kalyppo, Eku juice, Palm Wine, Atadwe (Tigernut) Milk Drink, Ice Kenkey (Kenkey Milkshake), and many more local beverages will be consumed if their standard is upgraded a little. Ghanaians love their local beverages but are concerned about the production method. This concern is related to how hygienic the production, bottling and packaging process is. Individuals who make these drinks do not have the capital to expand their business and introduce modern high standards in the production line. The government could introduce deliberate policies to increase output and train the producers in food hygiene. Attractive packaging would make these drinks competitive on the market. Distributors will start adding local beverages to their supply chain. Once the last consumer starts patronizing it, importation is reduced, and we are all help to save the Ghana Cedi from the free fall.
Eben Johnson - Finland
(Letters Without Signatures)