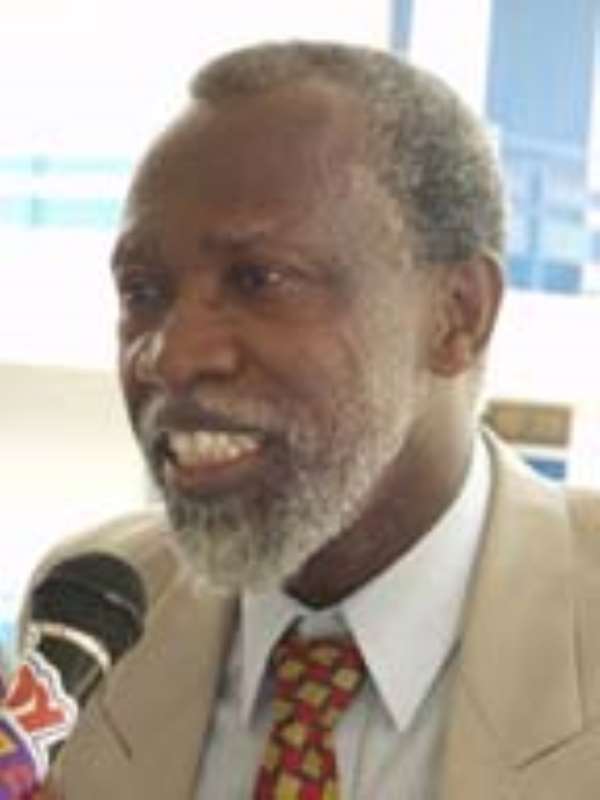 Countrymen and women, loyalists and opponents, I've long admired Prof. Steve Adei of GIMPA. I loved everything about him – even his moustache and beard. I thought he was an excellent manager and administrator. That's why I appointed him to the board of the national broadcast network. But his tenure at GBC revealed his hollowness. He's all talk and very little action. He didn't do much good at GBC and I therefore decided to sack him.
Over the last weekend, he made a suggestion, which I find ludicrous and absolutely unnecessary. He wants the constitution amended to increase the presidential term limit from four to seven years. His explanation is that the president needs more time to carry out his mandate and seven years is ideal, considering the fact that president usually spends about half of the first year of his term to build his team. He made these comments in his speech at the annual marketing awards – which I have problems with by the way. How was Mobitel adjudged the ICT company of the year when their network is so lousy? The award givers should bow their heads in shame and I won't say much about who won what.
For now, I want to know whether the eminent professor actually thinks it was prudent for him to talk politics at an awards ceremony for marketers. I don't think so. Why did he even make the suggestion in the first place? I can't help but think that he's just trying to placate me for his failures at GBC by making sycophantic suggestions that will make him appear to be looking out for my interests. He is hoping that by making such a suggestion, I will start liking him again. Am sorry, but am not interested. His suggestion should therefore be treated with as much contempt as his CIMG awards.
I have no intention of staying on the Black Star Stool for more than four years. I have no intention of increasing the limit of my current term. I want you all to know that I have no intention of soiling my image by becoming one of those crazy African leaders who are amending their countries' constitutions to perpetuate their rule. Leaving office at the end of your term is one of the easiest things for a president to do. If Jerry Boom left office when he was obliged to, I don't see why I can't do the same.
I can't see myself (or any other president) sitting on this stool for two seven-year terms. It's not easy carrying the aspirations of twenty million people on your shoulders for four years. Just compare my pre-presidential pictures to my current pictures. I have greyed faster within the past four years than I did in the ten years preceding my ascension to the Black Star Stool. You will also realize that I now have more creases on my face than I did in 2000. It's all because the job is tough. It will be an unnecessary risk for any man to think that he can democratically rule this country for two seven-year terms. Anyone who tries it will die of stroke or hypertension or a combination of the two. Jerry Boom couldn't have ruled this country democratically for 14 years. It is easier for a dictator to rule for long periods of time because his actions are not questioned and he wields absolute power. Not so for a democratically-elected president whose every action is scrutinized. I can't have my every action examined and questioned by 20 million people for 14 years. This is a very simple truth the framers of the constitution grasped very well. That's why the term limit was pegged at four years. The framers of the constitution also settled on four years because they knew that when the president sticks around for much too long, he becomes disingenuous, despotic and utterly stupid. Four years is just good enough.
From my experience, every president with a clear vision can achieve what he wants within four years – no more. If I had maintained my focus in my first term, I would have done the right things and achieved my objectives within four years. I was busy globetrotting and doing some petty things to show the citizens of this country that I was better than Jerry Boom even as I committed the same mistakes he made. But I've learnt my lessons and I hope to do well in this second term. If I had done right in the first term, this second term will have been just a bonus term for me to look back at my successes and bask in the praises you would have been showering on me. I did well in my first term, I think, but I could have done much better. A smart president can do in four years, what a silly president cannot do in forty years. It's as simple as that. I also want to point out that people generally don't like seeing the same guy in the presidency for too long. People like the idea that after every four years they will be given an opportunity to decide whether to change a president (or the ruling party). Four years, is usually around the corner and so people don't mind waiting. Seven years is a very long time and asking the people to wait that long to exercise their franchise is just a recipe for disaster. People start thinking of staging coups when they know that if they don't take drastic action to get rid of a wayward, incompetent president, he would stick around for much too long and wreak even more havoc.
I will point out, however, that Prof. Adei made a good point by saying that the Sikaman presidents spend too much time putting their teams together. That's very true and he should rather have offered solutions for resolving this problem instead of suggesting an increase in the duration of the presidential term. Perhaps, he should have challenged the politicians who have presidential ambitions to start putting their teams together as soon as they are selected to run for the presidency. As an administrator and a manager, he could also have suggested to the nation to consider holding the elections about three or four months before the swearing-in ceremony. This way, there will be ample time for the transition to be managed in a descent, less disruptive manner.
I hope Prof. Adei realizes that his suggestion is not tenable. Next time he gets near a microphone, I will like him to tell the citizens of this country that he didn't think much about what he said and promise that he will subject all his thought to the same mental scrutiny that made him a professor before opening his mouth. Otherwise, some of us will stop taking him serious.
Democratically yours,
Views expressed by the author(s) do not necessarily reflect those of GhanaHomePage.