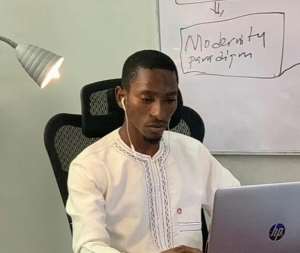 Some months ago, the Ghana Statistical Authority conducted the 2021 population and housing census which took place on 27th June 2021.
Ahead of the exercise, the Vice-President of Ghana Dr. Alhaji Mahamadu Bawumia launched a countdown campaign dubbed "100 days to 2021 Population and Housing Census" (¹)
The countdown was intended to be a period in which the public will be sensitized, enlightened and educated about the census and its relevance to national development.
The importance of this exercise cannot be overemphasized. It is an exercise which seeks to gather the data of all citizens living in the country in order to inform Government policy and ensure a fair distribution of national cake.
Addressing the importance of this periodic exercise, the Ghana statistical authority indicated that the conduct of a population and housing census (PHC) in 2021 compellingly, transcends a constitutional mandate given the severalty of global and national happenings and development aspirations as well as technological innovations underscoring data capture and use. The 2020 PHC will provide an indispensable framework in using administrative data to track the national, regional and global development agendas namely the Coordinated Programme of Economics and Social Development Policies, the Africa Agenda 2063 and the Sustainable Development Goals (SDGs). (²)
The 100 days countdown period witnessed different kinds of sensitization activities ranging from government, academic institutions, CSOs, Religious denominations among other agencies. Muslim scholars, Imams of various Islamic Sects, Traditional Chiefs, Muslim NGOS and other prominent opinion leaders within the Muslim communities gave no opportunity a chance in encouraging Muslims to fully and actively participate in the exercise owing to its relevance. Arguably, the kind of patronage the advocacy enjoyed this time was completely unprecedented.
THE 1 MILLION DOLLAR QUESTIONS
As a young Imam myself and a key player in this interesting developments, I have always asked myself the questions:
Why have we suddenly developed such an unprecedented deep interest in the census exercise?
How different is this census from the previous censuses we have participated in?
Is it just for the fun of it, just to know our numbers and then go back to sleep or there is a strategic interest beyond the usual one we are used to?
These thought provoking questions exposed my mind to another critical set of questions:
When the results of the census is finally out and we now know our strengths, weaknesses, opportunities and threats as a community, what is going to our next line of action?
What are we going to do differently to improve upon our living standards, given that our communities are debatably the poorest in terms of leadership, infrastructure, education and sanitation.
GOVERNMENT CANNOT DO IT ALONE
In my recent article published on LinkedIn, I argued that one of our biggest problems in Ghana is our over reliance on leaders (government)
I stressed that before asking for what government will do for us, we must first ask ourselves what we as a community can do for ourselves in our own small ways. Not to say in the least that government should not be held responsible and accountable.
My recommendation was that while we pursue government to do the needful, we must equally come together in our own small ways with our immediate religious and traditional leadership to begin a grassroot discussion of our development challenges and finding possible supplemental remedies to them.
ISLAM'S CALL TO ACTION
A proper appreciation of Islamic law (Shariah) reveals that Islam is a complete way of life which caters not only for the spiritual needs of mankind but their material as well. Islam commands its adherents to strive for excellence in all facets of life while maintaining adhering strictly to the principles of ethics and morality. [see Sura 28:77]
Maqasid shariah (the higher objectives of Islamic Law) is the foundation for the shariah rules and regulations. Maqasid shariah provides the knowledge, understanding and justification for the principles of shariah. The aims of maqasid shariah is to benefit and protect the Ummah generally, and to discipline and structure the living in accordance with the Islamic values and principles as pronounced in the Quran and Sunnah. (³)
The Shariah as a divinely guided superstructure has five higher objectives known in Islamic tradition as Maqasid al Shariah (Higher objectives of Islamic Law) They are basically what the Shariah as a system of personal, state and global governance seeks to achieve and or promote. They are
The Protection of ad-Deen (faith)
Protection of an-Nafs (life)
Protection of al-Aql (Intellect)
Protection of an-Nasl (ancestry, family and or progeny)
And Protection of al-Maal (wealth and property)
We do not need rocket science to know that finances (money) and a standard of living plays a very instrumental role in the achievement of all these divine objectives outlined above.
To protect Deen (defend and spread Islam and nurture Islamic values) , we need to invest in Da'wa and educational activities. It greatly involves money even though without sound creed and faith, the pursuit of money becomes a problem rather than a solution.
To protect human lives, we need to invest in infrastructure and social amenities such as good hospitals, good roads, housing etc and to live a healthy life, families must be able to afford nutritious food, clean water, shelter among other things. All of these involve money.
To protect the Aql (Human Intellect), we need to invest in good education. One that blends religion and science and inure to a holistic development (in both material and spiritual spheres of life)
To protect Nsl (ancestry, family and or progeny) we need to invest in nurturing morally sound children and we need who see value in marriage. Adultery, prostitution and visces that destroys the Nsl (ancestry, family and or progeny) have been largely due to poverty and poor standards of living.
To protect al-Maal (Wealth and property), we need to first make it. Make it in ways that are halal such as gaining employment in an organization, starting a business, rendering paid services among others. That way we can reduce armed robbery, idleness, terrorism, child trafficking, harvest or human organs, money rituals among other destroyers of society.
Muslims must strive for a better life not only in the Hereafter but in this world too and must do so within the limits of Islamic ethics and morality.
In Sura Al-A'raf 7:32, Allah says :
Say, "Who has forbidden the adornment of [i.e., from] Allah which He has produced for His servants and the good [lawful] things of provision?" Say, "They are for those who believed during the life of this world, exclusively [for them] on the Day of Resurrection." Thus do We detail the verses for a people who know.
This verse calls on Muslims to strive for the best in this life too while it refutes the claim by some people that Islam advocates poverty and bad living conditions. Islam rather advocates for excellence in everything but stresses on values such as Adl (justice and fairness) al-Qanaa'ah (contentment that prevents materialism), balance and not allowing the material things to sway you from the remembrance of Allah which is the foundation for your salvation.
For instance, while Allah encourages us to strive for good wealth, He (S.W.T) also praises those who do not allow their pursuit of wealth delude them from the remembrance of Allah, establishment of Salah and by extention preserving morality. [See sura 62 verses 9,10 & 11. See also Sura 24 verses 36, 37 & 38]
WE ARE BUILDERS AND LEADERS OF CIVILIZATIONS
The Muslim Ummah has a cardinal purpose to accomplish in this world. That purpose is to build and lead civilizations using the divinely revealed principles.
A civilization that takes care of all. To achieve this divine duty, Muslims must endeavor live up to the expectations of the Maqasid ash-Shariah (Higher objectives/ intents of Islamic Law) as explained earlier.
To this end, we can now all agree that our life in this world is purpose driven and this purpose is not limited to rituals but includes Development, Nation building, and ensuring the overall well-being of the human race.
WE MUST GIVE GOOD EDUCATION (Holistic) THE NEEDED ATTENTION
Muslims must pay great attention to building of schools from Basic to tertiary. We must also establish community based Research centers that gathers data about us in areas of our health, living conditions, businesses, etc. This will help us know our priorities and will be a good starting point in our engagement with business partners, investors, Philanthropists, our political class and Policy makers. It will inform us primarily about our strengths, weaknesses, opportunities and threats as a community and guide our future decisions. The Muslim communities possess very great potentials. We are a significant minority. We have contributed in many fields of nation building. History has attested to that. But if we do not engage in proper data collection, documentation and use, we will continue to wallow in our current underprivileged condition.
We must acknowledge that many Muslim groups are doing a very good job in seeing that our situation change for the better but the gap is still very wide and there are more rooms for improvement.
As part of our efforts to better the status quo, we can begin to convert our Mosques into complexes to include schools and libraries. What that means is that our way of constructing mosques henceforth must take a new dimension. Mosques durinthe time of the Prophet (s.a.w) served more than just a place of prayer. It also served as educational and empowerment center among other things.
Our Mosques must also have committees such as EDUCATION AND EMPOWERMENT COMMITTE that advises on Education related issues and provide support for our youth in education.
CIVIC EDUCATION COMMITTEE that educates us on national issues such as human rights and other technical legal subjects.
OUTREACH COMMITTEE that conducts visitation to prisons among others to check on Muslim inmates and offer them support from time to time. If we do not do that, others will do it and convert our brothers from Islam to other religions. We have to work. We cannot continue to play the victim.
YOUTH EMPOWERMENT COMMITTE that offers career guidance and job search support, etc
The Youth EMPOWERMENT Committee shall from time to time collaborate with professionals to organize workshops on subjects such as entrepreneurship and skills development, organize conferences where we can discuss youth challenges such as drug abuse, unemployment, sports betting, internet fraud, violence and of course many other teething troubles bedeviling our communities.
HEALTH CARE
Beyond mosques, we need more schools as explained above. Another very important development we must accord great importance is the building of Clinics, hospitals and science based herbal centers. Muslims have values which permeates all facets of life including health care. One of the ways we can preserve these cherished values is to begin to invest in building hospitals not to take over from public and other private ones but to supplement the ongoing efforts and to provide viable alternatives for our people and to showcase our exemplary standards for others to follow.
CONCLUSION
This article does not claim monopoly of knowledge. This article alone cannot address all our problems as a people; that is not what it is intended for.
This article only seeks to remind, sensitize and awaken many of us from slumber. It seeks to further the many ongoing discourses about development in Muslim communities and to provide some foundation for other students of knowledge, researchers, scholars, thinkers and community leaders to build upon.
May Allah accept it from us and place it on our Mizaan of hasanaat.
REFERENCES/ FURTHER READINGS
(¹) Emmanuel, B (2021, March 19) Ghana's 2021 census scheduled for June 27. Graphic Online: General News.
https://www.graphic.com.gh/news/general-news/census-scheduled-for-june-27.amp.html
(²) Ghana Statistical Services (retrieved on November 4, 2021) Importance of conducting the census. https://census2021.statsghana.gov.gh/getthefacts.php?readpage=MzY5NDc5ODg1LjI3MQ==&Importance-of-conducting-the-census
(³) Syahida, A (June 2015) The Objectives of Takaful and Shariah: Towards the Achievement of Maqasid Shariah. Research Affairs Department (2015) International Shariah Research Academy for Islamic Finance (ISRA) Kuala Lumpur, Malaysia
(5) Tafsir Al-Qur'an AL-Azim (Exegesis of the Great Qur'an) - Ibn Kathir
(6) Noble Qur'an English - Sahih International
(7) Ṣaḥīḥ al-Bukharī – al-Jāmi' al-Musnad al-Sahīh al-Mukhtaṣar min umūr Rasûl Allāh wa sunnanihi wa ayyāmihi – "Collection of Selected True Reports of the Prophet, his Practices and Times"); al-Bukharī's famous magnum opus. [Note: these al-Musnad are reports with chains of narration that go back to the Prophet.]
The writer, Iddrisu Mohammed Madugu is a product of the Lakeside University College, Ghana (Formerly Madina Institute of Science and Technology)
He bags a degree in Business Administration with major in Marketing, He also bags certificates in various Islamic Sciences. He is an Imam, a Researcher and a young Muslim thinker with of vision of becoming a reformer who thinks as men of thought and act as men of action.
©Iddrisu Mohammed Madugu
Email - [email protected]