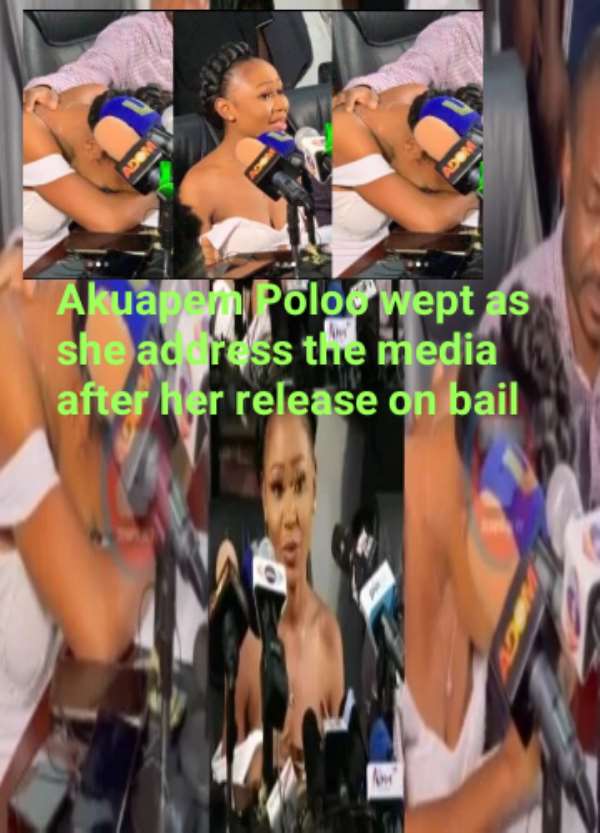 Akuapem Poloo was thrown into prison for in sum, paraphrasing the judge's word "to serve as a deterrent to those in such act of going nude on social media, something which our customs and values frown upon" (sic).
But, see what the actress wore to address the media after being given a bail reprieve from his 90 days incarceration.
We those with two eyes see every design on her chest area.
In my native Goka, we say: _"wakɔfa w'ase baa ma yɛrekɔpa kyɛw, na wode atopa di akyire"_
To wit: nothing repents the stubborn person.
Is there any wonder many if not most of hardened criminals in our streets are ex-convicts? Do our prisons then become a graduating college where all subcultures to terrorise the citizenry are formed?
We've got to have a second look at our judicial system, and if a crime caused by a citizen could be corrected by a mere admonishment, we shouldn't make mountains out of a hill and give them lengthy sentences in the name of correcting them.
Norway's example will be there always for our learning.
We should live above deceiving ourselves. The media and the many netizens are the ravenous devourers of what these "nude artistes" put out there. And nothing less was expected from Rosemond Alade Brown (Akuapem Poloo) even if she was held behind bars for hundred years.
The wording that accompanied her sentencing is nothing more than the seeds that fell under the thorns in Jesus' parable of the sower.
Well, though her small boy may suffer a bit psychologically for what her mum went through, but I see all these dramas to have Akuapem Poloo the winner, getting in thousand folds the attention she sought for posting the earlier pictures that brought her into conflict with the law. And her release now is a mounted pedestal to showcase her true curves to the public.
Let's change our war tactics if it's true victory we seek!
Hence you've got to join the New Africa Movement or the Voice Of The Lord Ministries, so we build a New Africa, a new world, a beautiful world.
Written by: Charles Yeboah (Sir Lord)
Founder of New Africa Movement
The Voice Of The Lord Ministries
+233-249542111