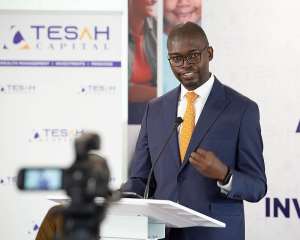 The Security and Exchange Commission of Ghana (SEC) has cautioned the general public against engaging in the transaction of cryptocurrency (bitcoin) in any form.
According to the Deputy Director-General of the Securities and Exchange Commission, Paul Ababio cryptocurrency is illegal in the country and is not regulated by the commission hence Ghanaians should stay away from it.
In an exclusive interview with ModernGhana News at the sidelines of an Investment Dialogue program organized by TESAH CAPITAL, Mr Ababio said indicated that there are risks associated with cryptocurrencies and people have lost funds to such transactions.
The Commission according to him has "given out a warning that it [cryptocurrency] is not regulated by the commission, Bank of Ghana does not treat it as a form of payment, it is not a legal tender but we will be engaging further to come out with frameworks. So, people should desist from participating".
Mr. Ababio however acknowledged that it is early days yet and for that matter, the commission is forming a fintech round table as part of its master plan to look into some of these innovations and the approach to take but it is still work in progress.
"There are clear risks to the nature of it. People have lost their keys and they can no longer access their funds so it is something that we are studying and this year there will be some action on that front", he added.
He however, fell short of what timeline the commission is expected to come out with a final decision on the matter.
Speaking on the topic "Investing after the financial sector clean-up", Mr Ababio outlined some reforms SEC has undertaken after the financial sector clean-up exercise.
According to him, SEC has reviewed and enhanced the licensing requirements which brought about the new capital requirements.
He added that an amendment has been made to some aspects of Act 928 (section 35, 37 and 209) that has allowed the commission to become a signatory to the International Organization of Securities Commission.
Another reform according to him, is to increase the public profile of the Commission through transparency and visibility.
Based on the new guidelines issued by the Commission, market operators are required to issue annual reports. This will help increase transparency between market operators and investors.
SEC has developed a master plan policy document titled; SEC strategy and the capital market master plan which touches on four main key issues including; Creating diversity of investment a product and enhancing liquidity in the securities market, Increasing the investor base through investor education and engagement with the public, Strengthening infrastructure and improving market services, and Improving regulation, enforcement and market confidence.
He revealed that the strategy and master plan has been fashioned to model the national agenda. "For example, one of the key initiatives of SEC is to adopt and use technology to enhance business efficiency and so we have also taken the forefront of technology."
"Ghana is one of the first markets in the world to digitise trading. So, if you think of our stock market...last year we actually had the highest trading volumes on record in the midst of COVID. Trading volumes exceeded by far what has been seen on our markets", he revealed.
All these reforms seek to boost investor confidence in the capital market, improved and diversified landscape, well informed and educated investing public, and an enhanced commission with adequate institutional capacity to regulate efficiently and strategically.
Mr Ababio assured Ghanaians whose monies were invested in the collapsed fund management companies that their funds are not lost but only locked up with plans far advanced to retrieve their monies for them.