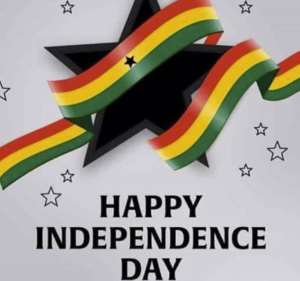 The 6th of March is a special day for all Ghanaians living in Ghana, and in the diaspora. As a matter of fact, it is a joyous moment for the entire continent of Africa as that day reminds the world about how a small country with a land area of 238,539 square kilometres was able to be the first sub-Saharan Africa country to gain its freedom and independence from colonial rule, hence, setting the pace for other African countries to join the movement for the emancipation of the black people. Indeed, 6th March, 1957 will never be forgotten in the history of Ghana, and in the telling of the African story.
Sixty-four years down the line, Ghana has made remarkable thrives in its socio-economic development. The country has made dedicated efforts to eradicate extreme poverty through policy interventions such as the Livelihood Empowerment Against Poverty (LEAP), and the National Social Protection Strategy (NSPS). Also, efforts have been made to reduce health inequalities through the introduction of the National Health Insurance Scheme (NHIS), free maternal health care, and the Community-based Health Planning and Services (CHPS). In the area of education, interventions such as the Free Senior High School have been introduced some 64 years post-independence. In terms of economics, several programmes and policies including NABCO, Planting for Food and Jobs, National Youth Employment Programme, among others have all be introduced to promote economic growth and development. All of these interventions, policies, and programmes have really pushed Ghana up in the development trajectory. Nevertheless, the success story of Ghana post-independence is shaky.
After 64 years of independence, Ghana still battles with some serious socio-economic issues, with the most vulnerable sub-population being worse off. For a country with immerse natural resources (i.e., gold, bauxite, oil, cocoa, cotton, timber, etc.), unemployment remains a persistent issue in Ghana. Report from the Institute of Statistics, Social and Economic Research (ISSER) of the University of Ghana showed that only 10 per cent of graduates find jobs after their first year of completing school, and that it may take up to 10 years for a large number of graduates to secure employment.1 This unemployment suffered by many young Ghanaians is partly due to the educational system that we inherited from the British which places much attention of literacy and little on technical and vocational training. After six decades of independence, the country still holds on to an educational system that is purely theoretical, and woefully meets the expectation of employers and industry. Another school of thought is that, the government is unable to employ many young people because of the stringent conditions attached to the loans they receive from foreign countries. This situation places Ghana in a state of "mental colonialism".
Within the health sector, hundreds of thousands of women continue to deliver at home, with higher likelihood of maternal mortality. As at 2017, maternal mortality rate stood at 310 deaths per 100,000 live births.2 This is below the World Health Organisation's target of 70 deaths per 100,000 live births. Thus, indicating that there is significant proportion of women facing serious health inequalities, despite the many health policies and programmes initiated by the government.
To top it up, 64 years post-independence, corruption has become a household vocabulary. With increased innovation and technology that ought to have propelled the country into an age of unlimited developmental possibilities, it has rather facilitated the misuse of public power, and resources for private gain. A lot of Ghanaians are deprived of what is due them due to the pervasiveness of corruption, nepotism, and favouritism within the public sector, and even within the private sector. Contracts and employments are given to party faithful and foot soldiers at the expense of the ordinary Ghanaian who has the requisite knowledge and expertise for the job. This growing phenomenon is a recipe for development stagnation, and worsened socio-economic wellbeing. Hence, as Ghana celebrates its 64th Independence, it is an opportune moment to reflect on our successes, and shortcomings as well as devise innovative ways of ensuring sustainable development and economic growth.
As rightly put by Dr. Kwame Nkrumah, "revolutions are brought about by men, by men who Think as men of Action, and Act as men of Thought". In the spirit of togetherness and thankfulness for 64 years post-independence, it is important for every Ghanaian to look beyond their self; let us now take charge of our future, and the destiny of our beloved country by eschewing corruption, nepotism, favouritism, apathy, indifference, tribalism, mediocrity, among other ill characteristics that have been a stumbling block to Ghana's pride as the hope of Africa.
God Bless Our Homeland Ghana, and Make Her Great and Strong!
References
https://citifmonline.com/2017/06/only-10-of-graduates-find-jobs-after-first-year-isser/
Appiah, F., Salihu, T., Fenteng, J. O. D., Darteh, A. O., Kannor, P., Ayerakwah, P. A., & Ameyaw, E. K. (2021). Postnatal care utilisation among women in rural Ghana: analysis of 2014 Ghana demographic and health survey. BMC Pregnancy and Childbirth, 21(1), 1-9.