Bawumia Is a Better Security Expert Than Kwesi Aning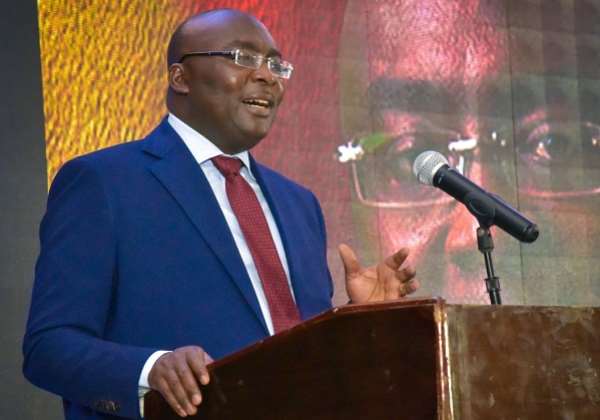 Left to national security charlatans like Dr. Kwesi Aning, of the globally renowned Kofi Annan Institute for Peacekeeping and Training, alone, the Akufo-Addo-led government of the New Patriotic Party (NPP) would be up to its neck deeply embroiled in pointless negotiations with the members of a veritable terrorist organization that is clearly in dire need of psychiatric examination and treatment, as well as psychological counseling and treatment, than it is in need of anything else, least of all a discrete territory to call their own and be internationally recognized as the Sovereign Democratic Republic of Western Togoland.
The problem that the military wing of the so-called Homeland Study Group Foundation (HSGF), namely, the Western Togoland Terrorist Organization (WTTO), has in pushing its grossly misguided political self-determination agenda is the rather bizarre fact that membership of the WTTO is predominantly, if not wholly and/or exclusively, composed of ethnic Ewes, as Vice-President Mahamudu Bawumia poignantly and sarcastically observed recently: "Western Togoland does not exist. The Mamprusis [to which ethnicity Alhaji Bawumia belongs], Gonjas and the multiethnic citizens of the Oti Region [a remarkable percentage of whom are Akan-descended and Akan-speaking people] are also bona fide denizens of the Volta Region and the imaginary Western Togoland or the Fantasy Republic of Western Togoland." The Vice-President reportedly observed the preceding to a radio interviewer.
The former Deputy-Governor of the Bank of Ghana also promptly added, "The Mamprusis, Gonjas and the Oti people have not expressed any interest in going anywhere. So where is this figment of a Western Togoland coming from? Is it Ho, Kpando or Kpeve? There is no legal basis for those demands. It is criminal. Ghanaians must come together instead of lamely tolerating such a lunatic and dangerous idea. There is absolutely no legal basis for those demands. Ghanaians must come together. Some criminals are trying to misrepresent history and engage in criminal activities (See "Gov't Won't Negotiate with Criminal Secessionist Groups, It Doesn't Make Sense – Bawumia" Modernghana.com 9/30/20). You see, the Vice-President ought to have more pointedly directed his very witty advice at the so-called Dean of Research at the Kofi Annan Institute. We are here, of course, taking about Dr. Kwesi Aning.
One often wonders whether Dr. Aning was hired by the immortalized Busumuru and/or his assigns primarily because the two might have been related either by blood or ethnicity on Mr. Annan's father side of the family. Or Dr. Aning simply secured his job through some connections that he might have had with some Kofi Annan associates. Or maybe while his academic credentials may clearly point to it, nevertheless, the glaring fact of the matter is that Dr. Aning is a man who missed his true calling on his way to hereabouts from whichever Divine Providence who created him and rather capriciously decided to sic him on the Akufo-Addo-led government of the New Patriotic Party. The man is a well-known staunch Atta-Mills' backer and a bona fide member, supporter and/or sympathizer of the Mahama-led National Democratic Congress. Which is why one should not be altogether surprised if it should turn out one of these days that, indeed, Dr. Aning is also a hired "security expert" of both the Western Togoland Terrorist Organizations' operatives and the key operatives of the Mahama-led National Democratic Congress.
The intellectual and political wing of the Western Togoland Terrorist Organization, namely, the Homeland Study Group Foundation, is led by 85-year-old Mr. Charles Kormi Kudzordzi, another grumpy old man who, like the Kofi Annan Institute's Dr. Kwesi Aning, clearly appears to have both missed his calling and his appointment with his maker. He does not seem to have led a self-fulfilling existence and is thus virulently intent on making his mark on the postcolonial sands of Ghanaian history with a splash and, possibly, a bang. Unfortunately, Charles Kormi Kudzordzi is far more likely to be remembered as the notorious leader of a rag-tag gang of some youthful thugs who killed, murdered and destroyed State property as a surefire means of asserting their chimerical right to geopolitical self-determination and ethnic and cultural supremacy over the Dagombas, Mamprusis, the Buem, Nkonya and Akan and the Gonja people of the Never Republic of Western Togoland.
*Visit my blog at: KwameOkoampaAhoofeJr
By Kwame Okoampa-Ahoofe, Jr., PhD
English Department, SUNY-Nassau
Garden City, New York
October 23, 2020
E-mail: [email protected]