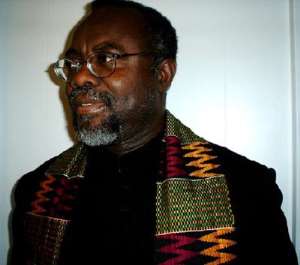 He has already categorically exhorted all party members, supporters and sympathizers neither to endorse nor vote for any local New Patriotic Party (NPP) operatives who opt to file their candidacies as Independents, because such treacherous acts of megalomania can only play into the hands of operatives of the country's main opposition National Democratic Congress (NDC).
So it is very clear that Mr. Eric Osei, the Asokwa, Asante Region, NPP Constituency Organizer who has decided to run against the Deputy Minister of the Environment, Science and Technology, Ms. Patricia Appiagyei, could only be fooling himself when Mr. Osei asserts, to the contrary, that President Addo Dankwa Akufo-Addo is very pleased with the patently false and ignoble fact that this power-drunken party renegade has decided to take up the morally and politically outrageous offer of two pickup trucks and a handsome wad of stolen money – largely the Ghanaian taxpayers' money – from Candidate John "Flying-Akonfem" Dramani Mahama to run against the incumbent Parliamentary Candidate (PC) for the Kumasi-Asokwa Constituency, in the revelatory and authoritative words of Mr. Kwame Baffoe (alias Abronye DC), the Bono Region's Chairman of the New Patriotic Party (See "Akufo-Addo Happy I'm Going Independent Against Asokwa MP Patricia Appiagyei – Eric Osei" Modernghana.com 10/13/20).
Eric Osei is clearly fooling himself by actually insulting the intelligence of the New Patriotic Party delegates, the constituents of Kumasi-Asokwa and Nana Akufo-Addo, all of whom stand by the legitimate reaffirmation of the Parliamentary Candidacy of Ms. Appiagyei who went through the party's Parliamentary Primary Protocol to retain her seat in the leadup to the 2020 General Election. The Appiagyei Challenger caims that Nana Akufo-Addo, somehow, approves of Mr. Osei's dastardly attempt to sabotage the political fortunes of the ruling party because during the President's latest three-day working tour of the Asante Region, Nana Akufo-Addo had not made any mention of the traitorous attempt by the former NPP local organizer to criminally undermine the hard-earned electoral fortunes of the party.
Now, this is clearly the opinion of a vainglorious attention seeker who scandalously supposes that he could facilely distract the attention of the President from his far more significant focus on his national development agenda. That is an inexcusable insult to the intelligence of the Ghanaian citizenry at large. Indeed, if Nana Akufo-Addo were really displeased with the performance of the former mayor of the Asante Regional Metropolis, Ms. Appiagyei would not still be at her post as a Deputy Cabinet Member of the present Administration. It is quite clear that what Mr. Osei is in dire need of right now is a comprehensive psychiatric examination and prompt treatment. I have said it innumerable times, that Independent Candidates do not significantly factor into the affairs of the two major political parties in the country. At best, they are pawns to be conveniently and expediently used and discarded as the need arises.
Whatever "bacons" they are capable of bringing home, by way of development projects, are almost invariably tenuous to decidedly insignificant and evanescent, as these opportunistic politicians cannot be trusted by either of our two major political parties. These Parliamentary Independents are, at heart, downright promiscuous solicitors whose sole overriding objective is their own economic comfort. Which, of course, is not to necessarily imply that our local political party bosses are without their own fair share of foibles and self-serving shenanigans. Still, it cannot be gainsaid that the well-attested power of numbers that most swiftly gets things done can never be trumped by the inescapably selfish ambitions of political soloists. People like Messrs. Osei and Kwaku Duah, the Kumawu NPP renegade, have an obligation to fully appreciate this much, if they are to become healthily relevant to the mainstream of our national development agenda. Independents are almost invariably desperate politicians whose institutional relevance and efficacy only go so far. They are often a warning unto themselves.
Visit my blog at: KwameOkoampaAhoofeJr
By Kwame Okoampa-Ahoofe, Jr., PhD
English Department, SUNY-Nassau
Garden City, New York
October 23, 2020
E-mail: [email protected]