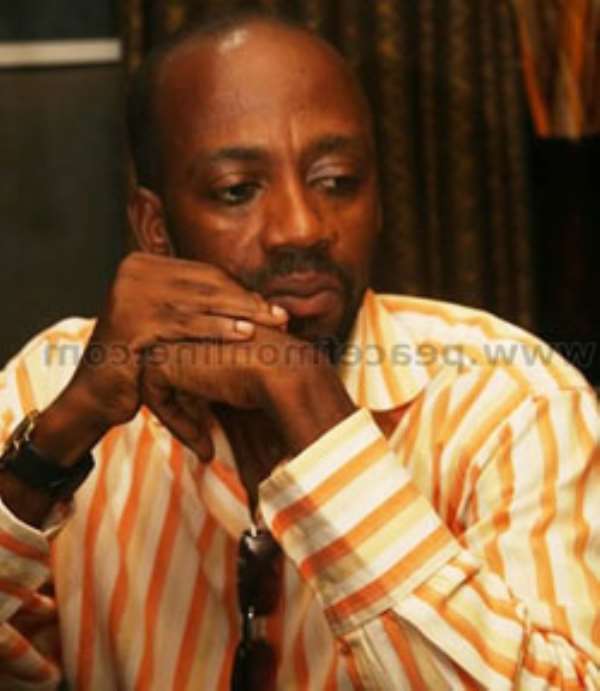 I often watch Nana Ama McBrown's Kitchen, at least as often as my very busy schedule allows me, but I wasn't aware that the breakout Kumawood mega-star also hosted a showbiz talking-heads program on U-TV. I have also listened and even hummed to several musical compositions authored and produced by Mr. Rex Omar, often while driving to and from the State University of New York Community College where I have been teaching English Composition, Literature, Journalism and African Philosophy, lately, for the past 24 years. But, of course, that is not why I picked up my pen today (Sunday, October 18, 2020) to write this rejoinder to Mr. Omar's rather dubious and scandalous claim that, somehow, the Dumsor Crisis that characterized most of the entire four-and-half-year tenure of former President John Dramani Mahama had, somehow, been solved way before the "Akonfem-Kanazoe" man was seismically defeated by the then Candidate Addo Dankwa Akufo-Addo in the 2016 Presidential Election. So why was the European Airbus' Payola Scam-Artist voted out of Jubilee House, to begin with?
Well, Mr. Omar made the aforesaid claim in a Live Edition of the aforementioned McBrown show, on a discussion panel that also included one of my Lumba Favorites, namely, The Great Ampong. I partly grew up in Akyem-Asiakwa, so the reader ought to know why the name "Ampong," as well as "Gyekye," of course, would specially attract my attention. Asiakwa's Juaben provenance, of course. The glaring fact of the matter is that I sincerely don't know the least bit that Dumsor, or the globally infamous erratic supply of electricity in Ghana had, indeed, been solved or completely resolved by former President Mahama prior to the latter's being witheringly swept out of power, as Mr. Omar, a staunch Mahama backer, was pontifically claiming on the McBrown program, because not very long ago, even Mr. John Jinapor, the Mahama money collector and former Deputy Energy Minister, as well as Deputy Power Minister, was virulently insistent that even under the present tenure of President Addo Dankwa Akufo-Addo, that is, some four years after the landslide defeat of Mr. Omar's idol and political messiah, Dumsor had yet to be definitively resolved.
The foregoing assertion was made by Mr. Jinapor in the wake of the commencement of some transformer repair works then being undertaken by personnel from the Electricity Company of Ghana (ECG) in the Pokuase area of the Greater-Accra Metropolis, not quite long ago, that resulted in a preannounced temporary power outage in the aforesaid area. Of course, we all know that Dumsor was never definitively resolved, not even nearly halfway resolved, until President Addo Dankwa Akufo-Addo effectively assumed the democratic reins of governance in January 2017. Earlier on, the man who had vowed to put Dumsor to flight, Dr. Kwabena Donkor, the custom-tailored Power Minister, had been disgracefully forced to resign his portfolio by the then President Mahama, now Candidate Mahama, who had appointed the Pru-East National Democratic Congress' Member of Parliament to the rather economically wasteful and administratively redundant cabinet portfolio of Power Minister, being that there already existed an Energy Ministry. Now, let's talk about the profligate proliferation of cabinet portfolios under the present Akufo-Addo-led Administration of the New Patriotic Party (NPP).
If, indeed, as Rex Omar claims, Dumsor had been definitively resolved under the tenure of former President Mahama, then, if one may logically and aptly ask: Why was Dr. Kwabena Donkor summarily fired from his cabinet portfolio as Power Minister by Mr. Mahama? And just how was the problem of Dumsor resolved in the process, that is, in the punitive process of the summary expulsion of Dr. Donkor from the Mahama cabinet? It ought to be crystal clear to diehard Mahama fanatics like Mr. Omar, by now, that this farcical and asinine attempt to claim undeserved credit for Little Dramani vis-à-vis the purportedly definitive resolution of Dumsor simply does not add up. Was the elevation of Dr. Donkor to the cabinet status of Power Minister actually the jinx or the real cause of Dumsor, as Rex Omar's logic clearly seems to imply, being that the Dumsor crisis long preexisted Dr. Donkor's custom-tailored cabinet portfolio and, thus, the summary dismissal of who, ironically, instantaneously brought a definitive resolution to Dumsor?
We also, of course, know well about the patent sham and fraudulent energy contracts that were reportedly signed by Mr. Alex Mould, the extant Managing-Director of the Ghana National Petroleum Corporation (GNPC), that had to be renegotiated by the Akufo-Addo Administration with the government of Equatorial Guinea at the significantly reduced price or cost of more than One-Billion American Dollars. Even hypothetically assuming that, indeed, Mr. Mahama had definitively resolved Dumsor over the protracted course of his four-and-half-year tenure, what social-intervention measures or human-resource development policy initiatives did the now Candidate Mahama put in place to significantly meliorate or reduce the deleterious and economically devastating brunt of Dumsor? That is the most commonsensical question that we, bona fide Ghanaian citizens, ought to be asking, Mr. Omar.
*Visit my blog at: KwameOkoampaAhoofeJr
By Kwame Okoampa-Ahoofe, Jr., PhD
English Department, SUNY-Nassau
Garden City, New York
October 18, 2020
E-mail: [email protected]