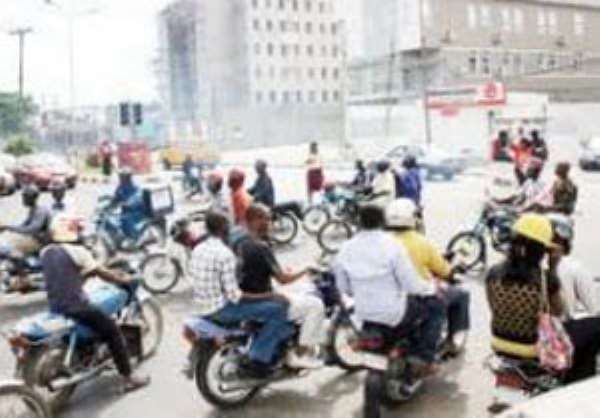 According to Regulation 128 (1) of Road Traffic Regulation Act LI 2180 the "Licensing Authority shall not register a motorcycle to carry a fare-paying passenger." ... Section 128 (3) further stipulates that "a person shall not ride on a motorcycle or tricycle as a paying passenger.
This law bares individuals who intends to engage in any form of fee paying riding service like Okada in Ghana. The law which was passed in 2012 is also intended to curb the occurrence of accidents on our roads.
As usual our political leaders have made Okada legalizing a topical issue in the leadup to the 2020 election. The NDC's flagbearer, H.E John Dramani Mahama has promised to legalize Okada business when elected President in the December 7, 2020 polls whiles Vice President Dr. Mahamudu Bawumia has said the ruling NPP Government will not legalize Okada but rather offer Okada riders hire purchase opportunity to buy new cars.
Key question on the mind of many Ghanaians is do we repeal the law (Regulation 128) and allow motorbike transport service providers, popularly known as Okada to operate legally or maintain the law and, offer the Okada riders better avenues of earning income as proposed by the Vice President.
Let me attempt to provide an opinion to these proposals.
The story elsewhere
Limobike is a motorbike passenger service in London which has been operating since November 1995. The motorbike service provider employs the services of experienced and well-trained riders who operate with the aid of bluetooth intercom services to communicate with passengers on their destination details. Limobike uses Yamaha FJR1300's (with ABS) which have been fitted with a rear seat back to give passengers total confidence while on the move. The bikes are serviced and maintained to the highest degree.
Other countries like China, Indonesia, India, Rwanda, etc. all have some kind of motorbiking system that serve a large number of its citizen. These countries serve as good reference point for Ghana to learn valuable lessons from as we intend to legalize motorbike transport system.
Okada as economic driver
Okada currently employs over 800,000 young people across the country. Many of these riders have a minimum of 3 direct dependents, which means there are about 2.4 million people who depend on them for their livelihood.
Apart from the job creation benefit for the youth, the Okada business offers Government an opportunity to raise revenue through a levy system to be paid by the riders daily. These monies can be channeled to constructing more roads and other developmental projects.
Curbing accidents on our road
The business of curbing road accidents is the responsibility of the Government, law enforcement agencies, drivers and passengers.
The Government has the responsibility of constructing roads, creating more motorbike lanes across the country for motorbike or tricycle use only.
Additionally, our Motor Traffic & Transport Department (MTTD) officials should continue to enforce the motor traffic regulations professionally.
Passengers are encouraged to speak up when they encounter any form of irresponsible driving on our roads. The Okada riders also have a responsibility of making our road safer by obeying all necessary road traffic regulations.
I believe with the support of the Government and all other stakeholders, we can win the fight of reducing accidents on our roads.
Way forward on the Okada business
Legalizing Okada does not only focus on changing the law but requires putting in place systems and structures to ensure its effective implementation.
Apart from legalizing it, Government should establish an umbrella agency, say the Ghana Motorbiking Agency (GMA), clothed with the necessary legislation to regulate and manage the operations of the Okada business.
The GMA will be in charge of registering all potential motorbike service providers, setting standards for which kind of motorbikes to be used for the Okada business, organizing training session for riders. Also, the riders upon receiving all the necessary licensing and approvals, should be given unique identification codes and stickers which are to be embossed on their bikes to help the law enforcement agencies identify genuine riders from unregistered riders.
Another important measure to effectively regulate the Okada business is for Government and insurance companies to institute a robust insurance system that will cover any form of injury/disability or death for both the riders and their passengers in case of an accident. The insurance cover should be a mandatory requirement for the motorbike service providers before a service license is approved.
In addition to the above, I believe technology will play a critical role to make the service accessible to passengers irrespective of their location. We can develop a mobile App which will connect riders with passengers who may need their services.
About the Author:
Emmanuel Owusu is Policy Analyst with considerable knowledge and expertise in local economic development, policy formulation and strategic management.
He is currently the Executive Director of the Movement for Responsible and Accountable Governance (MoRAG), a civil society organization.
Contact the Author: [email protected]