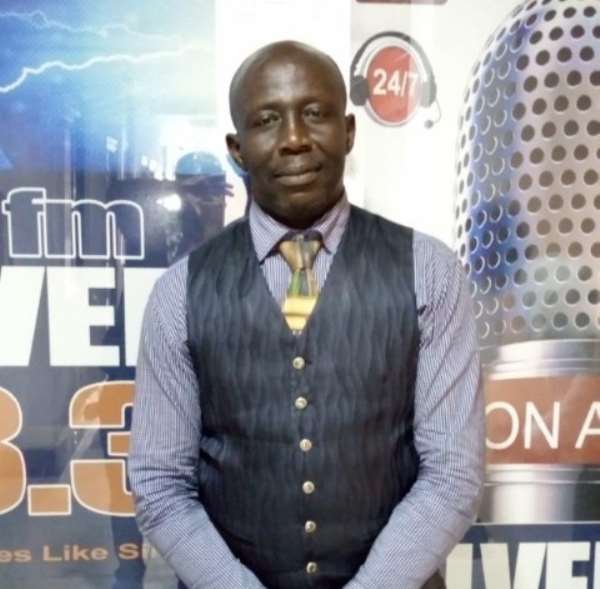 We live in a world where some people who are regarded as hopeless can rise up one day to become responsible and noble citizens to contribute their quota towards national development, by God's will. One of such elements is Mr Awudu Rahman, who has shared his life experience with our Ashanti Regional correspondent, King Amoah, on how he was sentenced to death in the revolutionary regime and by the power of God he was set free during the administration of the ex-president John Agyekum Kufour.
According to Awudu Rahman, now called Evangelist Paul Israel who presides over Testify For Chris Ministry sited at Kumasi-Santase, he was born on April 25, 1965 in Effiduase in the Ashanti Region to Moslem parents and grown up to become a staunch Moslem member. Studied up to the basic level, both parents divorced leaving him and other children to live their own destinies. And just like a sheep without a shepherd, Rahman hinted, he eventually found himself among notorious armed robber, selling and smoking Indian hemp among other drugs. He said in many occasions he used alcohol misxed with hard drugs to engage in devious agenda. He added that these anti-social vices rewarded him with several arrests that he managed to escape. He said his cup became full on November 26 1990, when revolutionary armed forces on special duties arrested him at Kumasi Asawase during the regime of the erstwhile Armed Forces Revolutionary Council led by ex-president John Jerry Rawlings. He said following his arrests on charge of robbery, he was tried by Public Tribunal at the Kumasi Prempeh Assembly Hall, found guilty and slapped with "death" sentence at Nsawam Prison where he was put in condemned cell. As if Awudu would turn over a new leaf with the advent of his imprisonment, he said whilst at the condemned cells he did worst things by secretly selling hard drugs to the point of using the sheets of Holy Bible to package the drugs aside training those inexperienced wee smoking inmates of the prison. Awudu recounted that he served at Nsawam Prison for more than ten years but government showed mercy and reversed those who had served for ten years sentence from death sentence to life imprisonment of which the condition favoured him. These were those who passed through the Tribunal verdict.
Anticipated to serve all his life in prison he was further transferred to Keta Krachie prison, stressing that whiles there he became a strong alcoholic addict acting rudely at the other inmates without fear of knowing that come what may, he cannot be a free man. Asked on how he managed to take possession of drugs and sell to the inmates, Awudu linked some prison officers who assisted him to carry out the horrible business transaction for commission adding that many of the family members of the inmates who regularly visit these prisoners give them monies, knowing very well that there is no trading activities at the cells that requires an inmate to keep monies.
The ex-prisoner revealed that he came face to face with the Lord one night in his dream to surrender his bad deeds since he stands the chance to be saved and become a leading member to transform lives in the society. He said the dream continued for several occasions and true to what he head, he forgot his original Muslim religion and surrender to Christ. Awudu described the encounter he had with Christ as a great revolution in his life, and luckily when the ex-president, John Agyekum Kufour took over the mantle of presidency, he in addition with other convicts were given amnesty and set free to go home. Upon his arrival in Kumasi from the time ex-president John Agyekum Kufour granted the amnesty, he has been very instrumental in propagating the word of God in his quest to transform the sinful souls, and as at now, he is the founder/leader of the Testify For Christ Ministry at Kumasi-Santise where he preaches the word to win the lost souls into the vineyard of the Lord Jesus Christ.
Evangelist Paul Isreal as he is now called, took the opportunity to advise couples to avoid initiating divorce, since the practice is dangerous and a root cause that leads children to become armed robbers and useless people in the society. He further urged people not to lose hope, instead, carry the cross of the Lord to experience eternal joy and blessings.
The Evangelist is currently married with one child and has since written a book titled, "THIS IS MY TESTIMONY" which highlights his life story.