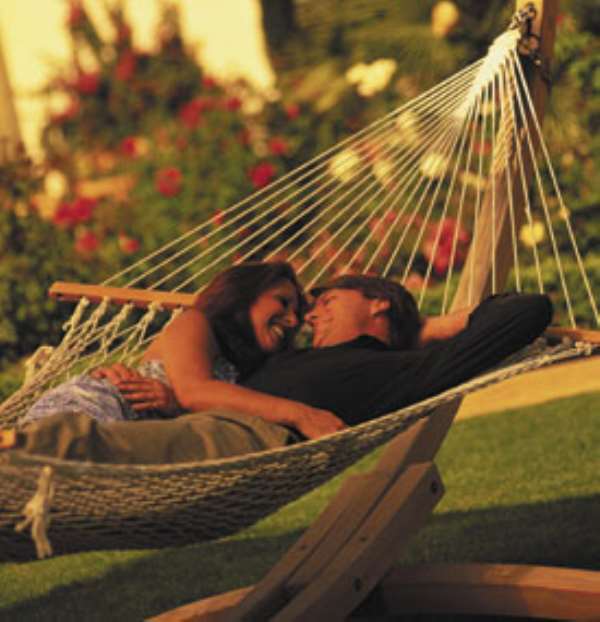 THE question has often been asked whether Ghanaians are romantic or not? The question has never been properly put, because the average Ghanaian might be a romantic legend outdoors but a total disaster indoors.
It means he can function romantically when people are looking, but under the cover of darkness and behind closed doors, he can only stumble and fall.
Indeed, in public, some people do express and even choreograph their love and affection for their partners. Immediately they get indoors, they are a changed personality. They start frowning because they cannot put up any good show. The reverse is also true.
So the question should be properly asked with all the parameters of disaster carefully identified. And are Ghanaian men more romantic than the women?
From observation, one can identify culture as one of the limiting factors that have suppressed female romanticism. For example, when a female proposes love or even hints that she loves a man, the first impression people get is that she must be a 'spoilt' person.
LESSON
So a girl in love will never allow her boyfriend to hold her hand in public. Never! And if he is foolhardy enough to kiss her, she'll either scream to the high heavens, or simply slap him on the face to teach him a crude lesson.
You'll think such a girl is the reincarnation of the Virgin Mary, the personification of what is pure, prim, unadulterated and adorable. It is only when you manage to get her behind closed doors that you are likely to see the real stuff she is made of.
She'd teach you the rudiments of love and romantic tit-bits you never dreamt about. She'd show you what to do and what not to do, and how to do what you should do. In the end, you'd never be the same. Check it out!
When it comes to female romanticism, there are many factors coming into play. Some Ghanaian ladies are not suited for romance because they see the world in terms of making a living rather than pandering to the pleasures of life. So to them, to be romantic is a bother. It is a job too difficult to undertake.
They cannot even smile, let alone laugh. They see a smile as a frivolity, a laugh as the beginning of madness. What they keep thinking about is how to work for money.
BACK-HAND
To such persons, any suggestion of love or romance can get them poised to deliver a back-hand blow if it really comes to it. And if they ever make the mistake of getting married, the man is certain to die young. How can he cope with such a character?
When it comes to Ghanaian men, it can be worse. The problem is that the average Ghanaian man cannot give any quantitative or qualitative meaning to romance. He sees love either as a 'head-ache' because partners won't stop demanding money, or as 'sex' because beyond it there is nothing else.
So he enters into a relationship with a certain mindset, that is to give his lover money and demand sex in exchange. So where does romance come in? If by chance he decides to be a trifle bit romantic and gets his lover a birthday card, he is likely to get a rebuff if not a snob. "Ibi card I go chop?" the lady would ask him.
The typical Ghanaian lady wants cash and you are giving her a card. She would wonder whether you are off! Mental!
So the men are either not encouraged by their mates to be romantic, or they themselves are not romantic by nature. They can't see how they can buy a bar of chocolate as a surprise for their darlings.
It isn't that they can't afford it. They just don't think it makes any sense. They might as well learn from Indians. Indians know exactly how to consummate a love relationship by incorporating music and dance, poetry and lyrical effort into the exercise.
All these are portrayed in their films. A boy and girl in love in India, need space and time to express that love. They can even refuse food for three days and remain on a mountain range singing and dancing for love. The premium on romantic love is high. No wonder they have a relatively lower divorce rate.
Which man in Ghana will forgo his fufu or banku for three days and go singing to a girl who is likely to break his heart in a fortnight?
SIMULATION
In any case, some Ghanaian men have learnt over time to be romantic, for the sake of it, and not because they think it matters. They read books and watch films and simulate from them.
Others travel and come back quite different. They even walk romantically if they happen to fall in love. That is what they've learnt in the cold. Certainly, it makes sense to be romantic in cold weather than in the hot African sun.