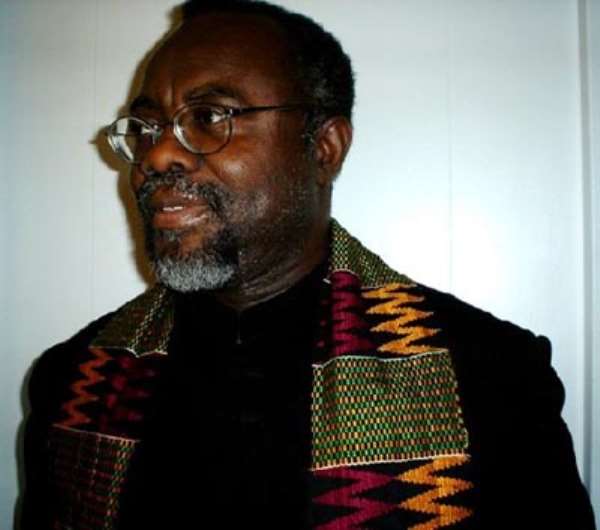 There are other aspects of the husband and wife-produced video narrative titled "Expat Life in Ghana: Beyond the Return" that reflect more on the Eurocentric upbringing of the couple than necessarily having to do with anything that may be amiss or wrong with Ghanaian culture, such as the prohibitive prices of pizza, a nonnative Ghanaian food, at the Accra Mall, which prompted my wife to wonder whether it was the very first time that the couple had travelled outside the United States. For instance, my wife pointed out that Ghanaian and African foods here in New York City are generally more expensive than American-prepared foods. And the reason, of course, is very simple: African foods are relatively not as readily available as "native" American foods. My wife ought to know this because she does virtually all the grocery shopping for our household.
A plate or Styrofoam package of "Waakye" or Hausa- or African-made reddish-brown-colored rice and beans, with meat or fish stew or gravy, costs anywhere between the range of $ 16 to $ 20 (USD), which for many a minimum-wage earning Ghanaian resident in any of the five boroughs of New York City who makes between $ 15 to 20 (USD) an hour, who also pays a monthly rent of $ 600 to 800 (USD), for a shared one-and-half or a two-bedroom apartment, is quite prohibitive. In short, what we are seeing in the video narrative essay is the unrealistically sanitized projection of the cozy lifestyle of an African-American middle-class couple, that is a middle-middle class or comfortable middle-class existence that does not really exist for the overwhelming majority of lower-middle-class Americans, most especially African-Americans and other Americans routinely classified as "Ethnic" and "Racial" minorities.
I was equally at once fascinated and flabbergasted by the rather facile analogy that it cost the narrator couple and their unspecified number of children – Two or Three? – some GHȻ 200 to dine at the Accra Mall Pizza Plaza or Pizzeria, which compared to the monthly wage of the couple's Ghanaian household help, said a lot about the sharp class stratification or differences that existed among Ghanaian citizens. I could not help but feel annoyed and sorry for the quite obvious but inadvertent condescension of the narrators. You see, Dear Reader, the very clear problem that one saw here was the inordinate projection of the veritable pathology of American racism, especially where African-Americans are concerned, on Ghanaians. In sum, for the narrator-couple, the fact that the overwhelming majority of Ghanaian citizens are black must also mean that Ghanaians are invariably economically homogeneous in social standing or class stratification. No such stereotypical expectation could be more preposterous.
The fact of the matter is that at absolutely no moment in Ghana's socioeconomic history, not even during the European colonial era, were Ghanaians socioeconomically or even socioculturally homogeneous. But, of course, social narratives such as the one being presently discussed must be heartily and cheerfully welcome, if also because they present those of us who are intimately familiar with Ghanaian culture the prime and auspicious opportunity to level up with some of our woefully misguided Diaspora kinsmen and women who self-righteously fail to recognize their own ethno-national cultural blinders that may be unintentionally preventing them from objectively seeing what they need to see in order to make more realistic analysis of their experiences in Ghana and other countries on the African Continent beyond the historic "Return."
At any rate, for my wife, the right thing for the couple co-narrators of the video essay titled "Expat Life in Ghana: Beyond the Return," to do was to simply double or triple the wages of their household help, if they so really cared that their household help or servant, servants, should be able to enjoy the necessary luxury of being able to eat pizza or even chicken on fried rice at the Accra Mall. I mean, don't we have hundreds of exclusive restaurants and drinking bars right here in the United States where only millionaires and billionaires like President Donald Trump, former Mayor Michael Bloomberg and media mogul Oprah Winfrey and entertainment legend like Tyler Perry can comfortably sit and dine? The question of bad WIFI is decidedly a nonissue and one that is also routinely experienced right here in the United States, albeit expectedly less so than the case of Ghana. Even as I write, the WIFI of my laptop keeps fading in and out of service and has been doing so over the last couple of weeks. This is a fact of life in all Third-World countries and economies.
Reckless truck drivers and overweight and overloaded commercial vehicles are a well-established fact of life in the part of the world where I was born and grew up. Fortunately, it is fast changing and gradually becoming a relic of the past. Other aspects of the problems highlighted by the narrators of "Expat Life in Ghana: Beyond the Return" which, by the way, are problems already recognized by President Akufo-Addo, are being fast resolved as may be humanly possible.
*Visit my blog at: KwameOkoampaAhoofeJr
By Kwame Okoampa-Ahoofe, Jr., PhD
English Department, SUNY-Nassau
Garden City, New York
August 3, 2020
E-mail: [email protected]