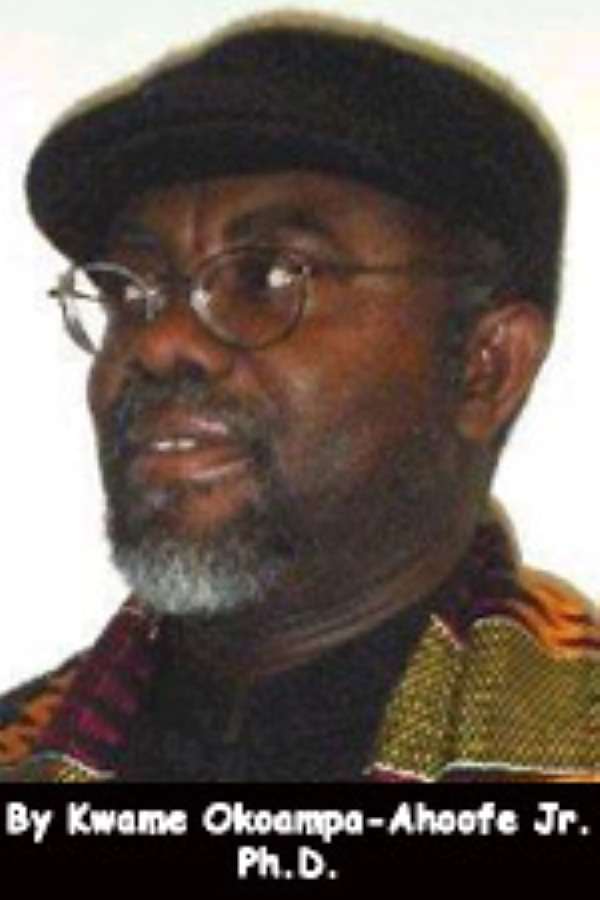 I vividly remember that even a national security-conscious expert and New Patriotic Party (NPP) stalwart like Dr. Kwame Addo-Kufuor, the immediate younger brother of former President John Agyekum-Kufuor and Ghana's former Defense Minister, a man who had at one point, during the dying moments of his elder brother's tenure, attempted to gun for the Presidency, had wanted the newly elected President Addo Dankwa Akufo-Addo to back off from his major promise of the implementation of the fee-free Senior High School Policy Initiative and, instead, profoundly apologize to Ghanaian voters and the citizenry, on the very strategically bewildering and morally untenable grounds that the country did not have the wherewithal or adequate resources and the fiscal capacity to underwrite the same.
Well, some of us who just reckoned that we knew the most appropriate policy initiatives to put in place to safeguard our national security better in the long haul, had to quickly jump into the fray and quash what clearly appeared to be a devious and sophisticated attempt, however inadvertent or even good faith-laced it might have been, to sabotage the very young Akufo-Addo Administration by pointing out the fact that any inadvisable attempt to abandon this prime opportunity to "educate the entire nation," in the memorable words of the immortalized Dr. James Emmanuel Kwegyir Aggrey, was simply not an option. In short, going contrary to the preceding irreversible moral obligation was an egregious and scandalous and an unforgivable act of political suicide. And the irony of it all is that Dr. Addo-Kufuor is easily one of the best educated Ghanaian politicians. Like his elder brother Mr. Agyekum-Kufuor, Dr. Addo-Kufuor is Oxbridge educated.
I make the foregoing reference to critically underscore the fact that it takes nothing short of such bold leadership initiative, courage and foresight to think big, in the electioneering campaign mantra of Nana Akufo-Addo himself, to dream up and be able to implement a far-reaching social intervention program like the landmark fee-free Senior High School Policy Initiative, which the now-Candidate John Dramani Mahama virulently protested and threatened to scrap in the wake of the successful landmark implementation of the same. Now, not surprisingly, the European Airbus SE Payola Scam-Artist would have Ghanaians believe that he has what it takes to improve upon the very policy initiative that he once pooh-poohed as a veritable pipe dream. And this thievish political scam-artist supposes that he can, somehow, hoodwink Ghanaians into voting him back to power so that he could continue to do what he does best, which is to rip off the Ghanaian taxpayer and line his pocket and fill his bank accounts and invest in and purchase properties abroad.
Somebody ought to inform Little Dramani and Naana Jane Opoku-Agyemang that merely improving on Nana Akufo-Addo's policy initiatives does not amount of genius and creative leadership capacity, especially when there is absolutely no evidence indicating that Little Dramani has even such mediocre administrative skill or capability. What we are looking for here is visionary leadership, not "Alterationists" or "Oyeadeyies." Put simply and in plain language, we are looking for leaders who can move our nation ahead, not "Nsaasaawa" or patchwork tailors and carpenters. And Little Dramani need not apply and had better stop insulting the intelligence of Ghanaian voters and the citizenry. Already, Nana Akufo-Addo and his crackerjack team of education administrators are working on something much more game-changing than merely putting up school buildings.
As Ghana's Deputy Education Minister, Yaw Osei Adutwum, pointed out a couple of days ago, what our beloved country's public education system require right now is a STEM, that is, Science, Technology, Engineering and Mathematics-oriented and socially and culturally relevant curriculum that has the capacity of transforming Ghanaian society, in much the same manner as the education systems of technologically advanced countries like Japan, the United States, Germany, Russia, Britain and France, among a couple dozen others. A double-track system that allows universal access to all Ghanaian youths is much more progressive and productive than an exclusivist and elitist, single-track system of the kind artlessly and heartlessly presided over by the leaders of the Rawlings-founded and chaperoned Cash-and-Carry National Democratic Congress.
Candidate Naana Jane Opoku-Agyemang may be perfectly accurate to assert that absolutely everybody's ancestor has contributed towards the making and the shaping of Modern or Postcolonial Ghana. But, of course, not everybody's ancestor has contributed positively towards the foundation and development of Ghana as we presently know it. The descendants of nation-wrecking Cash-and-Carry Social Darwinians like Little Dramani can definitely not be expected to feel proud of their kleptocratic and megalomaniacal ancestors, when the Real History of political scam-artists like the Ganger Boy and his foremost benefactor, to wit, Chairman Jerry John Rawlings, gets to be written by the muck-raking memoirist likes of Prof. Kwamena Ahwoi, the toad who was in the bed of the river when the crocodile took his final breath.
*Visit my blog at: KwameOkoampaAhoofeJr
By Kwame Okoampa-Ahoofe, Jr., PhD
English Department, SUNY-Nassau
Garden City, New York
August 8, 2020
E-mail: [email protected]