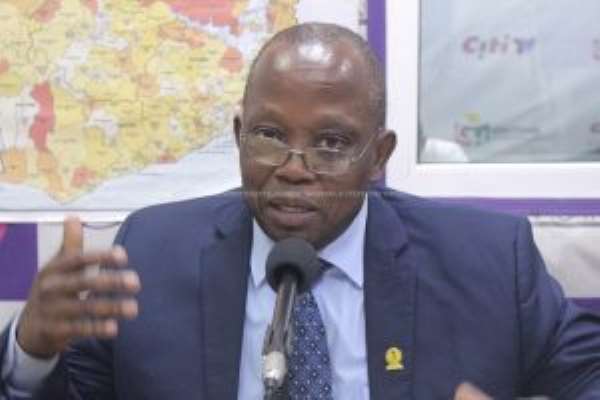 Auditor-General Daniel Yaw Domelevo
The executive order given by the President, Nana Addo Dankwa Akufo-Addo, for Auditor-General Daniel Yaw Domelevo to proceed on leave, in order to exhaust himself of his legally mandated 123 days of accumulated leave, cannot be cavalierly attributed to a sheer act of executive vendetta or politically strategic punishment, although it may clearly appear to be just that (See "Blame Yourself – Vitus Azeem to Domelevo on Proceed on Leave Saga" LaudBusiness.com / Ghanaweb.com 6/30/20). It is based on precedent, even as the letter signed by Mr. Eugene Arhin, the Presidential Director of Communications, informing Mr. Domelevo to immediately proceed on leave, pointed out. We are, for instance, told that on April 9, 2009, shortly after his assumption of the Presidency, Prof. John Evans Atta-Mills, late, ordered the extant Auditor-General, Mr. Edward Duah Agyeman, to proceed on leave, immediately, in order to mandatorily exhaust himself of his then accumulated 264 annual leave days that the latter ought to have taken during the course of some 8 years, that is, covering the entire tenure of the recently exited President John Agyekum-Kufuor,
Now, whether this is a flagrant act of retributive justice, as Mr. Vitus Azeem, the former Executive-Director of the Ghana Integrity Initiative (GII), the local chapter of Transparency International (TI), the global nongovernmental anti-corruption Civil Society Organization (CSO), seems to be suggesting, is decidedly beside the point. The fact of the matter is that it is mandated by law for all civil servants to take their annual leave days. The latter requirement is obviously to enable Ghanaian civil servants to rejuvenate themselves in order to kickstart the following labor year with vim or renewed energy and freshness of purpose and perspective. This mandate is not unique to Ghana but the global labor-rights community.
Evidently, like his predecessor, that is, Mr. Duah Agyeman, Mr. Domelevo appears to have been too deeply mired in his crusading campaign for accountability on the part of other public and civil servants to either promptly realize the equally imperative need for him to follow the dictates of this most basic laid-down rule governing his own work habits and ethics. In other words, Mr. Domelevo appears to have been behaving as if everybody else but himself had to strictly obey the labor laws of the land. For this matter, the man who was fully named to the job by a lame-duck President John Dramani Mahama, Mr. Domelevo was Acting Auditor-General at the time, could be aptly said to have literally committed "Labor Suicide," by literally placing himself over and above the law, rather than having been punitively pushed off his job or rudely sacked from the same by a vengeful successor of his former benefactor. (Note: I have also been informed that Mr. Domelevo had been appointed substantive Auditor-General when his immediate boss, Mr. Richard Quartei Quartey, retired during the lame-duck period of the Mahama Presidency).
Appointed to his present job on December 30, 2016, barely a week before the official exit of a thoroughly trounced President John Dramani Mahama, it well appeared that the latter was hell-bent on teaching his much more seasoned and professionally competent immediate successor and the man who had mercilessly trounced him at the polls a bitter lesson or two on how not to mess with the criminally minded and globally infamous payola-guzzling politician. And, indeed, in recent months, the Mahama appointee has been butting heads with Mr. Yaw Osafo-Maafo, the Presidential Senior Minister, over some tax-payment matters that Mr. Osafo-Maafo was convinced was aimed at tarnishing not only his own hard-earned image and reputation, but also geared towards the gratuitous discredit of the integrity of the Akufo-Addo Administration vis-à-vis the critical question of corruption. In short, Mr. Domelevo appeared to be fighting a proxy war on behalf of the hopelessly corrupt Mahama-led erstwhile government of the National Democratic Congress that has been desperately fighting to be returned to power.
But, of course, we need to also highlight the fact that Jubilee House recently went promptly to bat for Mr. Domelevo, when the latter was found to be in criminal contempt of the judicial system. In other words, contrary to what Mr. Azeem would have the rest of us believe, nearly every one of his professional superiors was looking out for Mr. Domelevo, except our self-fired protagonist himself. Even so, it well appears that Mr. Domelevo will be riding into the proverbial sunset with his head at least partially held up high, in spite of the fact that this is not going to happen squarely on his own terms and with the sort of pomp and circumstance or splash that he would have loved to. He will be going out with his noggins partly held high up because during the three-and-half years that he was at the helm of affairs at the Auditor-General's Department, Mr. Domelevo energized the culture of his department and ensured that the well-needed revenue for running the government would steadily flow in as had never been done or seen before his time.
For some of the foregoing reasons, we say a hearty kudos to Mr. Domelevo with whatever his next professional venture may be. Perhaps an equally distinguished and memorable stint as a Visiting Professor or Lecturer in Public Accountability at one of the major public universities in the country or even abroad.
*Visit my blog at: KwameOkoampaAhoofeJr
By Kwame Okoampa-Ahoofe, Jr., PhD
English Department, SUNY-Nassau
Garden City, New York
June 30, 2020
E-mail: [email protected]