Kufuor and His Asante-Mafia Saga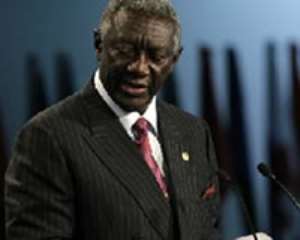 Former President John Agyekum-Kufuor
It comes up from time to time, but I think it has become decidedly irrelevant and ought to be permanently put on the proverbial back burner. It is the story of how former President John Agyekum-Kufuor had wanted to let one of his own relatives succeed him, instead of the then-Candidate Addo Dankwa Akufo-Addo, the tenacious short man with the enviable political pedigree who eventually got to succeed the Asante Atwima-Nwabiaga native any way. Mr. Paul Adom-Otchere, host of the popular current affairs television talking-heads program, "Good Evening Ghana," needs to steer clear of these emotionally excruciating narratives, especially in a hectic election year that is inflected by the unprecedented COVID-19 global pandemic such as this one, when the ruling New patriotic Party (NPP) needs all of its vanguard membership to rally around the one Presidential Candidate who has proven himself, thus far, to be the best problem-solving Presidential Candidate that the party has ever fielded, at least to-date (See "Kufuor Sacked Me from His House Over Alan's Candidature – Kennedy Agyapong Recounts" Ghanaweb.com 6/24/20).
You see, anybody who has lived or trucked with diehard Asante Nationalists knows fully well that people like former President Agyekum-Kufuor, described by a very powerful Akyem-Abuakwa Traditional Ruler as "a masterful politician," are narrowly wired to recognize talent and flair only in one of their own kind. That is what "Nationalism" of any kind is invariably about. You see, as the term unmistakably implies, "Nationalism" is a deliberate and strategic policy and process of exclusion, which was why the renowned African-American philosopher, educator and public intellectual, Cornel West, had occasion to call nationalism "a scandalous act of barbarism of inexcusable proportions." This became crystal clear to me when almost immediately upon his election as President in 2000, President-Elect Agyekum-Kufuor decided to name his younger brother, Dr. Kwame Addo-Kufuor, as his Defense Minister. It was purely about an issue of trust; and on the latter count, ethnic and cultural nationalists do not tend to be capable of seeing beyond their tribesmen and women.
It was also my decision to take up this rather unhealthy political behavior that got the three most prominent leaders of the USA branch of the New Patriotic Party to come after yours truly. These Agyekum-Kufuor pit-bulls were Messrs. Agyenim Boateng, who loudly and proudly and pontifically styled himself as the Deputy Attorney-General of the State of Kentucky; Kofi Boateng who, at the time, was either the President or Chairman of NPP-USA. I would shortly learn to my ironic horror that Mr. Boateng was also my in-law, being that this Asante Mafia Capo was actually married to one of my late father's Kyebi-Adadientem nieces. And then, of course, there was Nana Agyei Yeboah. The latter would call me on the phone shortly after the three had run me out of the party, first from the NPP-USA's Media Committee, to apologetically inform me that he had not actually been a part of the Asante-Mafia Cabal that strategically conspired to push me out of the party. Agyei Yeboah would also add that it was actually Mr. Agyenim who had hatched the plot to have me promptly expelled from the party.
Reading the afore-referenced news story about Mr. Kennedy Ohene Agyapong's interview with Mr. Paul Adom-Otchere, it was not clear to me whether the New Patriotic Party's Member of Parliament for Assin-Central direly missed his broken fast friendship with Mr. Agyekum-Kufuor, and therefore felt some sort of guilt about the fact that he had not helped his former good avuncular friend in Mr. Agyekum-Kufuor's missionary quest to have one of his own relatives replace him at the Presidency, or he has, somehow, regretted his decision to have some party delegates that he had great influence with rally behind the candidacy of Nana Addo Dankwa Akufo-Addo. This is because Mr. Agyapong also claims that his good, old friend and generous benefactor had not allowed him to explain himself, vis-à-vis some remark that he, Mr. Agyapong, had made in the present of the notorious Agyekum-Kufuor lapdog and pathological Tribal Nationalist Bigot, namely, Dr. Richard Winfred Anane, to the effect that the Central Region native was poised to throwing his quite considerable weight behind Nana Akufo-Addo, because the latter looked more like a winning candidate.
This story is rather funny because as a political pundit, I have never trusted the political integrity of my Asante kinsmen and women, one of whom told me bluntly years ago that she would never consent to offering me her hand in marriage because "You people killed Opemusuo Otumfuo Nana Kofi Osei-Tutu Panyin." You see, I found the latter accusation to be patently absurd because I am directly descended from King Osei-Tutu, I.
*Visit my blog at: KwameOkoampaAhoofeJr
By Kwame Okoampa-Ahoofe, Jr., PhD
English Department, SUNY-Nassau
Garden City, New York
June 24, 2020
E-mail: [email protected]