AK Songstress On 'Sex For Collabo': The Farthest I Can Go Is To Show My 'Boobs'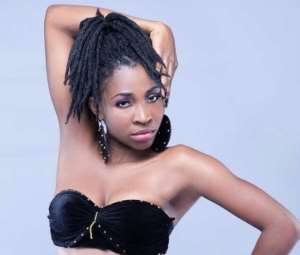 Akosua Kwakye, who goes by the stage name AK Songstress, is still standing by her earlier outbursts on sex for collaborations being demanded by male musicians.
AK Songstress was sharing her personal experience on Zylofon TV's Showbiz Agenda following her earlier claims of sex for collaborations demanded by male musicians.
According to her, some male musicians demand sex from female artistes who approach them for collaborations.
"I honestly had no idea until it happened to me. I recently approached one of the well-known acts in Ghana with a huge following for a collaboration and I was sad when he went behind my management, got my number and actually demanded sex from me," she said.
She said despite her bad experience, she was able to figure out the decent people in the industry.
"There are still good people who respect themselves in the industry. I have worked with people like EL, Stonebwoy, VVIP, Guru etc and they are great guys," she said.
According to her, Artistes such as Guru and Stonebwoy were the only Artistes who never took a dime before featuring on her tracks.
"If I need hype it's easy to get in Ghana, I just have to show off my Boobs and skin for more attention, and if I show off my Boobs Ghanaians will remember it for the rest of their lives because I have firm boobs," she stated.
"Some musicians claim that is how it's done in the industry, they have sex with the female artistes before they jump on their tracks, but am not in for that," she angrily stated.
A.K Songstress further lambasted her colleagues female musicianas whom might have fallen victims to the "sex for collabo" saga.
"You are the reason for which has become difficult to distinct between a good artiste and a bad one since you 'sex' your way up," she said.
She finally paid a tribute to Ebony while she expressed heartwarming condolences to the bereaved family.