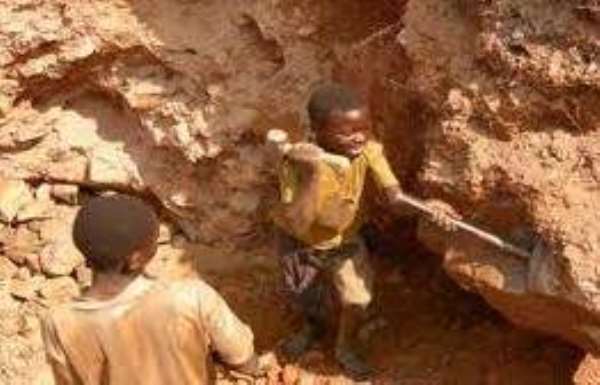 CHILD LABOUR n
Koforidua, Oct. 09, GNA - The 2013 global report on Child Labour has revealed that the Sub-Saharan Africa region recorded the highest number of child labourers in 2012.
The report showed that child labourers in 2012 numbered 59.0 million in sub-Saharan Africa, 12.5 million in Latin America and the Caribbean (LAC) and 9.2 million in the Middle East and North Africa (MENA).
The report, entitled "Marking progress against child labour: Global estimates and trends 2000-2012", was released in September this year by the International Labour Organization (ILO).
It stated that even though the largest number of child labourers is found in the Asia-Pacific region, that region experienced the largest decline during 2008 to 2012, which is from 114 million to 78 million for the 5-17 years age group.
However, sub-Saharan Africa is the region with the highest incidence, despite a decline in incidence from 25.3 percent in 2008 to 21.4 per cent in 2012, indicating that the risk of child labour is highest for children in Sub-Saharan Africa.
'One child in every five children is in child labour, even though there has been a decline there,' the report stated.
According to the report, 264, 427, making 16.7 percent of children are in employment, 167, 956 making 10.6 percent are in labour whereas 85, 344 making 5.4 percent are in hazardous work across the world.
Sub-Saharan Africa recorded 83, 570 for children in employment, 59, 031, for those in labour and 28, 767 for children in hazardous work for five to 17 years age group while LAC and MENAC combined recorded less than 40,000, 30,000 and 20,000 respectively.
The ILO action plans have therefore called for a special focus on Sub-Saharan Africa and the statistics presented in the current Report.
According to the ILO, although the decline in child labour during 2008-2012 offers some cause for optimism, Sub-Saharan Africa is still the region where children face by far the highest risk of child labour and also the region where progress has been slowest and least consistent.
The ILO since 2000 has been taking stock and measuring global progress on the reduction of child labour with which the analysis is set to target eliminating all the worst forms of child labour by 2016.
GNA