The crisis in our schools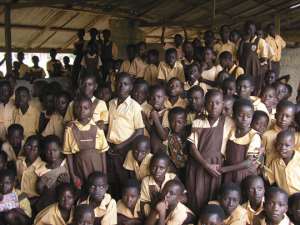 The crisis in our schools
According to a Ghana News Agency story on the 8th of August 2008, one DCE, Honourable Baffour Takyi, has decided to do something about the failures of the Ayinam Kotoku Local Authority Methodist Junior High School, near Akyem Oda in the Eastern Region.
According to the GNA story , not a single pupil from that school has passed the BECE for the past eight years. The DCE, as politicians do, convened a meeting of stakeholders to address the issue.
The GNA reports that "He dismissed the notion by the teachers , pupils and some parents that a spiritualist had revealed that someone had cast a spell on the school by spiritually planting an amulet on the school compound, hence the children's poor academic performance."
money in education
Elsewhere, the story continues "The DCE warned that government could not continue to invest huge sums of money in education without getting any fruitful results." To cap it all the DCE warned pupils that they would be dealt with seriously for truancy. After reading the story, I did not know whether to laugh or to cry. After years of poor performance, instead of assessing the teachers or the work ethic of the kids, someone decided to consult a spiritualist who determined that the school was cursed.
This gave teachers, students and parents an excuse for the poor performance. And while all this was happening, where was the government? I am sure District, Regional and other Education Officers were writing lengthy reports and getting paid to educate the children who were failing year-in, year-out.
The story of this school is typical. The fact is that our educational system is in a crisis that starts at the primary level. Four out of every ten children who should be in school are not but their story must be old another day. This is about those getting into the system. Those who drop out or become unemployable graduates. There are many districts were no student passes the BECE sometimes and there are many more where the majority fail the BECE.
Do you remember the argument about the 2007 results in which the NDC claimed the pass rate was 50% and the NPP claimed, correctly that it was 62%?
What was not clear in that dispute was that most of the 60% who passed were from private schools. Our dirty secret is that private schools, mostly in Accra and a few urban areas account for most of our BECE passes.
These are schools like Faith Montessori, Lincoln, Silicon Valley, Ghana International and a few other elite schools complimented by many small ones.
The amazing point is that these schools, most of them with unqualified teachers routinely outperform pupils taught by trained teachers. The problems we are facing in primary education should matter to all of us because education is the foundation of our development. As the "Daily Graphic" pointed out in an editorial on 12th April, 2007, when President Kufuor launched the latest reforms, "Indeed, quality education has been the main springboard on which the development of countries has depended." After reviewing all the previous reforms from Nkrumah's Accelerated Development Plan through the Kwapong, Dzobo and 1987 reforms to the current one based on the Anamuah Mensah report, the "GRAPHIC" stated "Clearly, our desire and aspiration to reach a middle-income status make it imperative that the youth are well-equipped to enable them to contribute their quota towards national development."
Last year, I was chatting with my friend and mentor Dr. A.B.A. Prempeh when the topic of education came up. He said "Our educational system at all levels is crumbling right before our eyes. Make no mistake, education matters more than healthcare to our development."
We are failing our children. Keeping 40% of them at home and hopelessly mis-educating those who come to school is suicidal. The children we fail to educate or mis-educate will not only be lost to our development effort, they will show up on our streets as armed robbers, "sakawa operators" , workers and pimps at "Soldier Bar" and other places or make their way across the desert, towards places like Libya and Europe in search of greener pastures. Unfortunately even many of those who manage to do well and graduate from our Universities will become unemployed graduates.
The things that have bedeviled our educational system are known.
They are reducible to five basic things: Policies, infrastructure, students, teachers and parents.
educational reforms
Let me begin with policies. Since independence, we have had about five basic educational reforms or policy changes and each of them have had their strengths.
Indeed, some argue that the policy changes have not been very necessary. What we have needed is attitude change amongst all the players and commitment to educating our children.
The day after the "Kufuor reforms were announced, I was visiting a friend when I learned that one of the young ladies there was a teacher. I asked her what she thought of the reforms that had just been announced. "Oh, Doctor, it does not matter because whatever they promise to do will not be done" she said in a very dismissive tone.
We must stop announcing new reforms and start actually implementing something. Somewhere in there, we must all renew our commitment to saving and strengthening our public "cyto" schools.
private schools
Most Ghanaians cannot afford private schools and we must not condemn their children to the lower classes because of money. I am a proud product of a "cyto" school, Tafo-Pankrono LA Middle and I am still very grateful for having the chance to get a first-class education there.
During my time, our head teacher, popularly called "Komfo Adu" would never have tolerated even five failures amongst the seventy students who took the "Hall Exams" each year.
From my generation, friends like Steve Yamoah, Kwamena Dadzie, Isaac Asiedu Barnor and Mustapha all went on to have higher education and productive careers. Today, many of us would not make it. The government must commit the necessary resources to make our public primary schools the true foundation of our education.
To succeed after making the right commitments, we must build schools. It is not acceptable to educate our children under trees and in sheds. It is wrong and we must find the resources to build schools. Recently, Honourable Okudzeto Ablakwa claimed that a school that has been built on paper cannot be located.
If that is true, whoever is responsible must be held accountable. In India, they have a few basic models for schools that have been approved by the government with budgets.
Once it is determined that a school needs to be built in a community, one of those models is selected. In such a system, it is difficult for some of the money to go astray.
To fund this, we must tax all the alumni of our public schools who are working abroad. We must all help to keep open the very doors that we walked through to success.
Next, we need to push our pupils harder. There was a time in this country when school was so central to our lives that a student could be punished in school for something done at home.
While that culture has its place, we must make school a place that children look forward to going everyday, to learn and to develop as human beings.
Too many adults, including teachers, prey on our children. It should not be acceptable for teachers to use children on their farms or to perform other services that are clearly not related to their education. As I write, every year, tens of thousands of young girls are impregnated by their teachers.
teachers
That is wrong. School is one place where children must be able to trust adults, particularly their teachers, to look after their interests. Teachers who violate the trusts of children in their care must be dealt with harshly by the law.
Without doubt, our teachers are the thumbs for tying the educational knot. Without them, it cannot be done.
We must pay them better and encourage them in the very hard task of turning children into productive adults. We all know that a teachers work is not done when school closes.
I remember Teacher Cudjoe, who came to court his wife in my house and ended up persuading my mother to pay for me to take the common entrance exams.
My friend, Dr. Appiagyei-Danka tells movingly of the teacher who paid for his own exam and gave him the break that sent him to the Ghana Medical School and even beyond the shores of Ghana for his education.
There are many more. These and other teachers need better accommodation and opportunities for upgrading their skills while teaching.
This, together with a retirement scheme that will help them build houses to retire into, will put teachers and their profession, back on a pedestal.
Finally, since most of our parents are illiterates and cannot help with homework, I propose that we pay students of tertiary institutions allowances when on vacation, to spread across our country to assist our little boys and girls with their school work. Let us move forward, together.