Selling iced water on the streets: …for a Living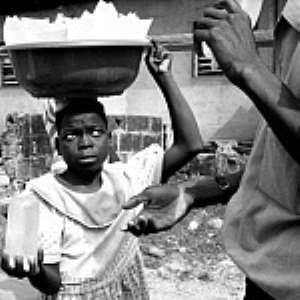 Water is, indeed, life. Without water, human beings can't survive.
It is one of the important needs of living things. It is indispensable for creation and procreation, sustenance and cleansing.
Like the air we breathe, water is very important for life, because we need water to wash our hands, to cook, to water plants and many other things. Most importantly, too, we need to re-hydrate our system as a living organism.
Water is processed in many forms for drinking. Some distilled by moderate sized filter machines and packaged in sachet rubbers, plastic bottles, and others in ceiled plastic cups. These are normally served at parties, conferences, and other big important events.
The bottled ones are most seen under such events, with a few ones in cup. However, the sachet ones are served in ordinary events or conferences due to its being handy and convenient.
A decade or so ago, iced water was measured in rubber cups for people to buy and drink. In those days, about hundreds of people drank from the same cup - until we were awoken to the health implications of such habits.
When we got to know that that can transmit diseases, vendors developed a system where the same plastic container carried the water, with the processor or vendor tying the ends to ceil the water.
Over time, this system that was still deficient in maintaining standards, was followed by the ones tied in white rubbers, known in our local language as 'Opanyin de Opanyin", but it also turned out that some of the processed water carried impurities that can cause cholera, typhoid and other water-borne diseases.
This brought about, eventually, the introduction of the sachet and the bottled waters to improve standards. But even till date, there are quite a number of some way side food vendors and chop bars who still serve with ordinary water in buckets to their customers who can not afford to buy the sachet water. Sachet water has become very common in this country, and it is most convenient and affordable for people to buy and consume.
To the iced water sellers, it is very convenient for them because preparation on it is very easy as compared to previous times where you have to fetch your own water, and buy cups and rubbers to serve people along the street and inside the markets.
With sachet, you only have to buy your bag of water which, sometimes, is already in the refrigerator or deep freezer.
In every corner of the country today, people are seen selling iced water sachet. They range between the ages of 10-60years, and they are mostly the youths with few adult women.
Boys in the trade are only a handful.
Some sell along pavements on Accra and Kumasi's tight vehicular and human traffic. For those of the vendors who cannot roam along the streets, they have to find a corner where there is some human traffic. These are the older ones.
Woes
Selling iced water is very tedious trade. It demands a lot of exercises - though it is one of the less risky and more convenient jobs in terms of investment. Aside of that, there are fewer difficulties in preparing the item for sale. For those who sell along the streets, you have to do some hard running, if you do not want to outdone on a particular day.
Ama Ofosua whom The Statesman struggled to catch her attention, was seen hustling her way through to sell iced water to a passenger in a trotro car at the Makola Market. She told us that the trade becomes more challenging, especially when the sun is overhead at noon.
"Sitting at one place is very comfortable and safe, but you wouldn"t get enough sales as compared to the movement. At times, when the market is good, I can sell about 8-10 bags of the water with a profit of GHC5-6.
At least, it is enough to feed my two brothers and myself. I am acquiring a permanent place to sit. This is expensive, but it is worth it." Ama Ofosua is 19 years old and an orphan, who lives around Agbogbloshie Market.
Her parents died two years ago, leaving her with two siblings who are 8 and 10 years. All three are now school drop-outs, and sleep in a small kiosk that their mother left behind.
Their source of daily bread now depends on Ama's iced water sales, since their extended family no longer cares for them.
Unlike Ama, Auntie Mercy sits at one place because of her waist problem. Auntie Mercy, who wasn't sure about her age, told us that she might be 55 years or so.
She sells along the streets of Arena just adjacent the Arena trotro station, behind a newsstand, where she has been for almost 40 years now. She has four children she takes care of.
Because she cannot run around, she sells only one bag a day, as compared to Ama who sells close to 10 bags daily. According to her, the beginning of this year has been very bad. "I live in Zamarama Line, and come her everyday to sell…Things are not turning out the way it should be, so I have added chewing sticks to it.
That can sustain me, because two of my children are now living with their husbands and the other two boys are schooling in Lome. I'm left alone struggling," she stated.
She bears the cost of her house rent and hospital bills alone, since she hardly gets monetary support from any of her two daughters. Unfortunately, these two daughters also tend sometimes to depend on her. She thinks they have been disappointing because they didn't marry "good men," who can assume part of the responsibility.
Misfortunate
One of the street vendors, Matilda, aged 29, was once a dressmaker who graduated 6 years ago. But just last year, she became stranded due to a fire outbreak that affected her stall.
She had no other choice than to sell iced water, which fetches her too little money for her up-keep. She said, "I'm just doing this for the mean time to get back on my feet once again. As a result, I try as much as possible to sell about 12 bags a day in order to save some money for myself to pursue my ambition."
Road accidents
Iced water vendors appear to love money more than their lives – even when their precious lives are at stake in the traffic – where a failed break or careless driving can maim or kill them.
In the case of those who sell on the streets, their lives are highly at risk because of the vehicles which usually passed at top speed along streets – particularly when the green lights are on.
Some of them get involved in accident, as a result of chasing a trotro or taxi to get their monies from a passenger, who had bought some of their iced water. One of them, Abena Gyamfua, told The Statesman: "A few months ago, a car knocked me down when I was chasing a car to get my money.
I didn't have any money for hospital, so I traveled to my hometown at Winneba where I had a free herbal medication.
Another seller, Ama, who is just 12 years old and an orphan, also had one of her right fingers cut off by the broken glasses of a trotro windscreen, when she was giving iced water to a passenger.
School drop-outs
About 70% of the iced water vendors are school drop out who are on the street selling as a result of poverty, parental neglect, and orphans. Some are also students who sell only on vacations, weekends and holidays. They are mostly girls and a few boys who are between the ages 10 and 15 years.
Adwoa is 15 years old and a student of Adabraka Presby J.S.S. She lives with her parents at Kasoa and comes to sell in Odawna market every vacation, her father sell cassettes and her mum sells ladies under wears in Odawna.
Adwoa sets off early in the morning from Kasoa with her mum to Odawna, she then walk to Adabraka where she buy a bag of water already in a fridge. She always walks to Adabraka as soon as she finishes selling a bag of water till 5pm in the evening when she leaves together with the mother.
Though she doesn't get enough time to learn because she gets tired everyday, she don't mind because she "knows God is in control." She therefore has no headache helping her parents to take care of her and her other siblings.
On the other hand, quiet a number of the vendors are step children who live with their step parents, especially step mothers. One of such children is Naa Lamiley, 12 years old, who lives with her father and step mother at La.
"I live with my father and his wife.
But my father has no control over her, so she always maltreats me. I was once schooling. When I got to Class 3, she asked me to terminate my education, and join others in the streets to sell ice-water," she lamented. Till date, this is what she has been doing – in spite of the fact basic education is free.
Survival
Most of these young iced water vendors buy from the older partners on credit. They pick the load, after getting a guarantor on the market. After They Had sold the load, they paid back what they went for and took another on credit.
This is normally the case for the sellers who sit at one place. Maame Foriwaa is 40 years old. She lives in Agege, near Mamprobi and Dansoman and sells her wares in Accra, behind the Lava multi-stores.
Most of the young vendors in the area buy their load on credit and pay her at the end of the day. Sometimes, she has to wait the following day for the money. Because of this situation, she finds the trade not very good, but she has no choice.
Were it not for the support she gets from her "responsible husband," life would have been very difficult for her family. "Ice water selling is not a very good trade; it gets boring, especially, when traders on the same market with you people on credits.
I, sometimes, find it very difficult to believe that an ordinary person doesn't have 5 pesewas to buy water, and this disturbs me a lot. A bag of water sold in cars is 75 pesewas, but we buy it from those with the deep freezers for GHC1, 10pesewas. So when you do your calculations, you realize they get more profit than us.
The most painful aspect of it is that every month the Accra Metropolitan Assembly will charge us GHC3 for the place I sit, in addition to 10pesewas each day I sell.
Foriwaa used to sell keys and padlocks; but she stopped because the money involved investing in the items was getting too much for her.
The hotter, the better
Market becomes very good for these sellers during the hot season because people get thirsty every second around these times. According to them, the rainy seasons are their hard times and they wished it doesn't rain at all, so that their businesses will flourish always.
Each they went to bed, therefore, it is:
"Rain, rain, go away,
Come again, another day…"
One of them named Linda, observed that it is painful to work under a hot weather, but that is the time she gets her money. But now that the rain is around the corner, I'm in a tight corner because "it has become a burden on me about what to sell when it starts raining."
Lack of sex education
Sex education is very important in the lives of human being. It is a must that every citizen, at least know what to do and what not to do so as not to acquire any diseases through promiscuous living.
Most often, however, majority of our market women are found wanting when it comes to these issues. This is because majority of them are illiterate or dropouts. Some of them The Statesman had a chat with disclosed that they have little knowledge about the dangers in being ignorant about sex.
Most of them, for example, believe family planning means not to give birth at all, whilst the rich buy babies from the hospitals.
They don't even know the use of condoms is in the interest of the woman, who suffers when she is abused or a man refuses to claim responsibility for pregnancy.
Some of them who spend long hours on the markets and come home tired, claim they don't even have radio to listen to the series of advert that are run in the media. Others complain that most of the languages spoken in adverts are English.