ICE KENKEY & AGYA KOO TO TOUR USA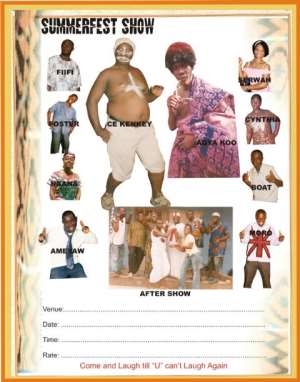 ICE KENKEY & AGYA KOO TO ROCK NEW YORK CITY.
Ice Kenkey and Agya Koo,two of Ghana's most popular comedians are descending on the Tri-State of New York, New Jersey and Connecticut (USA) in summer to present their brand of entertainment that has made them the most sort-after duo in the West African nation.
The special concert party program christened GHANAFEST SUMMER CONCERT is taken place between July 14, 21 and 28 in New York City and is brought to the United States Ghanaian community, courtesy of the Bridges Sounds and Entertainments of Bronx, New York, a well established name in Ghanaian Diaspora entertainment and Ghana's cultural education abroad.
According to the managements of the Bridges Sounds and Entertainments, all preparations are in place for this one of a kind entertainment to rock New York City to its foundation for the Ghanaian communities.
Mr. Ice Kenkey, whose real name is Kwaku Danquah is a native of Akuapem Larteh. Ice Kenkey, who has worked so hard, has been in show business for about 18 years. He is the founder of Powerlight Concert Party,currently the leading concert band in Ghana, which he is traveling with as his back-up band in the USA tour.
Ice Kenkey has won many national recognition for his artistic exploits as a comedian. The awards includes 1999 Runner Up position in the Key Soap Concert Party Show Awards Night. He also won the Best Entertainer. Best Comedian Second runners up 2000.
Before he formed his own band, Ice Kenkey played for African Heroes Band led by Osei Kofi, a music apprentice of Ghana's highlife music living legend Nana Kwame Ampadu.
Ice Kenkey has made a name for himself as a comedian and his popularity has reached beyond Ghana. He has traveled and performed to sold out Ghanaian and multicultural audiences in London-United Kingdom in 2002), Germany,Belgium and Italy (2006). He was recently invited to the United States where he was signed on by the Bridges Sounds & Entertainment for the GhanaFest program slated for this Summer.
Adu Kofi Mensah, otherwise known as Agya Koo was born in 1969. He played drums for the Heavens Action Ministry at Akwatia Line,Kumasi. In 1990 he traveled to Accra to look for a band to play but it was not easy as he had thought, so he has to ply a trade as a shoe maker till 1996 when the Agoro Beso Concert Party signed him on as a singer and trained him as an actor. As it turn out, he worked diligently as a comedian instead and has since been featured in over 90 Ghanaian movies, 15 of which remain his favorite, since his introduction to the Ghanaian film industry. Demand for movies that he has featured in are tremendous.
Agya Koo aka "Braam" as a comedian has not specialized in a particular area in acting but can act in any role given to him by any Ghanaian film director. With speciality in playing the roles of an old men, lover boy, wealthy person or in poverty, he is always the toast of his fans.
Among the numerous movies he has featured in are " Nsem Pii" " Adeefour" Asor Panyin",Kumasi Nyonko) etc.
Currently, Agya Koo said he has established his own company called Te Te Mbrofra (TTMF) Movie Production at Kumasi and have so far produced 3 movies.
These are the two main stars for the Summer Ghanafest Concert Party USA tours and Ghana concert party enthusiasts will have their money worth and will laugh their hearts out. The show will also feature a multicultural Afro-Pop and Jazz band, AFRICUSSION International led by Okyerema Quabena Adansi-Prekese Akyampon on percussion. According to Mr. Samuel Dwamena, the director of the promoting company, calls from distant places such as California, Virgina, DC, Georgia and Texas have started coming from Ghanaians inquiring about the program and tickets. He continued, that he is not leaving any stone unturned to make sure this program will be the Ghana Diaspora show of the year. Bridges Sounds and Entertainment is not new in showbiz,having succesfully organized the 2006 Ghana Xmas Highlife Music Expo that featured the great Eric Agyeman of Kokroko fame,Obuaba J.A.Adofo and Kaakyire Kwame Appiah who were backed by the best group in NYC, the Xtra O band led by Kofi Asante.
To all Ghanaians in the Tri-States area, this is your opportunity to experience the best in Ghanaian comedy. Remember, recent scientific studies on TV shows that laughing has a therapeutic values, so take time off your job, boredom and come and laugh your lungs out. "Ebeye braam braam and Butubutu".
For ticket information contact Mr. Akoto @`(718)515-6110 OR (646)418-3761.

Adansi-Prekese PR & Media Inc-NYC: