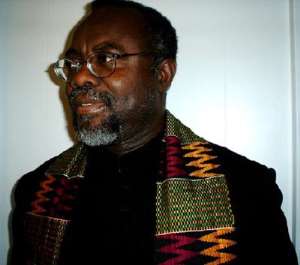 At a so-called Asante Regional Delegates' Conference of the pseudo-non-governmental 31st December Women's Movement, a veritable P/NDC façade, the wife of Ghana's bloodiest dictator-cum-pseudo-civilian former premier, Mr. Jeremiah John Rawlings, was reported by the Ghana News Agency (GNA) to be appealing "to Ghanaians to be vigilant and guard against what [Nana Konadu] described as attempts by [the Kufuor] government to shift the attention of the masses from the harsh economic situation in the country by re-denominating the cedi" (Ghanaweb.com 5/18/07).

Perhaps those of us Ghanaians who were old enough at the time to vividly remember ought to remind Mrs. Rawlings that it was, indeed, her husband who first attempted to re-denominate the cedi in 1979, shortly after summarily executing all of his predecessors on the grounds of economic austerity and corruption. Back then, as yours truly vividly recalls, Togbui Agbotui compelled nearly every Ghanaian to deposit our hard-earned ¢ 50 notes in the bank; we were assured of their return in a properly denominated form. I was a secondary school student then, and deposited my last two ¢ 50 notes; and that was the last time that anybody heard anything about their monies.

Among the Akan, we have a dictum that: "Nothing is more painful than a certified thief calling his/her moral superior by the caller's own legitimate designation." And this is exactly what Nana Konadu Agyeman-Rawlings is doing. And what chutzpah, to realize (not that it is to any well-meaning Ghanaian's surprise) that this woman who prides herself in having been the faithful criminal accomplice of Jato Jeremiah should shamelessly presume to bear the moral torch for the long-suffering Ghanaian victims of AFRC/P-NDC atrocities.

And one almost plausibly doubts whether the indicted leader of the so-called 31st December Women's Movement possesses a dressing-mirror in her ill-acquired mansion, otherwise she would not have arrogated herself the undeserved martyr's luxury of publicly boasting that these days "going to court daily is my duty." And here, again, perhaps somebody ought to remind Nana Konadu that illustrious Ghanaians like Justices Cecilia Koranteng-Addow, Agyepong and Sarkodie, who actually professionally qualified to make "daily court-going" their duty were not accorded the same democratic, human right by Nana Konadu, her husband and the entire rag-tag, gangster posse of the so-called Provisional National Defense Council (P/NDC). Fast-forward to 1979, and the whole panoply of the likes of Generals F. W. K. Akuffo, I. K. Acheampong and A. A. Afrifa, as well as Air-Vice Marshall Yaw Boakye, Commander Utuka, R. J. A. Felli and even Odartey-Willington, among a slew of other veritable martyrs, makes it almost plausibly impossible for "Ms. Cassava-Sticks" to own a dressing-mirror in the privacy of her bloody mansion. Then again, what would a shameless murderer's accomplice be expected to see by looking into a dressing-mirror, except her own bloody pride?

Indeed, when Mrs. Rawlings assails the incontrovertibly rational – except, of course, if one belongs to the ideological camp of the National Decapitators' Congress (NDC) – re-denomination of the cedi, she deliberately fails to remind Ghanaians that it was her own husband, Togbui Agbotui Sogakope, who got Ghanaians using ¢ 2,000 notes, after vitriolically denouncing the late Dr. Hilla Limann and the latter's People's National Party (PNP) as having been the most disgraceful government in Ghana's postcolonial history. Now, in Ghana, we have the poorest "millionaires" in global history; and then for "Ms. Cassava-Sticks" to be talking about the high spate of armed robbery, knowing full-well that such unhealthy climate was created by her own husband!

And guess what was the overriding crime committed by Dr. Limann? As the immortalized Professor Albert A. Adu-Boahen recalled in his interesting treatise The Ghanaian Sphinx, Dr. Limann's sole unpardonable crime, in the "genius eyes" of Mr. Rawlings, was that the NPP government had contracted with the World Bank to conduct a lethal experiment with the socioeconomic fortunes of "innocent Ghanaians." And, of course, it goes without saying that Mr. Rawlings squarely counted himself among those "innocent Ghanaians" whose otherwise rosy economic fortunes were being grossly mismanaged by Dr. Limann. As for the punishment meted Dr. Limann, we leave it to those who are better informed and more eloquent vis-à-vis this most tragic narrative.

For now, however, it is our bounden duty to recall for our critically thinking readers the fact that less than two years after ousting Dr. Limann, on the grounds of the latter having threatened to collusively invade Ghana with some IMF/World Bank behemoth – or Black Beast – called Structural Adjustment Program, Flt.-Lt. Rawlings would invite the same "arch-imperialist" World Bank to introduce an SAP "suppository" into the economic anus of Ghana! And so it is not quite clear to those of us who were old enough to vividly recall, just what Nana Konadu Agyeman-Rawlings means when she pontificates thusly: "It is worth mentioning that this [ERP] recovery program received commendation from the World Bank as the initiative transformed the growth rate of Ghana's economy from below zero to about 5.5 percent." And here must also be noted that Mr. Rawlings' first budget, post 1981, witnessed the price of machete – or cutlass – skyrocketing from the Limann-price of ¢ 19.00 to Mr. Rawlings' supposedly pro-farmer price of ¢ 50.00! I know exactly what I am talking about, because yours truly was also the youngest among the Kumasi "revolutionary" delegates that debated the 1982 PNDC Budget at Kwasi Owusu's Regional Office. And though the entire Kumasi delegates roundly condemned the first Rawlings budget, the Ghana News Agency reported that the Kumasi delegates had overwhelmingly endorsed Mr. Rawlings' post-Christmas economic massacre! I also know what happened at GNA's Kumasi office, because the Regional Manager, Mr. Aboagye, was the father of a close friend.

Now the relevant question becomes: Did anybody at the so-called DWM delegates' conference bother to ask Nana Konadu just how much of Ghana's purported growth rate of 5.5 percent, under the P/NDC's "globally commended" ERP, converted to cash inside the pockets of those very "innocent Ghanaians" on whose sacred behalf Konadu's husband ousted a democratically elected Dr. Hilla Limann and his People's National Party (PNP)? We absolutely think not; for it would have been far too dangerous to do so! But one thing on which we can enlighten Nana Konadu Rawlings, assuming that, indeed, the Life-President of the DWM is capable of such enlightenment, is the fundamental fact that there can, indeed, exist such a thing as "Economic Growth" without palpable "Economic Development," and that has precisely been the greatest achievement of the P/NDC. For under his tenure, Mr. Rawlings' cabinet and a handful of his hangers-on enjoyed a fabled economic bonanza, even as the rest of his "innocent" fellow Ghanaian citizens had the inexorable pit-bulls of grinding poverty sicced on them.

It is also rather farcical for Nana Konadu to claim that the 31st December Women's Movement believes in "democratic principles" and yet perennially lord it upon the Movement's membership as the DWM's Life-President. Now, it begins to make perfect and logical sense why Dr. Sekou Nkrumah, son of Ghana's first president, would pitch camp with the NDC.
*Kwame Okoampa-Ahoofe, Jr., Ph.D., teaches English and Journalism at Nassau Community College of the State University of New York, Garden City. He is the author of "Dr. J. B. Danquah: Architect of Modern Ghana" (iUniverse.com, 2005).