References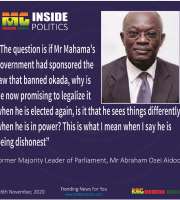 Relevant Links
Media Links
General Information About Ghana
The Constitution of Ghana allows for a legislature; parliament, political parties and the local governemnt - the District Assembly, which sees to the enactment of laws and policies for the development and wellbeing of the nation.
Parliament is composed of political parties in Ghana. These are the political parties and their presidential candidates.
John Agyekum Kufuor (New Patriotic Party - NPP) John Evans Atta Mills (National Democratic Congress - NDC) Edward Mahama (People's National Convention - PNC) George Hagan (Convention People's Party - CPP) Augustus Obuadum "Goosie" Tanoh (National Reform Party - NFP)
Daniel Augustus Lartey (Great Consolidated Popular Party - GSPP)
Democratic Peoples Party - DPP
Every Ghanaian Living Everywhere - EGLE
Parliament of Ghana
Parliament has 200 members, elected for a four-year term in single-seat constituencies. *The Vice-President or a Minister or Deputy Minister who is not a member of Parliament, shall be entitled to participate in the proceedings of Parliament and shall be accorded all the privileges of a member of Parliament except that he is not entitled to vote or to hold an office in Parliament.
Speaker of the ParliamentParliament House, Accra Tel.
233-21-668514 Email:
[email protected]
Parliament is made up of representatives of political parties (MPs).Majority - NPP – 101 Minority - NDC - 92 - PNC – 3 - CPP- 1 - Non partisan - 4· Speaker of Parliament: Peter Ala Adjetey · Deputy Majority Chief Leader: Abraham Osei · Chief Whip:
Mr Osei Kyei Mensah Bonsu, MP Old Tafo Suame · Deputy Chief Whip: Mr Kobina Okerchiri, MP for Nkwakwa · Second Deputy Chief Whip: Mrs Gifty Eugenia Kusi, MP Tarkwa-Nsuaem · Minority Chief Whip: Mr. Doe Ajaho · Minority Spokesman on Energy: Mr. Abraham Kofi Asante