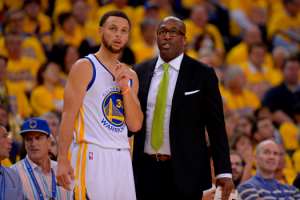 The Nigeria Men's National Basketball team, D' Tigers, have appointed Golden State Warriors Associate Head Coach Mike Brown as their new Head Coach for the upcoming Olympics in Tokyo this year.
Mike Brown is well experienced in the Basketball fraternity as he serves as an assistant head coach to California-based Golden State Warriors and also had stints with the likes of Cleveland Cavaliers and Los Angeles Lakers.
Brown has won two NBA titles, the Coach of the year in 2009 and in the process, coached basketball greats like LeBron James, Kevin Durant, Steph Curry and Klay Thompson.
Speaking to the media after the appointment of Mike Brown, the President of the Nigeria Basketball Federation (NBBF), Musa Kida was optimistic the appointment will bring a major shit in Basketball across the country.
"His appointment was part of the determination that this administration had promised to bring the best to the development of Basketball in Nigeria, especially the Senior National Teams.
"His appointment would also attract the best players that we have far and wide who, like in the past, want to represent Nigeria at the top competitions," Kida told reporters.
According to the NBBF President, D' Tigers will give other teams a run for their money and is hopeful Mike Brown is likely to stay at post after the Olympic Games.
"We are confident of putting up a great team out there, our players at the Senior National levels for men and women have always shown commitment and determination to do well.
"D' Tigers and D' Tigress have the spirit to win, they have what it takes to shock the world. The prospect is very high especially with the quality of players we intend to invite," Kida said.
"Although his appointment is for the summer Games, I am confident that he would go beyond that because he is so passionate about the progress of basketball in Nigeria," he added.
The Nigeria Basketball Federation (NBBF) after announcing the appointment of Mike Brown also announced he will be assisted by Alex Nwora and J.B Bickerstaff.
Nigeria is Africa's sole representative in this year's Olympic Games after booking an automatic qualification at the 2019 World Cup.