Gas plant attack revives Algerian nightmare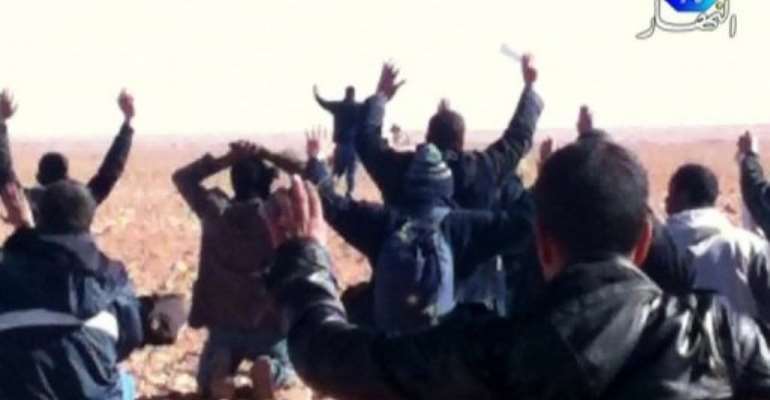 ALGIERS (AFP) - An Islamist attack on a desert gas plant and a resulting hostage bloodbath have revived the nightmare for Algerians hoping to close a chapter on a devastating civil war against religious extremists.
"Terrorism will not prevail," Prime Minister Abdelmalek Sellal said on Monday at his first news conference since he took office five months ago, where he gave grim details of the four-day siege of the plant by foreign jihadists with links to Al-Qaeda.
Sellal was at pains to try to reassure Algerians in the wake of the siege in which nearly 40 hostages, most of them foreigners working at the gas site, were killed, some shot execution-style by their captors.
The stand-off ended when the Algerian army launched an assault on Saturday. Sellal said 29 hostage-takers were killed and three arrested.
"There is currently relative quiet, but the situation is still difficult and we must remain vigilant," Sellal told the news conference.
But despite calls for calm, public opinion is terrified of further fallout from Algeria's decision to allow overflights by French fighter planes in their offensive against Islamists in neighbouring Mali, according to analysts.
Chafic Mesbah, a military expert, said "the Algerian public is scared of seeing Algeria become a spillway for violence."
The group which carried out the attack in the Algerian Sahara -- calling itself the "Signatories in Blood" -- demanded an end to France's Mali intervention.
The French operation aims to drive back Islamist rebels who control vast swathes of territory, mainly in Mali's north.
The Islamist group employed a military tactic whereby one side hits a target away from the focal point of a battle, such as the gas plant near the Algerian town of In Amenas, Mesbah said.
"This is a war which will last a very long time," he added, in an allusion that more of the same is to come.
Regional terrorism expert Mohamed Mokaddem said "terrorist groups want to transform the Algerian desert into an operational regrouping zone, if they're under pressure in Mali," adding that Algeria would not be able to go through the Mali intervention untouched.
The kidnapping operation was carried out by heavily-armed radical Islamists from several foreign countries -- Egypt, Mali, Tunisia, Niger, Mauritania and Canada -- masterminded by an Algerian, Mokhtar Belmokhtar.
Belmokhtar, a former member of Al-Qaeda in the Islamic Maghreb, did not take part in the operation but gave his orders to Mohamed Amine Bencheneb, whom Algiers said was killed in the army assault.
Belmokhtar's "Signatories in Blood" reportedly took two months to plan the hostage-taking operation, in Mali.
Officials said Belmokhtar had created cells in Algeria that security services dismantled in 2011, when Belmokhtar was still in AQIM. He left in October last year to form "Signatories in Blood".
The hostage debacle has reminded Algerians of the country's long and bloody experience with radical Islamists and the government's actions to suppress them.
Algeria's civil war, which broke out in 1992 after a general election that looked sure to bring Islamists to power was halted, killed 200,000 people, but the army managed to drive the most powerful militant Islamist leaders out of the country.
Yet despite a relative peace born out of a national reconciliation in 2006 on President Abdelaziz Bouteflika's move to grant amnesty to "repentant" Islamists, spectacular and deadly militant attacks continued.
AQIM chief Abdelmalek Droukdel brought suicide bombings into Algeria starting in April 2007, when an attack on the seat of the government and police headquarters killed 20 people and wounded more than 200.
Since Mali's Islamists began taking over territory last March, regular attacks by AQIM and its breakaway MUJAO (Jihad and Unicity Movement in West Africa) have continued in Algeria, mostly against security forces.
The hostage siege is a reminder that Algeria's violent nightmare could be far from over.