Asamoah gets famous Ghana jersey for Nations Cup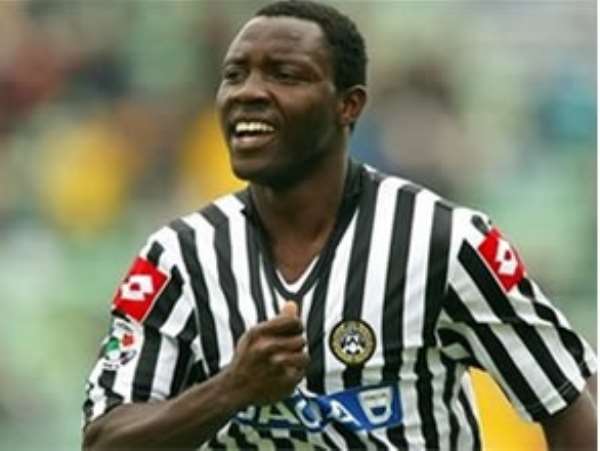 Asamoah will play in the Number 10 shirt
Italy-based midfielder Kwadwo Asamoah has been handed the famous Ghana 'Number 10' jersey for next week's African Cup of Nations in Angola.
 
The Udinese silky enforcer will be following the in the footsteps of legends Abedi Pele and Stephen Appiah who wore the famous Black Stars shirt.
Asamoah, who is tipped as Ghana's next superstar, will wear the shirt in the absence of Appiah who is out of the tournament because of injury.
Captain Michael Essien will wear his normal 'Number 8' shirt while Sulley Muntari 'Number 11' jersey has been taken over by Moussa Narry.
Asamoah Gyan will maintain his Number 3 with his strike partner Matthew Amoah will be decked out in the 'Number 14' jersey.
 
The details were revealed in the squad lists for the tournament by the Confederation of African Football on Monday. 
But the udinese midfielder's jersey for this tournament has raised eye brows as he seeks to announce his presence on the global stage in this tournament.
Asamoah was key for the Black Stars last year in the absence of Muntari and Appiah and he helped to steer the Black Stars to qualification of for the 2010 World Cup.
The Udinese star is expected to blossom in Angola as he seeks to follow in the footsteps of Stephen Appiah and Sulley Muntari have both starred for Udinese.
Ghana is a known world football factory for midfielders and Chelsea's Michael Essien can currently claim to be one of the world's best enforcers. 
Going further back, Karim Abdul Razak was one of Africa's premier midfielders during the 1980s, whereas former Marseille and Torino playmaker Abedi Pele, the 'African Maradona', is an undisputed legend of the game.
In many ways, Asamoah is the complete modern midfielder. 
He has explosive pace, everlasting stamina, bull-like strength, and moves tirelessly from box-to-box. 
Yet, unlike your Essien or Muntari, he also possesses some exciting technical skills. 
Asamoah dribbles and surges past opponents, passes the ball well, has good awareness, and possesses a sweet left foot. 
If you had to compare him to a player, you would say he is a mix between Edgar Davids and Manchester United's Anderson, only less robust and defensive-minded than the former, and not as tactical as the latter.
 
Ghana squad numbers  
01. MACCARTHY PHELIMON MACCARTHY ACCRA HEARTS OF OAK, GHANA 
02. SARPEI HANS ADU SARPEI BAYER LEVERKUSEN, GERMANY 
03. GYAN ASAMOAH A. GYAN STADE RENNIAS, FRANCE 
04. OSEI RANSFORD OSEI FC TWENTE, HOLLAND 
05. MENSAH JONATHAN MENSAH GRANADA, SPAIN 
06. ANNAN ANTHONY ANNAN ROSENBORG, NORWAY 
07. INKOOM SAMUEL INKOOM FC BASEL, SWITZERLAND 
08. ESSIEN MICHEAL ESSIEN CHELSEA, ENGLAND 
09. AGYEMANG OPOKU OPOKU AL SAAD, QATAR
10. ASAMOAH KWADWO ASAMOAH UDINESE, ITALY
11. NARRY MOUSSA M.NARRY AUXERRE, FRANCE 
12. ADDY LEE ADDY BEREKUM CHELSEA, GHANA 
13. AYEW ANDRE MORGAN RAMI A. AYEW, ARLES, FRANCE 
14. AMOAH MATHEW AMOAH, NAC BREDA, HOLLAND
15. VORSAH ISAAC VORSAH, TSG HOFFENHIEM, GERMANY
16. ADYEI DANIEL AGYEI LIBERTY, GHANA 
17. AYEW IBRAHIM I. AYEW, ZAMALEK, EGYPT 
18. ADDO ERIC PAPPOE ADDO, RODA, HOLLAND 
19. BADU EMMANUEL AGYEMAN A.BADU, UDINESE, ITALY
20. ADIYIAH DOMINIC ADIYIAH, AC MILAN, ITALY
21. AFFUL HARRISON AFFUL, ESPERANCE, TUNISIA
22. KINGSON RICHARD KINGSON, WIGAN, ENGLAND
23. DRAMAN HAMINU H. DRAMAN, KRASNODOR, RUSSIA