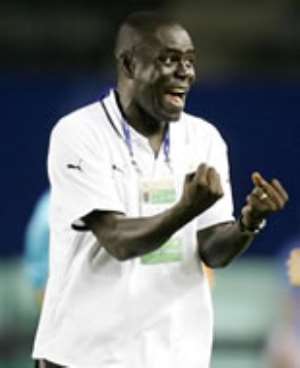 Coach Sellas Tetteh has hinted that his final team for the Egypt 2009 FIFA U-20 World Cup next September would include a few surprise faces.
He, however, failed to disclose the names of the new players he had, in mind, insisting that only time would tell.
"The team is still open again and. there is going to be some few surprise inclusions for the World Cup", the Black Satellites coach emphasised in an interview with the Daily Graphic at the weekend.
"We also have good players like Rabiu Mohammed, Daniel Opare, Sadick Adams and others who did not get the chance to play in Rwanda due to injury".
Sellas contended that since the youth World Cup is highly competitive, there was the need for him to get quality materials who can excel at the big stage.
"The U-20 World Cup is always tough so we need to get the right materials, as well as good preparation to go far," he stressed.
He, however, said that did not suggest a total overhaul of the team which won the nation's third Africa Youth Championship trophy in Rwanda last week.
He maintained that every player, whether local-based or foreign-based, would have to merit selection as was the case prior to the Africa Championship.
According to him, he would start fishing for new players on the domestic scene while the team is on break, as well as monitor the performance of the Ghanaian team at the novelty .African Nations Championship in Cote d'lvoire from February 22 to March I to see if he could get some fine players who fall within the age bracket.
Fortunately for Sellas, unknown entities like. Daniel Addo, Gladson Awako and South Africa-based Jonathan Mensah whom he included in his final team for Rwanda 2009 gave a good account of themselves.
Ghana will be making an appearance at the World Cup in Egypt for the first time in eight years after finishing as losing finalists to host nation, Argentina, in 2001.