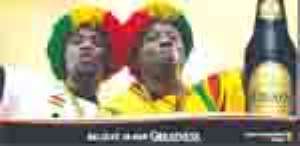 As part of preparations for the upcoming CAN 2008 Football Tournament, Guinness has announced the launch of the second phase of its nationwide football advertising campaign.
Marketing Manager of Guinness, Agnes Emefa Essah noted: "Phase II will feature Ghanaian fans and the critical need for their support and belief in the Greatness of our team, The Black Stars. We want our fans to understand the important role that they can play in communicating their support for the Black Stars."
Consequently, from the first week in January, the public will begin to see this campaign portrayed both in outdoor and print advertising.
The first creative material depicts colourfully dressed fans spurning the Black Stars to victory. The second is a powerful endorsement by the Guinness brand as the 'Sign of Greatness'.
It will be recalled that the 'Guinness Football Campaign' was launched in September 2007 under the theme: 'Believing in our Greatness'.