Anita DeSoso Blasts Jean Mensa For Bias Attitude Towards NDC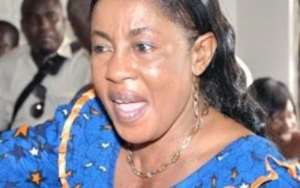 Jean Mensa
Former First National Vice-chairperson of the National Democratic Congress (NDC), Madam Anita DeSoso has accused the Jean Mensa led Electoral Commission (EC) of incompetence and bias towards the opposition NDC.
"We're not in a position to know whether we're the only political party which is being treated like that, if we're the only party which is being treated like that then it confirms our suspicion that the Electoral Commission does not intend to be a fair commission. We have reason to believe that NPP was well informed ahead of this day to prepare. And if the EC is going to be in cahoot with the ruling party and be treating us like this, then we cannot be part."
Anita DeSoso exclusively told Kwame Tutu on 'Anopa Nkomo' on Accra-based Kingdom FM 107.7.
"I think if there's anyone who is becoming a threat to the democracy we are practicing in our country then I would rather say it has been the posture of the NDC since this new commission took over," she stated.
The EC has been criticised by the NDC over some decisions the party disagrees with.
She said Jean Mensa, appears to be harboring some prejudice against his party.
According to her, Jean Mensa has disrespected the NDC on several occasions in which she described her as a threat to the country's democracy.
Anita DeSoso said the Chairperson's posturing is fast becoming a threat to the Electoral Commission and to the country's peace.