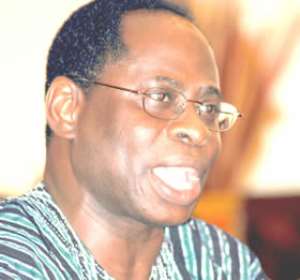 Busua (W/R), April 11 GNA - Ghana has all it takes to attain economic success, all it needs is the foresight, stability and a strong-willed government to implement programmes under the New Partnership for African Development (NEPAD) initiative.
"We have all the resources at our disposal to attain economic freedom and situations in countries that have made it were not different from us", Dr Kofi Konadu Apraku, Minister of Regional Cooperation and NEPAD stated.
He was addressing the opening of a two-day workshop for District Chief Executives in the Western and Central regions on African Peer Review Mechanism (APRM) and NEPAD programme of action and implementation in Ghana at Busua on Monday.
It was to update the knowledge of participants with regards to Ghana's role in NEPAD/APRM implementation and responsibilities of all stakeholders to uphold the principles of good governance.
Dr Apraku said NEPAD has the roadmap for Africa's economic emancipation and again debunked the notion of the West that, it was purely the brainchild of Africa and its leaders and crafted it for Africa. President Kufuor's courage to appear to be reviewed by his peers has won the country much respect and abundant goodwill, particularly from European Union (EU) members.
Dr. Apraku said as a result of its pioneering efforts, these countries were prepared to give further assistance to the country to enable it to implement programmes under the NEPAD and APRM.
Ghana, he noted, had benefited tremendously from the NEPAD initiative in terms of concrete projects and programmes designed to reflect positively on the lives of the people.
The needs to resolve perennial conflicts engendered by land ownership and land usage, the need to deepen the decentralisation process were some of the issues that emerged during the reviewing of President Kufuor by his peers, Dr. Apraku disclosed.
The rest are the need to improve public service delivery and efficient use of public resources by the public sector, curbing the delays in the administration of justice in the courts and creating opportunities for the assertion of the right for women, the disabled and the aged. Mr Joseph Boahen Aidoo, Western Regional Minister said NEPAD and APRM were the economic blue prints and benchmarks for Africa.
He said it was therefore incumbent upon political leaders including participants, who were the integral part of the implementation process of the programmes to identify weaknesses in the programmes for redress to ensure a successful implementation.
Mr Klaus D. Loetzer, Resident Representative of Konrad Adeaner Foundation (KAF) said the foundation would continue to assist in the implementation of programmes that would enhance democratic governance, as provided by the NEPAD initiative.
He reminded participants that the success or otherwise of the implementation of programmes under NEPAD/APRAM largely depended on them. Dr. Kojo Assan, Director of NEPAD took participants through "Ghana's APRM programme of action and its implementation process". 11 April 06