The GhanaRice campaign has been launched by the local office of a multinational social technology company, mPedigree .
In a launch in Accra, the company said that initiative is part of its already extensive Corporate Social Innovation contributions in the capital city.
The initiative's planners believe that leveraging on the rave surrounding the buy Ghana rice campaign that has recently seized social and traditional media, the campaign can do far more to promote the consumption of locally produced rice by rewarding patrons thereby increasing enthusiasm for more purchases.
Furthermore, the strong technology foundation of the GhanaRice initiative enables the effort to scale more rapidly and extensively than publicity alone can make possible.
Unless you have been hiding under a rock these past few weeks you must have heard of the ongoing campaign promoting consumption of locally-produced rice.
The campaign has seen very prominent figures join, from top public officials to renowned media personalities and celebrities.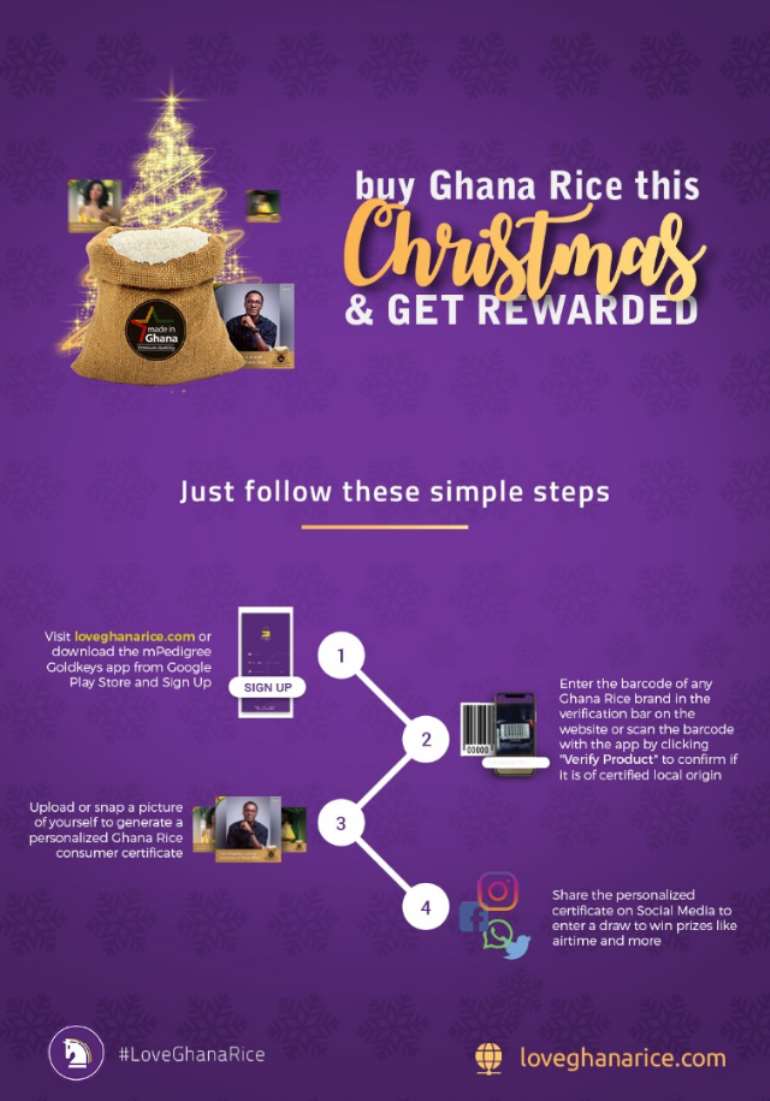 During the Farmers' Day celebration earlier this month, President Akufo-Addo shared an anecdote on how the First Lady insists they eat local rice at home.
The campaign has also seen endorsements from two former Presidents; J. J. Rawlings and J. A. Kufuor. The campaign itself forms part of a Made in Ghana movement that has gained grounds in recent times.
The benefits of patronisation of locally produced goods are many and positive including job creation which will go a long way to concretise the country's budding economy.
The GhanaRice campaign uses web and mobile tools and is powered by social and traditional media to enable consumers, upon purchase of a locally-produced rice brand, to share with friends and family images of moments of themselves so that they can stand the chance of winning amazing prizes including airtime.
How it works
Consumers visit the dedicated promo website ( loveghanarice.com ) or download the mobile app from the links provided. Upon purchase of any locally-produced rice brand, they scan or enter the barcode on the rice packaging using the app.
Immediately, they receive feedback on the rice's local origin (additional boost for purchasing confidence) and then are directed to take a selfie (or upload one from their gallery) which is used to create a unique digital certificate.
This certificate serves as a verifiable mark of authenticity for the buyer and it's useful in a number of instances. For one thing, consumers now share the certificate on social media to stand the chance of winning various prizes.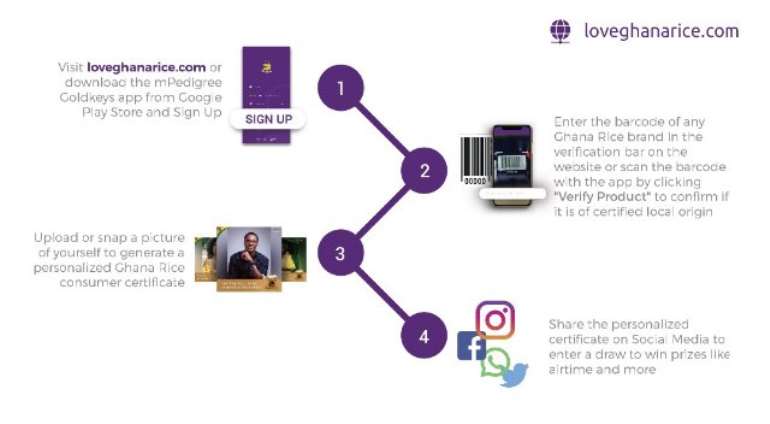 The certificate also becomes their "MadeInGhana" pride mark, which can be shared far and wide to let friends and family know that the buyer is a bonafide supporter of a major and acclaimed national cause.
"We aim to increase sales of locally-produced rice using this interactive and inclusive tool by harnessing a very powerful social-psychological force: solidarity," Daniel Kwakye, Head of External Relations at mPedigree , said.
He said they "strongly believe that technology blended with social behavioural techniques can promote national development by affecting consumer tastes and preferences and thereby boosting local manufacturing.
"The campaign should over time also increase awareness for made in Ghana products, in general, resulting in an economic upswing."
mPedigree builds solutions that manage brands and address supply chain problems such as counterfeiting and diversion especially in sensitive sectors like health and agriculture.
The company currently operates on three continents including Africa and Asia and has received several global awards for their work.
This festive season, while you step out to do groceries shopping, try and look out for stores and stalls selling produced in Ghana rice.
With the GhanaRice app you can actually enjoy your rice with pride and stand the chance of winning amazing prizes at the same time.
Story by Myjoyonline.com | Abubakar Ibrahim