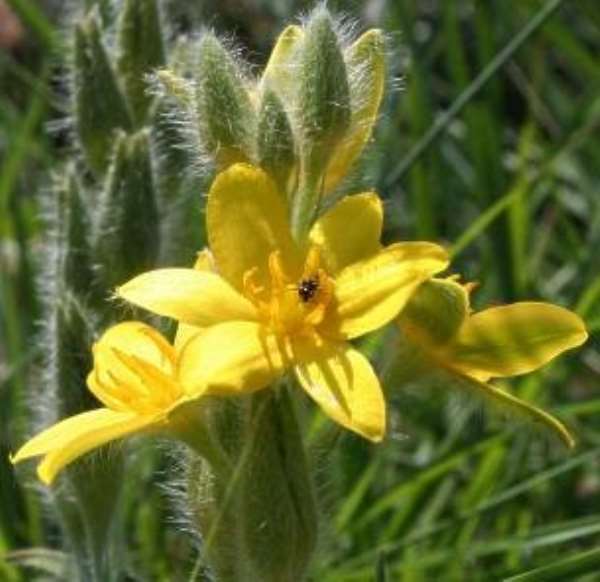 Many of the medicines we find today are derived from plants that healers and herbalists have been using for centuries. The African wild potato is a good example. The plant is native to grasslands and woodlands in South Africa, Botswana, Lesotho, and Swaziland. In healthy people not taking other medicines, it's considered nontoxic. As an herbal supplement, South Africans have used it to treat many conditions. It's also said to ward off storms and nightmares. Many researchers believe the African wild potato has the potential to join mainstream medicine. But most of these studies have been done in vitro or in rats. More human studies need to be done to uncover its potential benefits and potential harms.
The African wild potato goes by many names: Bantu Tulip, Papa Silvestre Africana, and Pomme de Terre Sauvage d'Afrique. Its scientific name is Hypoxis hemerocallidea. But its most common name is the African wild potato. The plant has no relationship with the potatoes you're probably most familiar with. It's actually part of the lily family. It grows about 15 inches tall and has curved, spiked leaves and bright yellow, star-shaped flowers. It also has slender corms (the bulbous base of the stem) instead of potato-like tubers.
Active ingredients
The African wild potato contains several active ingredients that are of interest, including hypoxoside and phytochemicals. The compound hypoxoside contains rooperol, which is an antixiodant. Rooperol study was conducted by Boukes GJ and van de Venter M 2012 titled Rooperol as an antioxidant and its role in the innate immune system: an in vitro study, published in the journal Ethnopharmacology Rooperol was shown to have similar or greater antioxidant potential than ascorbic acid. Antioxidants help protect the body against free radicals that can damage cells and cause many diseases. These diseases include cancer, heart failure, and Alzheimer's disease.
Phytochemicals are substances that occur naturally in plants. They act as antioxidants in the body. Sterols and sterolins are phytochemicals in the African wild potato. Sterols and sterolins boost the immune system, and may even help reduce cholesterol.
Putting the wild potato to work
South Africans, particularly traditional Zulu healers, have long used the African wild potato to treat many conditions. A few of these include:
Diabetes
prostate disorders, like enlarged prostate and prostate cancer
hemorrhage
urinary tract and bladder infections
HIV and AIDS
Epilepsy
inflammation, and conditions like edema and arthritis
Usually people take African wild potato by mouth, but sometimes in the form of an extract, supplement, or tea. And sometimes people apply it topically to help heal wounds or use it as a general immune booster.
Is it effective?
While people throughout South Africa use the African wild potato, there is little research to confirm its effectiveness. More research is being conducted to test whether it can treat some medical conditions in humans. These conditions include:
Cancer
Many academic sources have researched the antitumor properties of the African wild potato. Its antioxidant, anti-inflammatory, anticonvulsant, and antidiabetic capabilities have been noted.
These early findings were taken from what scientists call "in vitro studies." This means the studies were done with test tubes and not humans. Other studies have been conducted in rats.
New evidence suggests that the African wild potato can fight cancerous and premalignant cells. It also has properties that might prolong survival in patients with lung cancer. But much more research is needed to confirm its efficacy.
Type 2 diabetes
A number of studies show that the African wild potato could help manage type 2 diabetes because it would stimulate the secretion of insulin. One study titled 'Evaluation of six plant species used traditionally in the treatment and control of diabetes mellitus in South Africa using in vitro methods' published in the journal Pharm Biology by Boaduo et al 2014 added the evidence to the traditional use of these purchased plants in the management of the type II diabetic post-prandial hyperglycemia.
Notwithstanding, one South African study found that it could also impair kidney function. The study titled 'Effects of Hypoxis hemerocallidea (Fisch. & C.A. Mey.) [Hypoxidaceae] corm (African Potato) aqueous extract on renal electrolyte and fluid handling in the rat', published in the journal Renal failiure was authored by Musabayane et al 2005.
Another study by Mahomed IM and Ojewole JA in 2003 titled 'Hypoglycemic effect of Hypoxis hemerocallidea corm (African potato) aqueous extract in rats, published in the Methods Find Exp Clin Pharmacololgy study indicate that African potato possesses hypoglycemic activity; and thus lends credence to the suggested folkloric use of the herb in the control and/or management of adult-onset, type 2 diabetes mellitus in some communities of South Africa.
The immune system
The African wild potato contains a substance called beta-sitosterol, which scientists believe could help strengthen the immune system. Results of one study titled 'The effects of B-sitosterol (BSS) and B-sitosterol glucoside (BSSG) mixture on selected immune parameters of marathon runners: inhibition of post marathon immune suppression and inflammation', published in International Journal Sports Medicine authored by Bouic et al 199 showed that capsules containing beta-sitosterol can boost the immune system after physical stress, like exercise.
Human immunodeficiency virus (HIV)
South Africans have commonly used the African wild potato as an herbal treatment for HIV and AIDS. Some South African doctors prescribe it for their patients.
One study titled African herbal medicines in the treatment of HIV: Hypoxis and Sutherlandia. An overview of evidence and pharmacology published in the BMC Nutrition Journal by Mills et al 2005 found that the African wild potato significantly inhibited metabolism of anti-retroviral medications. These are the highly effective drugs used to treat HIV. But other studies have not found this to be the case.
The use of traditional medicine and Natural Health Products is widespread among those living with HIV infection according one study by Fairfield et al 1998 titled Patterns of use, expenditures, and perceived efficacy of complementary and alternative therapies in HIV-infected patients published in the journal Arch Intern Med.
Many patients take a broad range of natural health products (NHPs) in addition to their conventional therapeutic products according to Babb et al 2004 in a research titled 'Use of traditional medicine in the era of antiretroviral therapy: experience from South Africa' published in the journal MedGenMed and also Duggan et al 2001 titled Use of complementary and alternative therapies in HIV-infected patients., published in the journal AIDS Patient Care STDS.
In the case of South Africa, the Ministry of Health is actively promoting the use of traditional medicines with antiretroviral treatments according to one news article titled ARV roll-out begins today. Sunday Times (South Africa). March 1 2003, to be accessed at [ http://www.sundaytimes.co.za/zones/sundaytime
Two principal African herbal compounds used for HIV/AIDS treatment in sub-Saharan Africa include Hypoxis hemerocallidea (common name: African potato), and Sutherlandia. These two herbal remedies are currently recommended by the South African Ministry of Health for HIV management according to the document titled 'SADC: SADC Ministerial Consultative meeting on Nutrition and HIV/AIDS. Johannesburg. 20 January 2002'
The 14 member states of the South African Development Community (SADC) which includes Angola, Botswana, Democratic Republic of Congo, Lesotho, Malawi, Mauritius, Mozambique, Namibia, Seychelles, South Africa, Swaziland, Tanzania, Zambia, and Zimbabwe, also support their use according to Giraldo R: Brief report. Southern African Development Community (Sadc) Meeting On Nutrition And HIV/Aids: 2002; Johannesburg. 2002.
Responding to the compelling need for evidence regarding traditional medicines, I reviewed the current evidence for the use of these herbal remedies in HIV care.
The South African primary health care community is currently using hypoxis as an immunostimulant for patients with HIV/AIDS. A daily dose of 2,400 mg of raw plant is purported to be therapeutically effective according to one study by Albrecht et al 1995 titled The pharmacokinetic behaviour of hypoxoside taken orally by patients with lung cancer in a phase I trial published in the South Africa Med Journal.
The aim of the study was to evaluate the pharmacokinetic behaviour of hypoxoside taken orally by 24 patients with lung cancer. The study employed a Randomised open study with three single doses of 1,600, 2,400 and 3,200 mg standardised Hypoxis plant extract (200 mg capsules) and a multiple-dose study on the first 6 patients taking 4 capsules 3 times daily for 11 days.
Within the genus, two species, H. hemerocallidea and H. colchicifolia are particularly popular both as African traditional remedies and for the preparation of herbal teas and tinctures.
Rootstocks of this plant have been used by Zulu traditional healers for centuries in the treatment of urinary infections, heart weakness, internal tumors, and nervous disorders in a study by Singh Y 1999: Hypoxis: yellow stars of horticulture, folk remedies and conventional medicine published in the journal Veld & Flora
The corms of H. hemerocallidea are being used for immune related illnesses such as the common cold, flu, arthritis, cancer and HIV/AIDS. There is some indirect evidence that sterols and sterolins, which are found in the root of Hypoxis, have the potential to enhance immunity. According to a research by Bouic et al 2001 titled 'Plant sterol/sterolin supplement use in a cohort of South African HIV-infected patients – effects on immunological and virological surrogate markers' published in the S Afr Med Journal. Another similar study by Bouic et al 1996 titled ' beta-Sitosterol and beta-sitosterol glucoside stimulate human peripheral blood lymphocyte proliferation: implications for their use as an immunomodulatory vitamin combination' published in the International Journal of Immunopharmacol attested to that.
The popular press in South Africa is promoting preparations of Hypoxis as an agent that can boost immunity in HIV/AIDS patients
Whitney et al 1997 titled 'Evidence for Triceratops in Antarctica. New Directions in Paleontology. Edited by: Billoski TV, New York: Academic Press, 24-27 and also 'I read it in the paper" – Spud magic?. The SA Retail Chemist. 1997, 1 August.
Multiple websites, popular magazines, and even the South African Ministry of Health have supported this assertion, 'Aids conference starts.
Mechanism of Action
One study by Dietzsch et al 1998 titled ' Effect of rooperol on collagen synthesis and cell growth published in the IUBMB Life explained this:
'Hypoxoside is not absorbed intact into the blood stream. Once in the body, hypoxoside is converted into its aglycone, rooperol, a potent antioxidant [ 34 ]. This conversion is mediated by beta-glucosidase, an enzyme found predominantly in the gastrointestinal tract. This particular enzyme is released by rapidly dividing cancer cells'.
Toxicity
A Phase I trial in cancer patients failed to establish any clinical, hematological, or biochemical toxicities that could be ascribed to the ingestion of hypoxoside. The study was conducted by Smit et al 1995 titled ' A phase I trial of hypoxoside as an oral prodrug for cancer therapy – absence of toxicity' published in the South Africa Med J.
One recipient did experience an episode of anxiety, nausea, vomiting and diarrhea which was possibly hypoxoside related. The data and safety monitoring committee recently terminated a clinical trial of therapeutic effectiveness in HIV/AIDS patients citing apparent bone marrow suppression to be accessed at Terreblanche C: HIV warning on African potato. IOL. 2003, [ http://www.iol.co.za/index.php? . however, Supporters of this herbal medicine have disputed these inferences, to be accessed at Clarke L: African potato gets bum rap as vital remedy. Sunday Independent. 2003, [ http://www.iol.co.za/index.php?
Hypoxoside, when infused in anaesthetized chacma baboons, had no effect on the cardiovascular system, whereas rooperol exerted moderate stimulation during drug administration. The cardiac output increased together with systemic and pulmonary arterial pressures and these changes were not accompanied by changes in heart rate, vascular resistances or in the filling pressures of the heart. These findings are suggestive of increased myocardial contractility, possibly related to rooperol's catechol structure. It is likely that these cardio stimulatory effects will prove to be clinically benign. This study was conducted by Albrecht et al 1995 titled ' The pharmacokinetic behaviour of hypoxoside taken orally by patients with lung cancer in a phase I trial published in the South Africa Med J.
Studies on the Prostate
African wild potato contains a chemical called beta-sitosterol, which seems to improve symptoms of BPH. In research, some specific African wild potato extracts (Harzol, Azuprostat) taken by mouth alone, or in combination with other beta-sitosterol sources, reduced urinary symptoms of BPH and improved quality of life
There is some evidence that beta-sitosterol can improve symptomatic benign prostatic hyperplasia (BPH). But more studies are needed to confirm the benefit and to compare its effect with saw palmetto and alpha-blocker drugs. There also is a need for better standardization of other beta-sitosterol products.
Of the studies that are available, one randomized, placebo-controlled study investigated Harzol, a prescription product derived from beta-sitosterol. The study conducted by Berges et al 1995 titled Beta sitosterol in patients with benign prostatic hyperplasia, published in the Lancet involved 200 men who were treated with either the herbal product or a placebo for six months, found that the average symptom score was reduced by 5.1 points and the peak urinary flow rates increased by 4.1 ml/sec more in the Harzol group than in the placebo group. Also a significant decrease in post-void residual urine volume was seen in the men taking Harzol compared to the men taking the placebo. But, the study showed that Harzol had little effect on prostate volume, suggesting that its effect was not the result of enzyme inhibition.
Another randomized, placebo-controlled study investigated Azuprostat, another prescription product of beta-sitosterol conducted by Senge et al 1995 titled 'Wirksamkeit von B‐sitosterin bei der behandlung von BPH published in the journal Urologe showed that the symptom score was much more improved in men who took the beta-sitosterol product than in men who took the placebo (5.4 points better). Peak urinary flow rate was improved, too: There was a 4.5 ml/sec greater improvement with Azuprostat.
In a combined analysis of the available evidence (only 4 studies), beta-sitosterol was shown to improve symptoms scores by a reduction of 35%, peak urinary flow rates by an increase of 34%, and post-void urinary volume by a reduction of 24%.
In vitro studies with Harzol conducted by Lowe FC and Fagelman E 1999 titled Phytotherapy in treatment of BPH. An update, published in the journal Urology show that it enhances the production and secretion of plasminogen activators in isolated epithelial cells. In prostate stromal cell cultures there are also increased levels of TGF‐β1 when conditioned with β‐sitosterol. TGF‐β1 is a differentiation factor and induces apoptosis. These in vitro studies have not been verified in vivo and they have not been shown to be clinically relevant
A study by Willt el al 2000 titled 'Phytotherapy for benign prostatic hyperplasia' published in Public Health Nutrition systematically review the existing evidence regarding the efficacy and safety of phytotherapeutic compounds used to treat men with symptomatic benign prostatic hyperplasia (BPH). Randomized trials were identified searching MEDLINE (1966--1997), EMBASE, Phytodok, the Cochrane Library, bibliographies of identified trials and review articles, and contact with relevant authors and drug companies. The studies were included if men had symptomatic benign prostatic hyperplasia, the intervention was a phytotherapeutic preparation alone or combined, a control group received placebo or other pharmacologic therapies for BPH, and the treatment duration was at least 30 days. Key data were extracted independently by two investigators. A total of 44 studies of six phytotherapeutic agents (Serenoa repens, Hypoxis rooperi, Secale cereale, Pygeum africanum, Urtica dioica, Curcubita pepo) met inclusion criteria and were reviewed.
The takeaway
The biological agents in the African wild potato, including hypoxoside and sterols, have proven benefits. But more study in humans is needed.
The African wild potato appears safe, but may have damaging side effects, like kidney impairment, and could interfere with HIV medications. There is also no consensus on proper dosage.
You should always talk with your doctor if you are interested in using any herbal therapies, particularly if you are already taking other medications.
Please remember that what works for one person may not work for another person. It is always wise to consult with your doctor before changing your diet. In the case of pets, it's a wise idea to consult with your vet before changing your pet's diet.
Disclaimer: As pertains to all my previous articles, they are for educational purposes and not to be use as substitute to medical advice.
Dr. Raphael Nyarkotey Obu, PhD, Is an honorary Professor of Naturopathic Medicine with research interest in Naturopathic & Holistic Urology, Vinnytsia State Pedagogical University, Ukraine. President of Nyarkotey College of Holistic Medicine- Formulator of FDA approved Men's Formula for Prostate Health, Women's Formula for wellness & Nyarkotey Tea for cardiovascular Health. 0241083423 or 0541234556