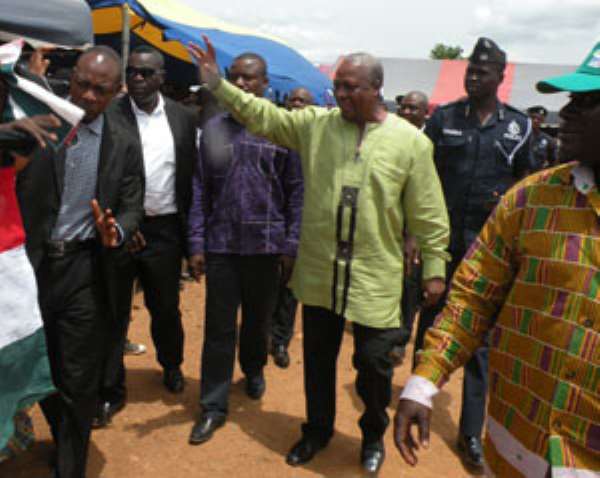 Sir, accept my sincerest regards. As a true descendant of Ndewura Jakpa and a Son of the custodian of Gonja tradition, I am advised and cautious in writing this piece.
Your Excellency, stopping your security capo from carrying out his lawful duty to me and many others amounted to a procedural error. Respectfully Sir, per the sound Judgment of your security Capo, Rev. Owusu Bempah was not "fit and proper" to have come close to you. In fact, his many public declarations of your death on the back of prophecies is a *prima facie* of someone who is treacherous and should not be allowed anywhere near you.
Suffice to say, the organizers of the program were aware of the need for the two of you to exchange pleasantries. Why didn't same intent if any communicated to you and your security Capos earlier? Should we just take it that, this "Noble" idea occurred when the pastor signaled his intention to leave the program grounds? Couldn't the Former President and his security Capos be told about this prior to Rev. Owusu's attempts to execute a spiritual task in the name of pleasantries?
Sir, the grassroots are not enthused with that magnanimity. We are battle-ready! Fist: firm and tight, ready to defend our birthright. The 2020 election is an opportunity for Ghanaians home and abroad post Nkrumah to once again solidify our gains just like our forbearers did in Pre-Independence struggle. Today, the struggle is not between the Colonial Masters and Ghanaian people. It's total resistance to opulence, arrogance and wanton dissipation of scarce state resources. We aren't relenting! The struggle is on...
I listened to the most illogical analysis of a supposed NPP Communicator. He said, "The referendum is withdrawn for wider consultation and not a defeat like others want us to believe. I am sure "Yes" would have won". Now, see the hollowness in this line of thinking. To win this referendum means you have 75% of total votes in your favor. So if this proportion of Ghanaians think is prudent to introduce politics into our local level elections who are you then going to consult again? Will President Nana Addo, consider wider consultation on the building of a cathedral? Building the house of God on a foundation of lies.
Sir, let No one stand on the way of this struggle. The waves are fatal! The match is in unism: we look not North, south, East or West we match forward.
Your Excellency, in your reply, kindly share with me your thoughts on these;
GRA office on fire days to an audit exercise
The correlation between CST and my MTN data. I've seen a 200% increase in Bundle charges
Auditor General and EOCO fiasco
CDD aforobarometer reports of 59% Ghanaians rejection of the governance system.
The 19th Century Piccadilly Movie. Ah! Well we have a reply😃
As for the debate on legacy. We are still waiting on him to bounce back. The ratio is 1:10. If Dr. Bawumia brings one, NDC will list ten. Simplicita!
Whether or not Mr. Martin Amidu is paid with my taxes? From one day I knew this so-called actionable intelligence was cooked with bitterness and greed.
How far with the Kitchen Knife coup plotters?
Yours sincerely,
Comrade Azeko.