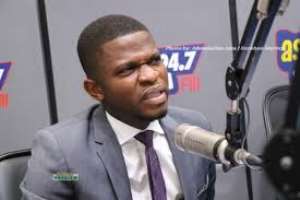 The Communications Officer of the opposition National Democratic Congress (NDC) Sammy Gyamfi has stated clearly that for Ghana to develop, leaders must ensure that they tap into the ideas of Ghanaians to draft policies and programmes that suit them.
He noted that "If Ghana will develop, leadership must be able to carry the people along and that process doesn't start after you have won power but it starts when you are seeking the mandate of the people"
"John Mahama is a visionary. He has been in power before and he understands it. That is why he is calling on all Ghanaians irrespective of your social standing, your input is very much needed to help develop our country together."
He was speaking in a phone interview on Neat FM's programme, 'Ghana Mo Tie' on November 5, 2019.
The NDC on 3rd November, 2019 in a press release signed by the Deputy General Secretary – (Operations), Peter Boamah Otokunor requested for mass participation in the drafting of their manifesto for the 2020 elections.
The objective of the 'Peoples Manifesto' according to NDC, "is driven by the need to give meaning to our Social Democratic principles of inclusivity and mass participation in the pursuit of growth and development of our country."