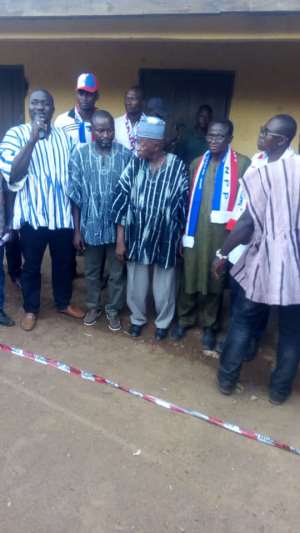 The District Chief Executive of the Chereponi District, Hon Abdul-Razak Tahidu has been elected the NPP Parliamentary Candidate for election 2020 today in Chereponi.
He polled 226 out of 357 votes to beat two other contenders namely Mr Ibrahim Mahama Nanbiema who had 54 votes and Mr Lambini Kombat Sakap who had 67 votes respectively.
Speaking after the election, Hon Tahidu, thanked the delegates for the confidence reposed in him and pledged to do his utmost best to win the Chereponi seat for the NPP come 2020 elections.
He also pledged to work with the other contestants to make the NPP strong in the area.
The Regional Chairman of the NPP in the North East Region, Alhaji Fuseini Nurudeeni assured party faithful who were around to witness the declaration that he will commit sufficient resources and logistics to ensure that the NPP wins the Chereponi seat in 2020.
On his part, lawyer Sulley Sambian, the Regional Secretary of the NPP in the North East told the contestants and party faithful that the election was an internal one and there was neither a winner nor loser. The NPP won he said.
He called on all to put their hands on deck for an NPP victory in 2020.
The Chereponi primaries was put on hold as a result of what the party said was 'Local Issues '.
The issues in the view of the party are stabilized now hence the primaries at this time.