Hawa Koomson Abandon Constituents—Parliamentary Aspirant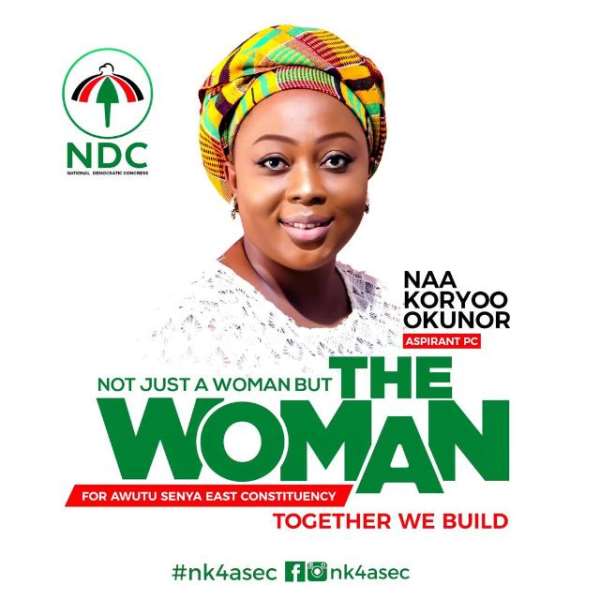 Aspiring candidate for the National Democratic Congress (NDC) in the Awutu Senya East Constituency, Naa Koryor has accused the Member of Parliament of the area and Minister for Special Development and Initiative Hon. Mavis Hawa Koomson for neglecting her constituents.
She made the statement after she picked her nomination form to contest the parliamentary primaries of the NDC.
Naa Koryor says she cannot fathom what could cause the MP under this government to abandon the 120 ultra-modern bed capacity hospital whiles the constituency struggles with a 40-bed capacity polyclinic.
She expressed worry over the inability of the lawmaker to champion the operationalization of the facility. "This clearly indicates the MP doesn't have her constituents at heart."
She chastised the MP for presiding over non-developmental initiative in the constituency. "The constituency has been left to rot whiles we have an MP who doubles as the minister for development. As it stands with the exception of projects executed by the erstwhile Mahama-led administration the constituency has seen nothing despite being the minister."
She mentioned that the masses are yearning for change due to poor performance of the MP. "The health, education and other developments are of concern to the people and are ready to vote for change."
She maintained that the NDC with her as MP will address the needs of the constituents.
She urged delegates in the upcoming primaries to vote her as the parliamentary candidate for victory 2020.
The Awutu Senya East Constituency NDC per national directive opened nominations for various aspirants to pick forms to contest for 2nd batch of the party's primaries.
The primaries scheduled for 19th of October 2019 consist of some 39 constituencies which include the Awutu Senya East constituency.
At the constituency office, Chairman for the constituency, Mr. Stephen Ofosu Agyare in an interview assured that as chairman his support all aspirants and wish them well.
He said, the Constituency is ready to work with any aspirant that emerges winner adding that the sole aim of the party is to capture power from the NPP.
In his words, the constituency is bedviled with societal problems and that has been largely ignored by the MP and the assembly.
He also advised aspirants to be circumspect in their dealings and that it is an internal election urging that losing candidates join forcse after the elections towards 2020.