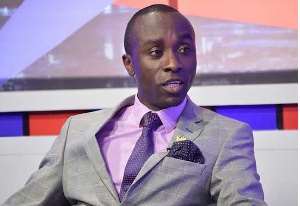 Ernest Owusu Bempah
I write this rejoinder, not as a spokesman for His Excellency John Dramani Mahama but as a born Ghanaian who not a spectator, but someone who has Ghana at heart. In his latest reckless utterance, Mr. Ernest Owusu Bempah accused Ex-President John Mahama of sponsoring Mr. Kevin Ekow Baidoo Taylor, the host of With All Due Respect, when the latter attacked the Ex-President Rawlings for his muteness on recent numerous corruptions and scandals hitting President Akufo-Addo NPP led government ((https://www.modernghana.com/news/952041/mahama-sponsoring-kevin-taylor-to-attack-rawlings.html).
Ernest Owusu Bempah's tirades against His Excellency John Dramani Mahama never ceases to amaze me at all. And I'm not talking about the kind of criticisms expected from sensible men, but the greasy and empty fatuities people like Ernest Owusu Bempah post out there to tarnish the good image and reputation of distinguished men like His Excellency John Mahama who has strived tirelessly to achieve lots in his life. It is true that the heights which the great men reached and kept were not attained by a sudden flight, but they, while their companions slept, they were toiling all night. Owusu Bempah claiming Mr. Mahama has never achieved anything for himself in his entire life is like when NLC/UP fraternity wanted Madam Elizabeth Nyaniba to renounce Dr. Kwame Nkrumah as her own son, but an adopted son from Liberia. The cacophonies of this self-acclaimed communicator is that he can't differentiate between real NYA, PDS, and PPA scandals from a mere allegation of that Kevin Taylor is doing the bidding for NDC. This tells you that, Owusu Bempah's inane slogan that His Excellency John Mahama came from nowhere or had personally not achieved anything in life, is the most pernicious nonsense if not absurdity.
This guy since time immemorial had argued, rather loosely, without common sense. His devoid and harum-scarum method to catch attention always bring him in the grasps of the national securities. He has schemed plans to be a thorn in the flesh, especially, for National Democratic Congress first gentlemen and their families. He made several derogatory and defamatory allegations against late President Prof Atta Mill's family and for more than seven years now dragging His Excellency John Mahama and family's name in the mud. His Excellency John Mahama himself is an ordinary man – at least in the sense that he never performed abysmal in his education and didn't fake his certificates.
If you have your beef with Mr. Kevin Ekow Baidoo Taylor, whose series of episodes have brought to light numerous boiling dirt from behind the sanctimonious beneath to educate and drew awareness of our super-competent, dictatorial, inept and kleptocracy regime, why drag His Excellency John Mahama's name to it? Mr. Kevin Taylor is a citizen and not a spectator, and I believe he's not your type of people who when asked to jump, will ask how high. Besides, there are facts that make Mr. Taylor's episodes befitting of one that was regarded as a real journalistic piece. They provide us with glimpses of the quality of the criticism most sincere Ghanaian want to hear to be able to make an informed decision. Owusu Bempah cannot divert the attention of Ghanaians to unsubstantiated accusations. And one thing is certain since when did Owusu Bempah became the spokesperson for Ex-President Rawlings? It is, therefore, stupidity rather than courage to incite His Excellency John Mahama against NDC Founder. I have been watching you from afar, and you seemed to always bark, woo, woo, anytime you get the chance. Because of that anytime my neighbours dogs are barking, your image comes into my memorial.
If I had to name the greatest strength of His Excellency John Dramani Mahama, I guess it would be his humility. And his greatest weakness can be possibly that of his awesomeness. His Excellency John Dramani Mahama doesn't fake to slang. He's an orator, presentable and will not lie his way up. He wants to be honest with Ghanaians on his way up, because he will meet the same people on his way down, if he lied.
As most of our Heads, Mr. Mahama is a product of Achimota and our premier University of Ghana, where he graduated with an upper class degree, not a third class, like others. He also did his postgraduate studies abroad and enjoyed good jobs before going into politics. He was first elected to parliament in the same year as current President in 1996. Is that alone sufficient to debunk Owusu Bempah's heckling against His Excellency John Dramani Mahama? A year after his taste of parliament His Excellency John Mahama was appointed Deputy Minister of Communications and was promoted to full Minister of the same ministry the year after. He was subsequently re-elected to parliament in 2000 and 2004 and became the minority spokesperson for communications. Outside parliament, he was appointed NDC Director of Communications in 2002 and also served as a member of International Observers Team to supervise Zimbabwe parliamentary elections in 2002. His Excellency John Mahama also served as the Chairman of NCA and was the architect behind our modern-day telecommunication. He was picked by late Prof Evans Atta Mills as his running mate and subsequently became the Vice-President, and after demises of Prof Atta Mills, became the President. Interestingly His Excellency John Mahama used just only 6 months campaign to win a landslide victory over then-candidate Nana Akufo-Addo in December 2012 to become the 4th President of 4th Republic. That was a big humiliation for your paymaster who couldn't fathom why His Excellency John Mahama did that, and to bury his shame held Ghana at ransom by wasting resources in the 8 months electoral petition at the Supreme Court, all for nothing. So Aboa Apaapo, His Excellency John Mahama has impeccable records second to none in our political dispensation. And for you to say, he hasn't achieved anything on his own is a complete imbecile. And I will advise you that, if you have nothing to say about His Excellency John Mahama, please, don't say it here.
This political prostitute has thrown himself to noise-making vessel whose pitiful, critically benighted, botched writings are devoid of all thought as if in the state of delirium tremens to destroy anything that was well fought for. Most of Owusu Bempah arguments only serve to demonstrate either his ignorance of politics or dishonesty of the truth, deliberately misrepresenting information. To paraphrase Jim Hightower, if ignorance ever goes to Ghc9000 a barrel, some of us want drilling rights on Owusu Bempah's head, because he's a confusionist, hollow minded and a bootlicker. If becoming a president was won on a silver platter, I wonder why he didn't keep loyalty to FONKAR and NDP, why didn't he stay in his doldrums but hypocritically accepting a position from a political rivalry? I can't describe anything other than mischievousness because you have shown ultimate buffoonery. "SeƐ ponko abo dam a, n'wora mmo dam"
I will be back!
Signed,
Lewis Kwame Addo
[email protected]