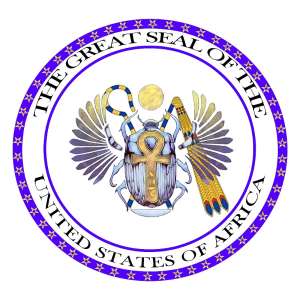 The Official Public Seal of United States of Africa.
Viva United States of Africa!!!
In order to inspire a true spirit of African unity there is need for us to create symbols of national unity of Africa.
Global Pan Africanism Network has designed a public seal for United States of Africa in order to give Africans at home or abroad hope that we are capable of organizing and establishing an Independent United prosperous Africa.
We call upon Africans at home and abroad to support the United States of Africa project.
Africa must unite for its own benefit and save itself from another 400 years of slavery.
"Unity will not make us rich, but it can make it difficult for Africa and the African peoples to be disregarded and humiliated. And it will, therefore, increase the effectiveness of the decisions we make and try to implement for our development. My generation led Africa to political freedom. The current generation of leaders and peoples of Africa must pick up the flickering torch of African freedom, refuel it with their enthusiasm and determination, and carry it forward." ~ Julius Nyerere.
Description of the Great Seal of The United States of Africa:
The Scarab
The next on our list is Scarab, one of the most important ancient Egyptian symbols. Scarab beetle (Scarabaeus sacer), which is also known as the dung beetle, represents the sun, recreation of life/resurrection and transformation. It represents the Africa Renaissance
The Crook And Flail
As the symbols of divine authority and kingship, the Crook and Flail were carried by Egyptian Pharaohs in important state ceremonies like coronations of the pharaohs.
The crook (Heqa-sceptre) is originally a long staff curved at one end, was used by herdsmen. The crook was shaped like a 'shepherd' of the peoples and symbolized government, while the flail held by the Pharaoh symbolized the role as provider of food for the people.
54 Stars
The stars symbolize 54 sovereign states in Africa.
Color Purple Represents:
Royalty, nobility, luxury, power, and ambition. Purple also represents meanings of wealth, extravagance, creativity, wisdom, dignity, grandeur, devotion, peace, pride, mystery, independence, and magic.
Written By:
Daniel Mwambonu
A Pan African Activist,founder of Global Pan Africanism Network and leader of United States of Africa project.