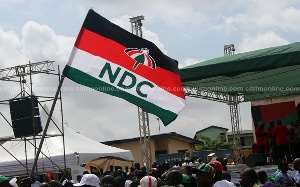 MESSAGE TO NATIONAL DEMOCRATIC CONGRESS, VOLTA, AHEAD OF THEIR PRIMARIES ON SATURDAY, AUGUST 24, 2019
Tomorrow marks another milestone in the National Democratic Congress' restructuring and preparedness ahead of the 2020 elections, after their unexpected and historical defeat in the 2016 general elections, as they go to the polls to elect their Parliamentary Candidates for the various constituencies.
For us, the New Patriotic Party of the Volta Region, we can only wish you well in your efforts to elect another batch of parliamentary candidates who hardly prove their worth when it comes to improving the lives of delegates and the electorate who vote for them.
Till this far, we are sure the people of Volta region have seen the light, as the writings are all over the walls regarding the many mouth-watering policy interventions the NPP is undertaking to bring prosperity to Ghanaians and for that matter Volta region for which the NDC primaries will do little or nothing to affect the victory that awaits the NPP in 2020 elections anyway.
However, my message for you as you converge at the polling centres to elect your preferred candidates is that you must first demonstrate the kind of change you envision by voting out all your incumbent Members of Parliament to prove to Ghanaians that you are indeed resolute in your struggle for change as far as the New Patriotic Party is concerned.
That said, we on the other side of the political divide, the NPP of the Volta region are battle ready to repeat history and even do more as we gradually approach the electioneering year and wish you a smooth and casualty free polls and occasion of critical step in your restructuring process.
God bless our homeland Ghana, and make us great and strong.
Thank you.
Emmanuel Korsi Bodja
Volta Regional Organizer (NPP)