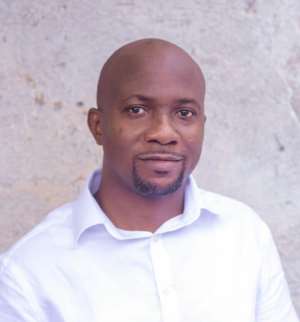 Dr Ampofo - Techiman Polyclinic
Mr Opoku Gyabaah, a statistician and a mathematics lecturer couldn't control his emotion after he involved in an accident with his family about three years ago, causing the left hand of her daughter affected and latter saved by a doctor. Mr Opoku Gyabaah has this to say to Dr Ampofo who saved the daughters life.
"Exactly three years ago, August 1, 2016, at about 17:30 GMT my family and I were involved in a road traffic accident during a journey from Sunyani to Techiman in the Brong Ahafo region. The taxicab we were travelling in hit a pothole, the driver lost control and the rest was the Grace and Mercies of the Almighty.
My daughter (Maame) of less than two years at that time had her left hand affected which kept worsening within 45 minutes from the accident scene to the Sunyani Regional Hospital.
At the Accident and Emergency Center, my major concern was the excruciating pain that the little girl was going through in the midst of my own and that of Ann, her mum. The nurses did their best for Maame but the Doctors were excellent. One outstanding Doctor by name Dr Ampofo (picture above) actually saved the hand of the little girl by his continuous monitoring, vigilance, attentiveness, care and call for an emergency surgery which was executed swiftly in the night. I can't remember the number of times I had to confront him to check on Maame during that period. There are little space and time to explain everything.
I couldn't have appreciated the role that Dr Ampofo played the previous night better until the Head of his Unit led a team of Doctors to the bedside of Maame the next morning. I heard the eloquent Dr Ampofo address the team about Maame's condition. It was all joy when the Head of the team commended him for his professional conduct in monitoring the young girl's hand and calling for an emergency surgery deep in the night failure of which could have led to serious complications.
Join me to commend and extend my family's appreciation to the whole team of doctors especially Dr Ampofo for the excellent service in saving my daughter's hand three years ago.
The little girl will visit you when she becomes an adult to share the joy in our hearts for your excellent service to Her, God and the Country at large.
I had promised to write this short memoir in recognition of your excellent role during the period of my daughter's admission and treatment at the Sunyani Regional Hospital. It's good to have finally located you at the Techiman Polyclinic after several efforts.
See you soon, Dr Ampofo. Bravo!!!"