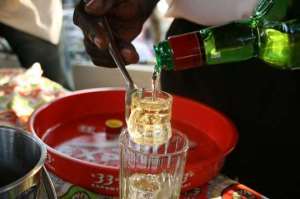 It was one hot afternoon in 1998; the General Arts B & C class of West African Secondary School was anxiously waiting for Mr. Ataa Botwe to lead the class in core literature. Isaaka Abdul Hamid, the class prefect, had made his way to the teacher's common room to fetch Ataa Botwe. Ataa Botwe and the chemistry teacher, who was simply called Mr. Worgorworgor, had formed a de facto Church of the Bottle and Glasses in the school. Both teachers were good consumers of AP10 (Apio – or akpeteshie).
These two teachers exuded a lot of mysteries. First, Ataa Botwe spoke the English language with a stunning impeccability. He was so good in the language that many, including Alex Tenge, had conspired to spread the rumour that Ataa Botwe's created family was in the United States of America. Not just that, Ataa Botwe had lived there for many years, before frustration forced him to Ghana. Because Alex was one of the Accra Newtown guys and Ataa Botwe appeared to have his residence at Newtown, some of us had convinced ourselves that Ataa Botwe was an exotic man. Mr. Worgorworgor was also a brilliant chemistry teacher. His rare knowledge about chemistry astounded us. Again, there were many rumours that he had an instrumentalist understanding of chemistry. So, he had converted the dilapidated science laboratory into a hub for producing AP10.
Whether these rumours were true or not, Ataa Botwe was believed to supply the necessary English for Mr. Worgorworgor to produce the mind-boggling liquid. You will recall that during the colonial era, the British had banned the brewing of local beverages. While they had introduced foreign gin into the colony, the near-collapse of the colonial economy in the 1950s had forced many Ghanaians to make recourse to the consumption of Akpeteshie. This development irked the colonialists and, in their bit, to control and recreate a single market for their exotic gin, they banned the brewing of Akpeteshie. Akpeteshie is a contraction of the Ga expression, 'kpe te shie'. This symbolised how people had to hid in the bush to brew and consume Akpeteshie. That Akpeteshie survived the machinations of the colonial political economy is expressed in the sublime truth that while all drinks need advertisement to garner consumers, Akpeteshie does need advertisement. It is in its class. It needs no advertisement because consumption of it is axiomatic! Just get to the 'Blue Kiosk' and you are sorted. You can even buy it on credit, sleep at the bar, and exchange insults with the bar owner, who is your creditor.
Akpeteshie became a political capital during the colonial era. Chiefs attempted to control its consumption as part of their effort to control peasants' political activism. This was because Akpeteshie could produce the effect of people losing their 'sanity' to freely speak truth to power. Consequently, when the missionaries introduced temperance in the nineteenth century, the chiefs were at the forefront campaigning for it. But, as I have said, Akpeteshie has survived as the best bet of the peasant in an unpredictable capitalist world. It is cheap. It is readily available. It is indigenous. While the living-dead and the deities have now expressed an inordinate preference for foreign gin, the majority of the living continue to cherish and keep in memory and activism the supremacy of Akpeteshie.
Ataa Botwe, asked Isaaka, 'have your mates gone for Morgan Adzei's 'A Burning Desire'? Isaaka thought because Ataa Botwe cherished Akpeteshie Ataa Botwe had forgotten that in the previous week he had summarily commanded all of to go for our copies of 'A Burning Desire'. He managed to say yes to Ataa Botwe. As usual, Ataa Botwe had to walk slowly, choosing his steps careful lest the spirits forced him to struck his feet against a rock. Slowly, but sure, he made his way into the classroom. We were all ready to listen to 'ble' (English). We greeted him. He answered reluctantly and absent-mindedly. But before he started his interpretation of Morgan Adzei's book, he counselled us to read the book religiously and allow its content to shape our lives. He added, 'Some of us have played our part. We had hoped that Ghana would have been like the United States of America. I was born a few years after independence. And I lived at the time when my parents were hopeful that Ghana would outrun the so-called developed world. But, as you can all tell from the hard desk on which you sit, our country is still bleeding. Our hopes have been dashed. Our infatuation with political independence has turned into an illusion. It is for this reason that I want you to religiously read Morgan Adzei's, 'A Burning Desire'. Those of you reading Christian Religious Studies with Nana Kyei Kwabiah can add the book to your Revised Standard Version Bible.'
Following Ataa Botwe's counsel, we zoomed straight into savouring the book. All of us memorised one of the Ewe witty sayings in the early covers of the book, 'When perseverance is imperative, do not hesitate.' While we could not readily unpack the philosophical assumption behind this terse saying, at least, we knew that we had to work hard to have our names in the school's hall of fame. Could it be that Ataa Botwe's inspiration explained why five of my classmates who went to the University of Ghana had First Class? Well, the point is that we were inspired to work hard.
Reading Morgan Adzei, alongside 'Macbeth', 'Animal Farm', 'Things Fall Apart', 'The Marriage of Anansewaa' and the de facto one, 'Romeo and Juliet' had a magical impact on our psyche. We appreciated how books embody the aspirations of human beings. 'Romeo and Juliet' was not a required text for our literature class, but because some of us had heard that it had imageries of love – which we all had a fixation for – we decided to read that book as well. I remember securing a copy from Abraham Akwasi Atakora, my mate. I read the book in a few days and understood the power of love. But much as I enjoyed reading the book, I never dared to even sit close to a lady, not to talk of saying the magical words, 'I love you.'
Was it the inspiration of 'Romeo and Juliet' that inspired Atakora, Jacob Asante, Rashid, and I to go to Aburi Girls' Secondary School while we were in Form Three to express the opportunity cost of our mouth? In our final year at WASS, while the mock exam was just lurking around the corner and anxieties were looming high, I managed to taunt my wooing abilities that inspired Atakora, Jacob, Rashid, and myself to go to Aburi Girls in search of girls. This was at the time when Richard, Kelson, and Peter never ceased to amaze us with the never-ending letters they received from their multiple conjugal girlfriends from other schools. While they possibly exaggerated their ability to joggle with women's heart, we thought it was easy to say to a lady, 'I love you.' But I remember how Richard failed his Geography paper because a lady from one of the senior secondary schools had damned him in a letter.
But whether Richard, Kelson, and Peter were good women strikers or not, my friends and I decided to do what we had coveted, but never had the courage to practice. While in school, some of us had formed the 'Wretched Messiah Group'. The group was noted for its idiosyncrasies, some of which included: not ironing one's cloth. Not tucking in. Not taking pictures. Not going to class early. Not flirting with ladies. Wearing an outmoded pair of shoes. Using unapproved path to the Barrier, which shared boundaries with WASS. And being frugal. These qualities of 'Wretched Messiah Group' had to be temporarily suspended when my friends and I decided to go to Aburi Girls. I still remember clearly how my parents were shocked to find me ironing my school uniform, polishing my pair of black sandals, and tucking in.
The day of our journey to Aburi came. Atakora's younger sister, Akos, was a student at Aburi Girls. So, we used that as the right bait to hit at the girls at the school. We boarded Aburi-bound minibus and confidently headed for Aburi. Rashid who had joined WASS from Tamale Secondary School was travelling towards the Eastern Region for the first time. So, while the bus driver was navigating the winding curves on the mountain, which created an impression that the bus was falling off the cliff, Rashid kept asking, 'Charles, are all these in Ghana?' 'Walahi, we will die today.' But while I was also afraid, I assured him that he should not worry. We should focus on our mission to Aburi Girls. I saw Rashid pulling out his tesba (the rosary) to chant a few words. While that was encouraging that God will take us safely through the journey, that did not worry me who had become a freethinker in SSS 2. At least, I indulged Rashid to invite Allah into the scene. Possibly, our mission to Aburi Girls will work!
Finally, we arrived at Aburi Girls. We got there at a time when the students were having their siesta. But since we had agreed to do what we had planned, we walked through the open space. And as we had expected, some of the girls started bleating uncontrollably for having seen guys on their compound. We were unperturbed, but as the noise from the girls became unbearable, we started losing our guard. Fortunately, one of the ladies mustered the courage and walked straight to me, 'Hey guy, what's up? Do you want our mock exam papers?' My friends had thought that since my taunting had led us to Aburi Girls, I would have scored a 'Mallam goal' or made hay out of that opportunity. But, even before she ended, I unconsciously blurted a big 'no' and walked away. I could see the disappointment on the lady's face. I walked straight towards the exit of the school, and my friends followed suit.
We went back to WASS without seeing Atakora's sister. We also did not have our mission accomplished. I messed up the mission. When we got to WASS, we pretended all was alright, because we did not want our WASS girls to feel we had gone to embarrass ourselves at Aburi Girls. But since that incident, I developed a great respect for Richard, Kelson, and Peter. But, a few days after the Aburi fiasco I queried myself, 'why couldn't I recite the maxim in Morgan Adzei's book, 'When perseverance is imperative, do not hesitate'? Could it be that I only memorised that witty saying without understanding it?'
Well, yesterday, I decided to reread the Vol. 4 of 'A Burning Desire' and found the statement by Afolabi, the main character of the book quite insightful than what could have helped me to win the heart of a girl from Aburi Girls:
'In any progressive society, nobody is left behind or trampled upon because of the lack of titles or some institutional attachment. Everybody is encouraged, not discouraged, to be his best. But unfortunately, our so-called best scholars, who must be in the forefront of fighting the woes of the motherland, are busy criss-crossing the globe searching for jobs to do, whiles all other races: Japanese, Chinese, Koreans, Israelis, are busy inventing, innovating, creating and producing all kinds of products in their lands. Day in, day out, night after night they are researching twenty-four hours. When are we going to utilise our hours of day and night fully without losing a second of this important time of life? What I am saying now should be the work of our scholars! But they have no time to sit and think deeply about the African race' (Morgan Adzei, 'A Burning Desire' Vol. 4, p. 78).
To be continued!
Satyagraha
Charles Prempeh ([email protected]), African University College of Communications, Accra