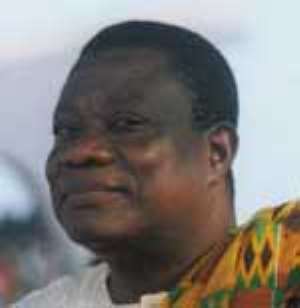 Ex-Vice-President Prof John Evans Atta-Mills has said that he does not accept that he lost the 2004 elections and that his refusal to concede defeat has been justified by the recent confessions of Mr. Lord Commey that "Action Troopers" are used by the NPP to steal ballot boxes at gunpoint.
"If you look at the recent revelations and all that, I do not accept that I did not win," Prof. Mills said convincingly, adding" This buttresses the point that the elections were not free and fair."
"How do you talk about free elections when you have people who can even decided to remove the ballot boxes, cause confusion, so that the ballot boxes can disappear," he asked. He added. It is recalled that during the 2004 elections there were incidents at Pru and Mion Constituencies where ballot box were set ablaze. There were also occasions where recounts of ballot boxes revealed that those who were declared to have lost the elections ended up winning with wide margins after recounts.
The usually quiet Prof. Mills whose chances of contesting for the 2008 Presidential elections is said to have been rekindled by recent events within the NDC said he would never accept that he lost the general elections organised in 2004. He claims he doubts if he truly lost the election, taking into cognizance the Lord Commey confessions that armed thugs, code-named Action Troopers were used to steal ballot boxes.
According to the ex-veep, the NPPs Action Troopers who were used to rig the elections, robbed him of the clear opportunity of winning the 2004 Presidential elections and becoming President, adding that the 2004 elections were never free and fair. The law Professor made these remarks when he granted an interview to the Enquirer recently in his Osu Kuku Hill office in Accra. On why he has for all this while refused to concede defeat, he aid: "To concede defeat is to say that in I have examined all the circumstances that the elections were free and fair. I do not believe that I lost, there are serious issues which need to be looked at.
Asked why he congratulated the President for winning the 2004 Presidential elections if he knew it was rigged, Prof. Mills said they could have protested by way of civil demonstrations but they were not ready for the consequences. He also accused the government and the NPP of usurping the functions of the regulator, and declaring itsself winner in the election, before the Electoral Commission (EC) later reinforced it.