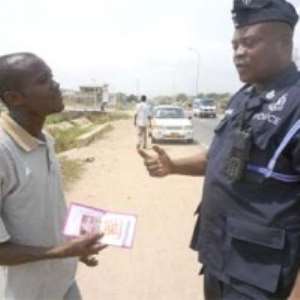 After much cogitation about the government's hyped determination to fighting to curtail or uproot corruption from Ghana, I am about to come to the conclusion that it is much ado about nothing. His Excellency the President, Nana Addo Dankwa Akufo-Addo's desire to fight corruption was not a political gimmick but those to help him translate that promise into action are letting him down hence the seeming failure to realise that determination.
One thing I learnt as a student at then Kumawu Tweneboa Kodua Secondary School in the 1970s that I shall never forget until my dying days was, "determination backed by action is the key to success". How is the president or his government backing that policy of curbing corruption in Ghana if the very agents to superintend its eradication are rather themselves the orchestrators, if not the masterminds, of that very detestable and nation-wrecking evil?
When the law enforcement agents are themselves the happy-takers of bribes in the open without the least shame or fear, how can any fight against that canker be successfully fought? Are the police officers not openly taking bribes from drivers on the roads? What are we doing about that as a nation? What is the government doing about it? The government cannot tell me that they are not aware of this unethical, corrupt and disgraceful attitude by the Ghana police. It is not a few bad nuts among them doing it but the majority of them.
Taking bribes from drivers on the roads has become a right but not a privilege to the Ghana police, the way I see them conduct themselves. I have on many occasions had run-ins with them because I get peeved at seeing a police officer blatantly compelling drivers to give them bribes.
What are the defined duties of the 'Motor Transport and Traffic Unit' (MTTU) police in Ghana, I would like to know? I see them only taking bribes but nothing else. Are they checking to arrest drivers for overspeeding or for careless driving? Are they checking for the road-unworthiness of vehicles on the roads, thus a vehicle without valid road tax, without MOT in date, with worn-out tyres, with driving mirrors broken etc.? Are they checking for cars/vehicles dangerously overloaded? Are they checking for stolen vehicles or cars transporting contraband goods?
From my empirical observations, even if the above are their basic duties, they are doing none of those but simply flagging down cars, taking bribes from the drivers and then asking them to move on.
I have on a number of occasions questioned the police officers seen taking bribes. As recently as April 2019, I questioned one on the Ejisu-Krapa-Kwamo stretch of road on the Kumasi-Accra highway. He had the shameless audacity to insult me while walking away from the passenger car on which I was travelling after I had queried why he was taking the bribe. I was all out ready to take him on. They are paid their monthly salary so I don't see the reason why they feel it is their inalienable right to continue to extort money from the drivers.
Let me give the president and the government the benefit of the doubt that they are not aware of the police on the roads taking bribes from drivers plying Ghana roads. Now that I have conveyed it to their attention via this publication and also published an open letter to the Inspector General of Police, Mr David Asante-Apeatu, let us see how it goes.
SUGGESTION:
For corruption to be fought successfully, any police officer caught taking bribe from a driver or whomever must be punished. It is although a misdemeanour, according to Ghana Criminal Code 1960 (Act 29) Sections 239 to 247, the propensity at which they take the bribes with its consequent adverse repercussions to the country and road users, any police officer caught taking bribe must be sacked with immediate effect and made to lose his/her emolument.
Misdemeanour in law is a criminal offense defined as less serious than a felony. Felony is "an offense, as murder or burglary, of graver character than those called misdemeanours, especially those commonly punished in the U.S. by imprisonment for more than a year"
I shall invite all "burgers", thus Ghanaians resident abroad, to form a crusade to fight the corruption in Ghana. One person or the government alone cannot do it without our collective effort. What we can do as "burgers" is to purchase some of the modern gadgets, pass them on to our relatives and friends back home to use them to secretly record the instances of police officers taking bribes. With the evidence collected, we shall use it to press charges against the officer concerned and also put it up on the social media.
Once the police and the judges stop taking bribes, the head of corruption will have been decapitated. Is it not a wise saying among Ashantis that, "When you cut the head of a snake the rest of its body becomes a rope"? A rope lying on its own cannot harm you so is the body of a snake with the head chopped off.
The government should be bold to sack corrupt police officers same as corrupt judges. I have always said that the teeming unemployment in Ghana must be seen as a blessing in disguise if we can easily sack corrupt persons to replace them with the unemployed. Once workers become conscious that they can easily be replaced if their jobs are not of specialist type needing much training and experience, they will sit up.
The government should arrange to send our SHS and University graduates to various departments, institutions and jobs to do their national service to be able to use them to replace caught corrupt officials like the police officers in question.
If His Excellency Paul Kagame has succeeded in Rwanda and President John Magufuli of Tanzania is doing marvellously well, President Nana Akufo-Addo can do same with our help. He has to put his foot firmly down without allowing any chief to ask him to be soft on corrupt persons.
Are the bribe-taking MTTU police officers still on the Ejisu-Krapa-Kwamo road? For how long are we going to sit on the fence doing nothing while corruption perpetrated by our law enforcement agents and leaders devastates the nation?
I dedicate this publication to all right-thinking Ghanaians, especially one Hannah Bonsu, once a student of Kumawu Tweneboa Kodua Secondary School from 1971 to 1976. Wherever she is, my greetings to her.
Rockson Adofo