Abuja Convention: Participant Withdraws Over Threat from Family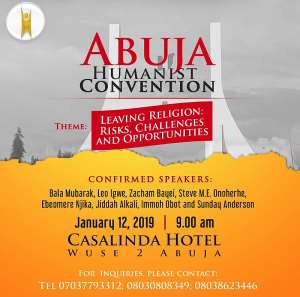 One of those slated to speak at the Abuja humanist convention on leaving religion on January 12, 2019, has withdrawn her participation. This participant (name withheld) was scheduled to share her stories and experiences exiting the religious faith at this historic meeting. But she will no longer attend because a family member had threatened to inform the parents that she was an atheist. According to sources close to this participant, reporting her 'atheism' to the parents has grave implications. It would adversely affect the lady's family relationship and education.
The lady's parents are Christians. They are the ones sponsoring her university training. And there are concerns that they would cease doing so if they realized that she was an atheist. Efforts to persuade this family member who made the threat not go ahead to report this attendee proved unsuccessful. So she decided to cancel her participation.
This is an unfortunate development and confirms the risks and challenges that those who renounce religion face in Nigeria. It is worse if the person is a dependant. Many atheists and agnostics cannot go open and public with their doubts and disbelief due to concerns that their family would betray or victimize them. This unfortunate situation applies to nontheists from Christian as well as Islamic family background. Too often religious family members prefer that skeptical and non-believing relatives shut up, stay silent and continue to identify as believers and theists. Believers want non believers to hide their unbelief. They employ covert and overt threats to silence atheists and get nonreligious persons to continue to present themselves as theists and religious. Nontheists are systematically abused and denied the right to freedom of religion or belief. The time has come to end the persecution of those who have renounced religion, and to build a society where those who leave or embrace religion are treated with dignity and respect! The time has come for Nigerians to realize that atheists and agnostics are human beings and that their rights are human rights.