Organise golf in a more business-like manner - Asantehene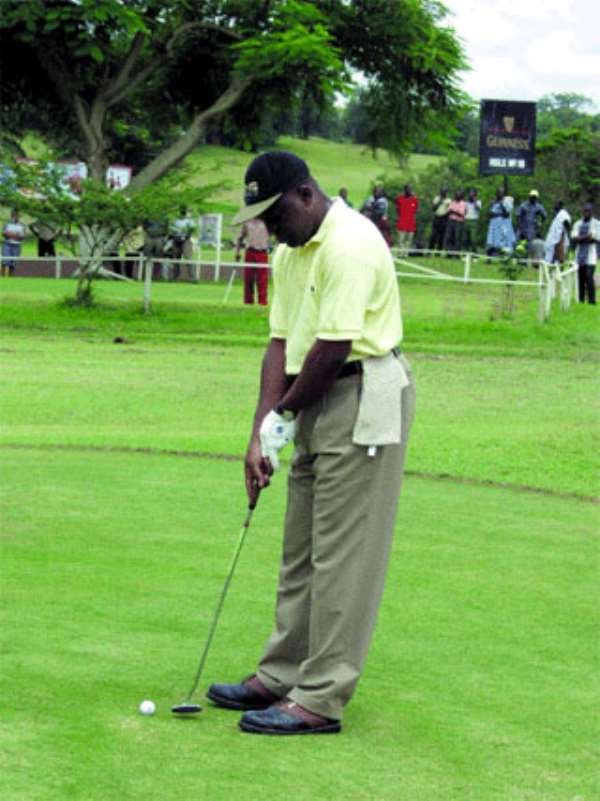 Kumasi, Oct 18, GNA - The Asantehene Otumfuo Osei Tutu II has called on management of golf clubs to run the clubs in a business-like manner to raise funds to popularise and develop the sport. He called on the members to put an end to their internal problems to enable the stakeholders to take stock of their activities and map out strategies to enhance the sustenance and development of clubs. The Asantehene said this at the closing ceremony of the 50th Asantehene Prestigious Gold Cup Golf Competition in Kumasi at the weekend.
He said golf like all other games provide physical exercise, a splendid way of winding up a hard day's work and a way of creating unity and establishing long friendship.
To this end, the Asantehene said he would continue to play golf, support what his uncle, Otumfuo Opoku Ware II initiated and expressed his happiness that other chiefs have also started playing golf. The Asantehene congratulated all the participants especially the Ivorians who came in their numbers including the President of the Association of Golfers of Cote d'Ivoire adding that he hoped that other countries would join in future competitions.
Mr Johnny Owusu, President of the Kumasi Golf Club said it was his dream to see the repackaging of the game to attract the young people in the country to participate in the sport.
He said if more young men from schools and colleges and in gainful employment are encouraged to develop and sustain an interest in the game, more companies and organizations would willingly support the activities of the clubs.
Mr Earl Ofori-Atta, Captain of Kumasi Golf Club said that the name of the Club has been changed to Royal Golf Club, Kumasi. He said the executive committee of the club in collaboration with the resident professionals and the ground staff have executed significant improvements to the course by creating new and challenging bunkers, providing water at every green, demarcating the fairways, tree planting and general beautification.
Mr Delvin Hainsworth, Managing Director of the Guinness Ghana Breweries, described the competition as the most prestigious one in the country and was sure that the company had ensured a successful competition.
Osei Kwabena, a cardy of the Royal Golf Club, lifted the giant trophy donated by the Asantehene with a gross score of 147 in the men's scratch event.
George Osei from Takoradi took the second position with a gross score of 148 while Awudu Holler of Kumasi took the third position on a count back gross score of 148.
Valentina Manteaw won the women's scratch event with a gross score of 174 to lift the trophy. Staphanie Dagleman took the second position with the gross score of 177 with Rose Kwame placing third with the score of 178.
Emos Koblah won the professional division with a gross score of 284 and received a cash prize of seven million cedis. Kojo Barnni, with a gross of 300 took the second position and received four million cedis while S.K. Krah took three million cedis for placing third with a gross of 302. 18 Oct 05