2008 elections will be competitive - Akufo-Addo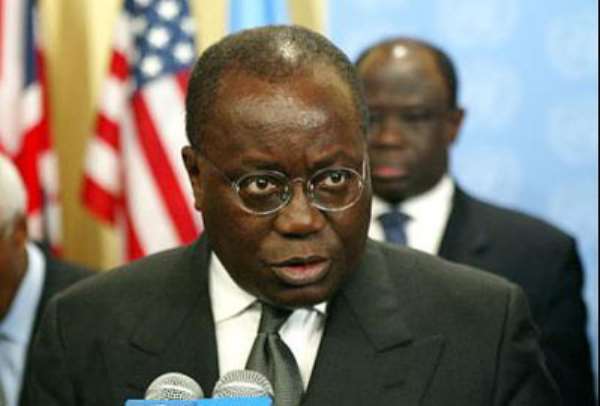 Kyebi, Oct.18, GNA - Nana Addo Dankwa Akufo-Addo, Minister of Foreign Affairs, last week-end reminded members of the New Patriotic Party (NPP) that the 2008 election would be competitive and should therefore, put in more efforts to ensure victory for the party.
He said a third consecutive victory for the party would indicate that Ghanaians had fully endorsed it based on the creditable achievement under President John Agyekum Kufuor's two-term administration. Nana Akufo-Addo, who is also the Member of Parliament for Abuakwa South Constituency was addressing the Constituency congress at Kyebi.
He commended the polling station chairmen and delegates at the congress, for the hard-work and dedication that made the party to win the 2000 and 2004 elections after being in opposition for 30 years. The Foreign Minister asked them to ensure strong unity among supporters of the party within the Constituency despite any differences and reminded them that the Constituency was the bulwark of the Danquah-Busia tradition that must lead the rest of the country to win in 2008.
Mr Dan Botwe, Minister of Information, described the Constituency as the citadel of the NPP, and advised members of the party to ensure that no internal dispute was allowed to disturb its unity for others to emulate.
He said "those who think recent reports of internal bickerings within the party meant the party was dying would be deceived as it was determined to win the 2008 election 'comfortably'."
Mr Botwe, reminded the members that the party's democratic tradition was locally brewed within the Abuakwa State and was not imported or imposed on it, saying the philosophy was now ruling the world, including countries in the former Communist Eastern Europe. New Constituency executives elected were Mr Kwasi Kyere, Chairman, Mr Abu Bonsra, First Vice Chairman and Mr Alex Frempong Second Vice Chairman.
Mr Bampoe Koranteng was elected Secretary, Ms Emma Obeng, Assistant Secretary, Mr Oppong Williams, Organizer, Miss Awo Ntiamoah, Women's Organiser, Madam Georgina Anim, Treasurer and Nana Owusu Agyemang, Youth Organiser.